Marriage Equality Supporters Still Looking For An Electoral Win
Supporters of marriage equality face a hurdle on Tuesday: They need a long-awaited win at the ballot box.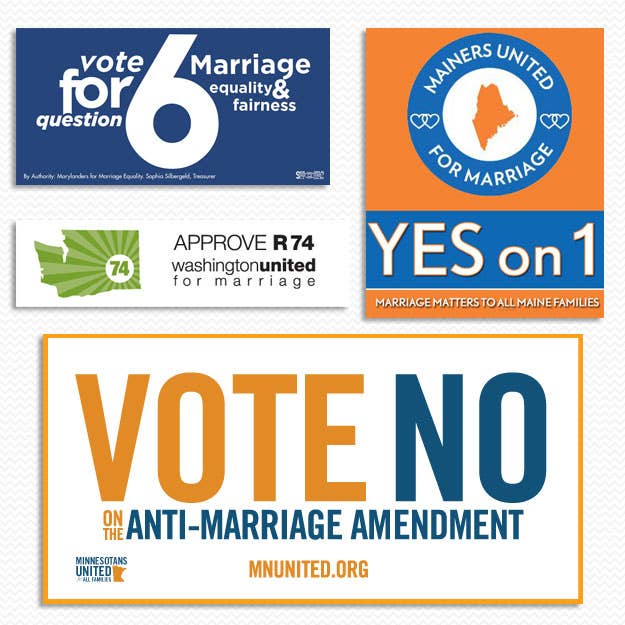 Supporters of same-sex couples' marriage rights face a pivotal test on Tuesday: They need a win.
More than one win would be better for their cause, with four measures being voted on across the country. But one would do, and losses on all four would be devastating, both emotionally and strategically.
With the referenda on marriage equality laws in Maryland and Washington, the initiative for it in Maine, and the constitutional amendment to ban it in Minnesota, four losses for their cause would be a significant stumbling block that would require a change in strategy — including almost complete reliance on the Supreme Court to protect their interests.
Tuesday's balloting in four purple-to-blue states is a test of whether the national conversation about marriage has moved public opinion on the once lightning rod issue to a majority of the population supporting marriage equality, as national polls have shown it's moved.
In 2004, 11 states voted to amend their constitutions to ban same-sex couples' marriages. Some of the votes weren't even close; others were worse.
In 2008, LGBT advocates and activists fought long and hard to elect then-Senator Barack Obama as president. They, with Obama's win, succeeded. But, with Wednesday's dawn, they realized that California's constitutional ban on same-sex couples' marriages, Proposition 8, also succeeded.
Fast-forward to 2012, and many LGBT advocates and activists are again working for the election of Barack Obama. Again, marriage is on the ballot. But, since the 2008 election, a handful of additional states allow gay and lesbian couples to marry. The president has announced his personal support for marriage equality. Several courts have decided that the federal government's definition of marriage, only recognizing marriages between one man and one woman, is unconstitutional.
It is, marriage equality backers say, a whole new world. But, as those fighting this sea change say, every state to have voted on marriage equality — including, this spring, North Carolina — now bans it or, in the case of Maine, does not allow it. (Arizona stands out for having rejected a constitutional amendment that would have banned same-sex couples' marriages and civil unions in 2006, but it went on to pass an amendment than only banned same-sex couples' marriages in 2008.)
If advocates' claims about a changing landscape are to be believed, they need a win (or two).
Brian Brown, the president of the National Organization for Marriage, is defending what he calls the traditional definition of marriage at the ballot box — and elsewhere, as he told BuzzFeed — and he explained why a loss of all four would be devastating to marriage equality supporters.
"If the country supports same-sex marriage," he said, referencing national polling finding majority support for the right of same-sex couples to marry, "and you've got the red states and the blue states evening each other out, and we're still winning in the deep blue states [at the ballot box], there's something wrong with the polling saying that we nationally support same-sex marriage."
He pushed the needle even further this past Friday, trying to raise the expectations for marriage equality advocates — but, in attempting to do so, also proving why at least one win is so important.
"Say we are to lose one," he said. "We're 34 and 1, and these are the toughest states. It's not an indication of anything other than the fact that we're in the toughest states."
At the same time, though, he acknowledged how a win, even rhetorically, would change the conversation: "It will be their first popular vote. Obviously, we want to avoid that, but winning one doesn't do anything for the other popular votes we have. We're still 34 and 1."
But, it would be "and 1."