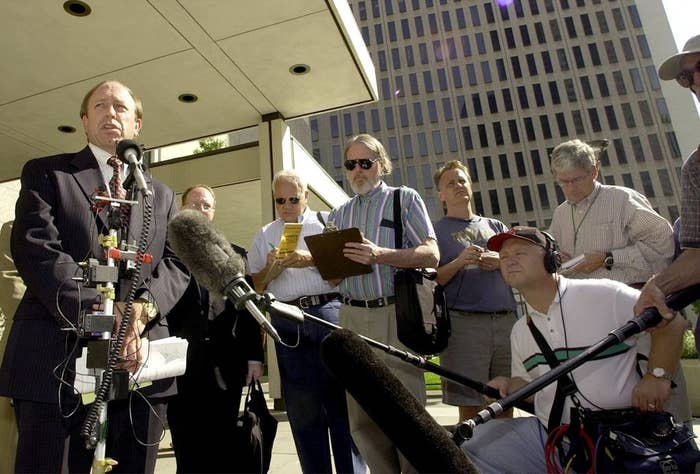 WASHINGTON — Colorado now has marriage equality, Attorney General John Suthers has advised county clerks.
The state is the first to allow same-sex couples to marry outside of the five states directly affected by Monday's Supreme Court action denying requests to hear appeals of several marriage cases.
Several state and federal marriage challenges had been pending in Colorado, which is within the same federal appeals circuit as Utah and Oklahoma — two of the states directly affected by Monday's Supreme Court denials.
Because the 10th Circuit Court of Appeals ruling striking down Utah and Oklahoma's bans is now the law of the circuit, Suthers announced on Monday that he would seek to withdraw his appeals of lower court rulings pending in the Colorado challenges.
"Beginning today, Colorado's 64 county clerks are legally required to issue licenses to same-sex couples who request them. In addition, the Colorado Department of Public Health and Environment is required to register such marriages in the records of the State of Colorado," he announced on Tuesday, after the Colorado Supreme Court dismissed two marriage case appeals and ended its stays on the lower court rulings.
Read the full statement: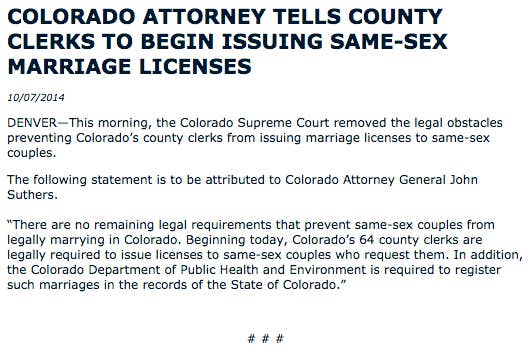 In other states within the 4th Circuit and 10th Circuit but not directly a part of the cases that came to an end on Monday, the process is moving more slowly.
On Monday, a federal judge in North Carolina requested more information within 10 days about how to resolve the case. On Tuesday, North Carolina Attorney General Roy Cooper followed up, telling county officials to prepare for marriage equality.
Similarly, a federal judge in West Virginia requested similar information from state officials responding to a request from plaintiff same-sex couples that the court rule in their favor. The judge on Tuesday asked for the information to be provided by October 21, with any reply from the plaintiffs be 7 days later.
South Carolina and Wyoming state officials have said they intend to continue defending their state bans. BuzzFeed News has learned, however, that parties filed a motion in a pending case in Laramie County, Wyoming to lift a stay of the proceedings and issue a ruling that would allow same-sex couples to marry there.
Finally, a Kansas couple already was turned away from receiving a marriage license on Monday — setting up potential litigation to create a ruling ending the ban there.
Read the order in the West Virginia case: