Man Tells AP: "I Wanted To Let You Know" My Husband And I "Use These Terms"
"I mean, if their policy is to make a case-by-case decision, shouldn't we give them a hand?" Dr. Mark Bitgood said of why he wrote to the Associated Press. Under style guidance issued this past week, married same-sex couples aren't "generally" to be referred to as husbands or wives.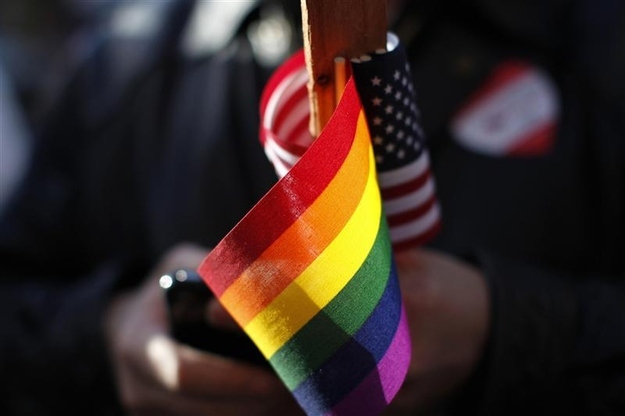 WASHINGTON — A California doctor offered a pragmatic and pointed solution to concerns about this past week's Associated Press style guidance that limited when reporters could refer to same-sex married couples as husbands or wives: He emailed the AP to register that he and his husband refer to each other as husbands.
Asked why he did it, Dr. Mark Bitgood told BuzzFeed, "I mean, if their policy is to make a case-by-case decision, shouldn't we give them a hand?"
Bitgood, a surgeon in the Central Valley of California, said he was "frustrated, incredulous, offended" by the style guidance, which said the terms only could be used "if those involved have regularly used those terms ... or in quotes attributed to them." Instead, the guidance continued, "Generally AP uses couples or partners to describe people in civil unions or same-sex marriages."
Although AP spokesman Paul Colford told BuzzFeed the guidance only "reaffirmed AP's existing practice," activists and LGBT organizations have criticized the move as treating same-sex couples' marriages differently than opposite-sex couples' marriages.
Of he and his husband, Michael Gallagher, Bitgood told BuzzFeed, "Michael and I have been together for 19 years next month, and we got married in Oakland during our window of opportunity in 2008." Following a California Supreme Court ruling in 2008 and before Proposition 8 ended it, same-sex couples in California — about 18,000 of them — entered into legal marriages.
After hearing about the AP guidance, though, Bitwood asked his friend, David Steinberg — the copy desk chief at the San Francisco Chronicle and former president of the National Lesbian & Gay Journalists Association — a question on Facebook.
"You don't, by chance, know of a person at the AP whom I and perhaps others might contact with our preference as to the designation of our spouses — you know, for their records? Just in case?" he asked. "I'm sure that lots of people would love to update their status with the AP."
Steinberg responded simply, "I suppose you could write to: Tom Kent, the standards editor, tkent@ap.org, [and] David Minthorn, AP stylebook editor, dminthorn@ap.org."
Bitgood did just that, sending the following email, which he provided to BuzzFeed:
Dear Mr. Kent and Mr. Minthorn:

I understand that the AP will only refer to my lawfully wedded husband, Michael Gallagher, as my "husband" if you are aware that we have regularly used those terms.

As this determination is being made on a case-by-case basis, I wanted to let you know, for your records, that we use these terms.

Thank you for your attention.

Mark J Bitgood
Oakland, California
He has not yet received a response, but has urged his Facebook friends to do the same in the meantime.