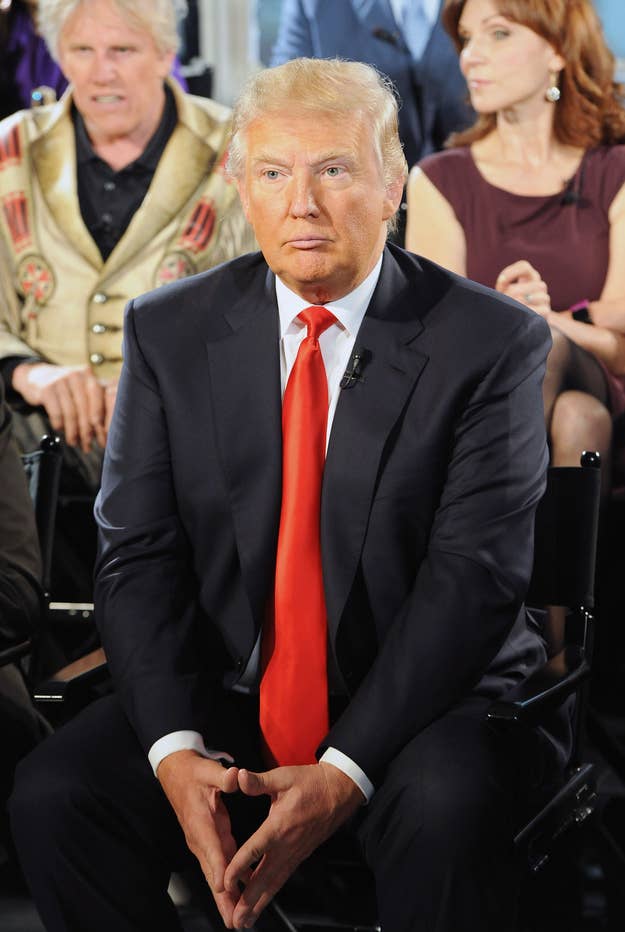 The CEO of Macy's defended his company's partnership with Donald Trump Wednesday in an e-mail to the man leading the petition drive to stop it.
"Macy's marketing and merchandising offerings are not representative of any political position," Macy's CEO Terry Lundgren told Angelo Carusone, who has gathered more than 570,000 signatures in a petition drive to convince the company to part ways with the controversial television personality, who called for a "revolution" after Barack Obama's reelection and suggested that the Obama is not actually eligible to be president.
"Donald Trump engages in especially unpleasant, nasty and despicable behavior," Carusone's petition on SignOn.org declares, calling Trump out for his birther-backing, alleged sexism, and more.
Carusone rebuffed to Lundgren's attempt to mollify him with talk of free speech and of Macy's nonpartisan holiday marketing.
"I have a letter signed by you and addressed to Trump in which you promise to further develop Trump's brand. Trump's brand has become toxic and contemptible, it represents mean spirited bullying and chicanery; it does not seem consistent with the public's perception and experience with Macy's brand," Carusone wrote.
Carusone, who provided the e-mail exchange to BuzzFeed, said he has not yet heard a response to that from Lundgren.
Carusone could prove a dangerous foe for Macy's. Though he now works for the progressive group Media Matters for America, he previously, beginning while a law student, engaged in a multiyear effort to "Stop Beck" — tweeting then as @StopBeck — which ended when Glenn Beck ended his show on Fox News.
He then ramped up a similar effort that cost Rush Limbaugh some advertisers following Limbaugh's remarks about then-Georgetown Law student Sandra Fluke's congressional testimony about access to birth control.
Now, tweeting as @GoAngelo, he has picked a new target — and the attention is coming much more quickly now.
Here is Lundgren's e-mail to Carusone:
Dear Mr. Carusone:

Thank you for your email. I appreciate the clear and reasonable way that you have expressed yourself. And, of course we respect your opinion and those who have signed the petition.

Please understand and appreciate that Macy's marketing and merchandising offerings are not representative of any political position. Ours is a free society compromised of a wide range of viewpoints. Many of the individuals associated with products sold at Macy's - or at any retailer, for that matter - express personal opinions that are not related to the merchandise we sell or to the philosophies of our company. That is the nature of a free society. In our merchandise assortment, we strive to meet our customers' expectations for unique and interesting products across a broad array of styles, categories and brands. This allows our customers to choose what they prefer.

A longtime focus of Macy's holiday advertising has been to celebrate the season's spirit of generosity and goodwill through our ongoing "Believe" campaign, and that is the sole message of our holiday television commercials. We believe that is a very important mission that is worthy of our collective support.

Thank you for soliciting and understanding our point of view.

Sincerely,

Terry
And, Carusone's response:
Thanks for your reply. Much appreciated.

I'm not sure what you've been told, but this effort has little to do with Macy's advertising campaign.

The petition pre-dates the ad; it was launched on October 24. It picked up considerable steam after attention was drawn to it following Mr. Trump's repeated calls for revolution and Macy's launching the ad campaign right around the same time.

Additionally, the underlying substance isn't really about mere political disagreements; it's about Trump's continued abominable conduct and Macy's customers being disappointed to discover his partnership with the company. I think people are reacting to this so strongly more because of the way they feel about Macy's and less about Trump. Keep in mind, many people's relationship with Macy's begin before they are even consumers: visits with Santa as a child, marveling at the fireworks, enjoying the parade, etc...

The fact is: Macy's doesn't just sell Trump's products. The relationship goes much deeper than that. I have a letter signed by you and addressed to Trump in which you promise to further develop Trump's brand. Trump's brand has become toxic and contemptible, it represents mean spirited bullying and chicanery; it does not seem consistent with the public's perception and experience with Macy's brand.

This is about Macy's' commitment to and partnership with Donald Trump. That's what is at issue here. Not politics, not outrage.

I hope this helps clarify what's at issue.

I'm still going to hold off on sending the update email for a while in order to give you an opportunity to consider some of what I've laid out here. I feel as though you have been misinformed about what's been going on.

I'm happy to discuss this further if that would be helpful. But, I won't delay all day. I want to be constructive in my interactions with Macy's, but I also don't want to disappoint the people that are participating in this effort either. If I do send the email as is, please recognize that I will reiterate the case for why action is appropriate and I will include a copy of your signed letter to Mr. Trump in which you promise to further develop his brand. The number of signers and disappointed customers will continue to grow.

Best,
Angelo