WASHINGTON — A federal judge broke ranks on Wednesday, ruling that Louisiana's ban on same-sex couples' marriages is constitutional.
The ruling, from U.S. District Court Judge Martin Feldman, is the first federal court ruling upholding a state's ban since the U.S. Supreme Court struck down the federal law defining marriage as only including opposite-sex couples in June 2013.
Feldman, appointed to the bench in 1983 by President Reagan, noted his departure from other judges, writing, "It would no doubt be celebrated to be in the company of the near-unanimity of the many other federal courts that have spoken to this pressing issue, if this Court were confident in the belief that those cases provide a correct guide."
Nonetheless, Feldman concluded first that no "fundamental right" was at stake — "Public attitude might be becoming more diverse, but any right to same-sex marriage is not yet so entrenched as to be fundamental" — and that laws that distinguish based on sexual orientation are not subjected to heightened scrutiny. As such, only the lowest level of scrutiny — rational basis review — applied to the ban, meaning the state needed only to show a legitimate reason for barring same-sex couples from marrying.
With that, he examined the reasons the state gave for the ban and concluded that they "offer a credible, and convincing, rational basis" for the ban.
Specifically, Feldman wrote:
This Court is persuaded that Louisiana has a legitimate interest...whether obsolete in the opinion of some, or not, in the opinion of others...in linking children to an intact family formed by their two biological parents, as specifically underscored by Justice Kennedy in Windsor.
Despite the decision he authored, Feldman noted that "many other courts will have an opportunity to take up the issue of same-sex marriage; courts of appeals and, at some point, the U.S. Supreme Court. The decision of this Court is but one studied decision among many."
An appeal of the case would go to the 5th Circuit Court of Appeals, which has proceeded with another marriage case — out of Texas — more slowly than other circuits have done.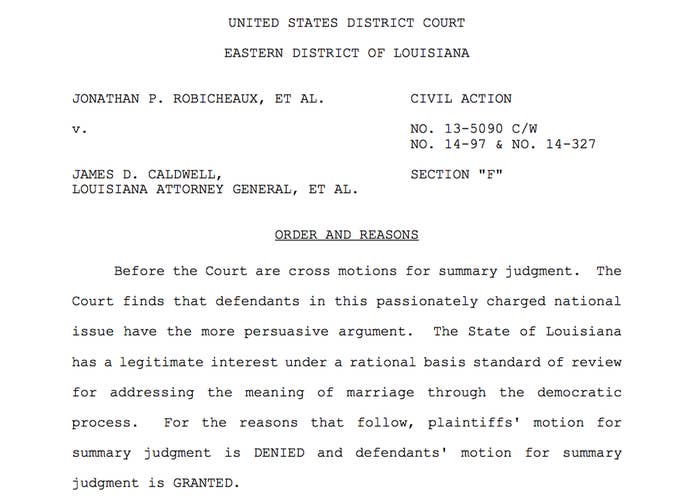 Judge Feldman began by framing the issue as "democratic process" against "lifestyle choices."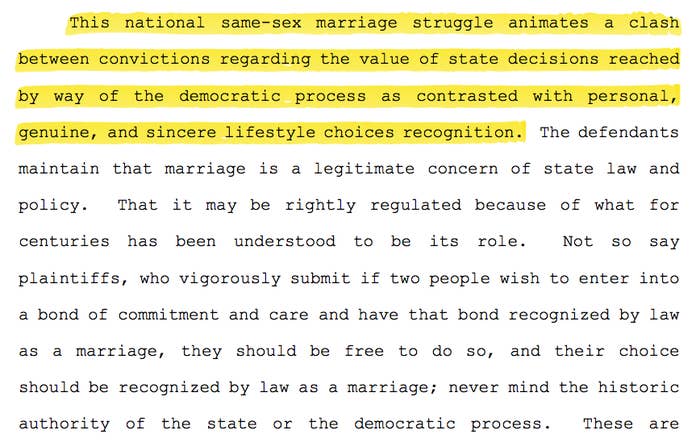 As to couples' "fundamental rights" claim, Feldman concluded that "same-sex marriage" was the right being considered and that it is not "fundamental."
He also expressed concerns about other marriage bans and whether they would be permitted if same-sex couples could marry: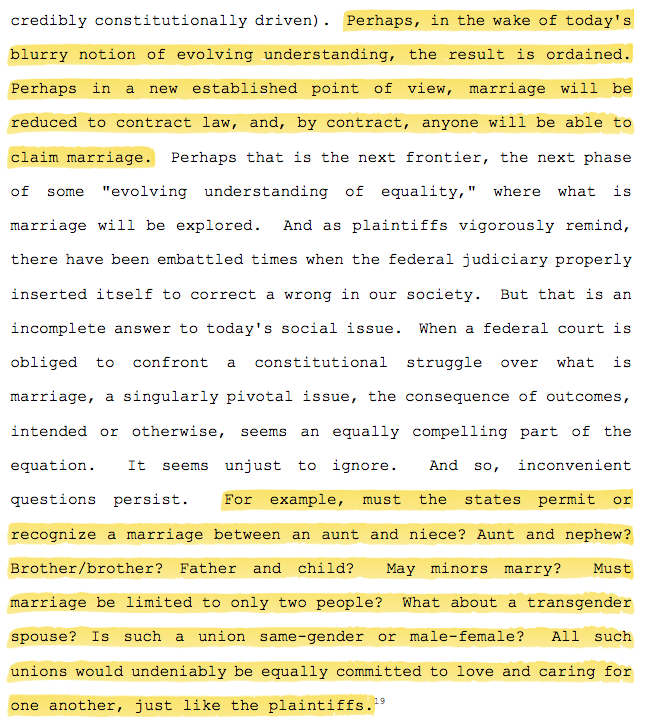 As to equal protection arguments, he concluded that finding heightened scrutiny applies to sexual orientation claims to be akin to "intellectual anarchy."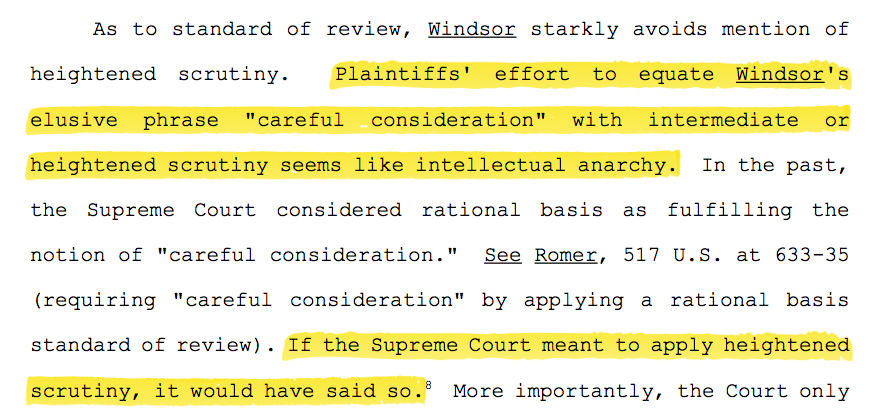 Equal protection claims based on alleged sex discrimination fared no better: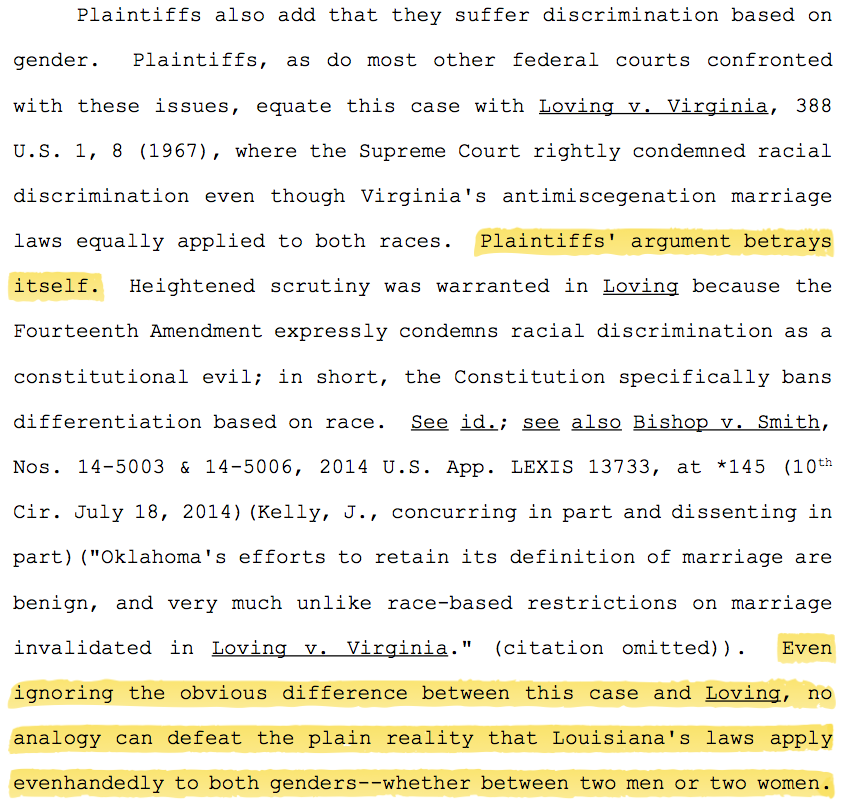 Then, examining the issue under the lowest level of scrutiny, rational basis review, Feldman concluded there is a rational basis for the ban.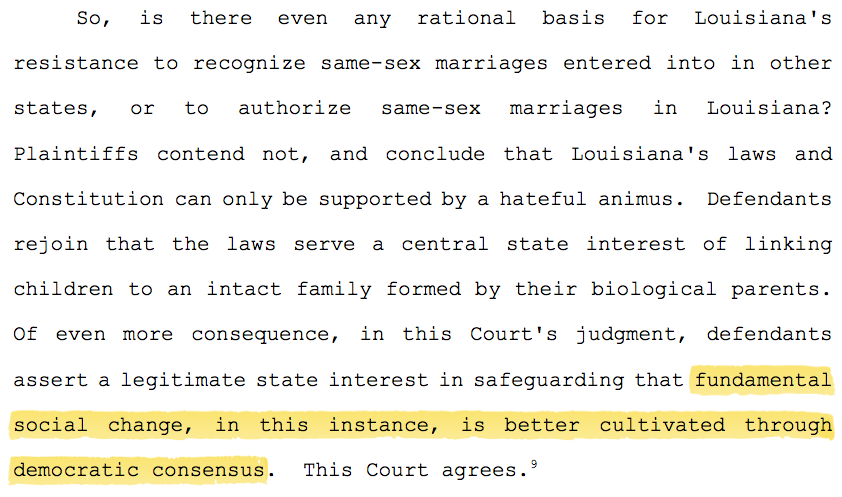 [This story was expanded with additional material, with the final update at 1:35 p.m.]