WASHINGTON — Less than 20 days after a federal judge found Louisiana's ban on same-sex couples' marriages to be constitutional, a state court judge in Lafayette Parish disagreed in a 23-page opinion that recognized the marriage of two women who married in California — and ordered officials to allow other, unmarried same-sex couples to marry in the state.
KATC news reported that Louisiana Attorney General Buddy Caldwell's office already had initiated an appeal of the decision. One of the women's lawyers, Paul Baier, told BuzzFeed News that he had high hopes for any appeal to the state's Supreme Court, saying, "I think our justices have some backbones."
In July 2013, Angela Marie Costanza and Chasity Shanelle Brewer filed a court action seeking an "intrafamily adoption" for Costanza of the child Brewer birthed and the couple, married in 2008 in California, are raising.
After some back and forth in state courts over a question about whether the state attorney general was properly notified about the case, Judge Edward Rubin heard arguments in the case earlier this month and declared on Monday that the constitutional and statutory bans on same-sex couples' marriages in Louisiana are unconstitutional.
Clashing with the decision of U.S. District Court Judge Martin Feldman, Rubin asserted that the bans violate the equal protection and due process clauses of the U.S. Constitution, as well as the Full Faith and Credit Clause.
KLFY first reported news of the ruling Monday afternoon, but the ruling itself was not immediately available to reporters or the public because it was sealed as it involved a minor.
In a copy of the sealed ruling reviewed by BuzzFeed News on the condition that it not be posted or quoted from directly as the public version to be posted on Tuesday could have edits made to it, Rubin ordered that Costanza is able to adopt the child under the "intrafamily adoption" provision in state law because her marriage to Brewer is recognized in Louisiana. Additionally, he ordered that the head of the state's Department of Revenue must allow the couple to file a tax return as a married couple.
Despite the lack of any plaintiffs in the case seeking to marry in Louisiana, Rubin went further, enjoining state officials from enforcing those laws insofar as they prevent same-sex couples from marrying — in order words, ordering state officials to allow same-sex couples to marry.
Although Brewer and Costanza already are married, multiple legal experts who have fought other marriage bans told BuzzFeed News on Monday night that the underlying premise of their argument against the state's ban on recognition of their marriage is so entangled with marriage itself that it is likely that Rubin's order as to marriage could be upheld on appeal.
Rubin spends the majority of his ruling detailing the underlying facts of the case and the arguments made by the couple and the state as to all three claims: equal protection, due process, and Full Faith and Credit.
In the last eight pages, however, Rubin lays out a point-by-point recitation of the case law that he adopts in reaching his ruling — from the recent Supreme Court decision striking down the Defense of Marriage Act in United States v. Windsor to the court's ruling striking down interracial marriage bans in Loving v. Virginia to a 1923 Supreme Court ruling striking down a Nebraska ban on teaching German in schools.
Rubin goes on to swat down the state's argument about allowing for widespread consensus before adopting such a change and decries any support for a system of "separate but equal" through analysis of the country's history with racial discrimination. He then concludes that any remaining reasons given by the state for the bans, such as keeping children connected with their biological parents, have no connection to the bans themselves and that, therefore, there is no rational basis for the bans and they are unconstitutional.
As to "Full Faith and Credit," Rubin writes three short paragraphs, citing two Supreme Court opinions — the 1935 decision in Milwaukee County v. M.E. White Co. & the 1948 opinion in Sherrer v. Sherrer — to reach the decision that Louisiana must give respect to the valid California marriage of the same-sex couple under that provision as well.
Louisiana Department of Justice spokesman Steven Hartmann told BuzzFeed News on Tuesday morning, "Yesterday our office began the appeal process by asking the trial court to suspend its order. It is our intention to appeal directly to the Louisiana Supreme Court."
Talking Points Memo posted a redacted version of the ruling, as did Equality Case Files. The only change from the version BuzzFeed obtained is the redaction of the minor child's initials.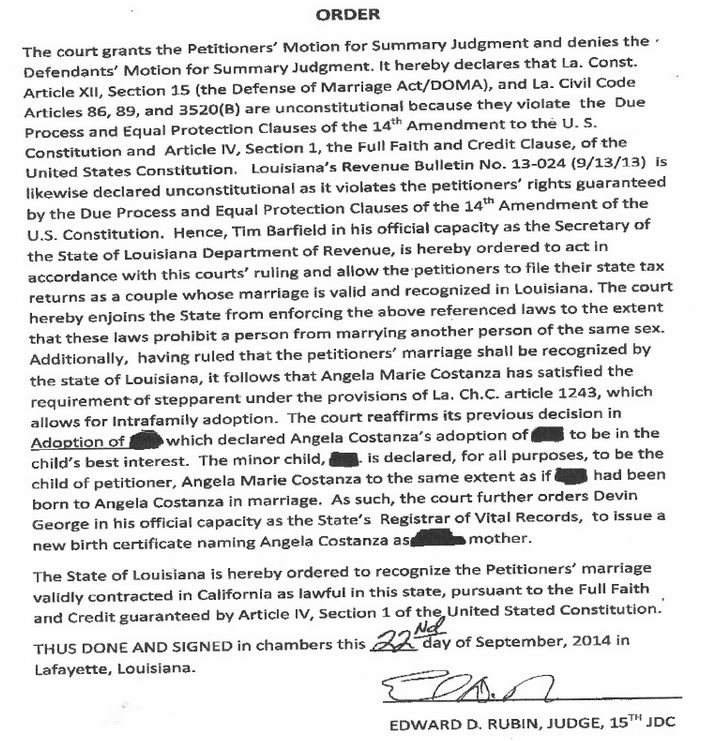 Louisiana Department of Justice spokesman Steven Hartmann tells BuzzFeed News there is no stay needed yet in marriage case because "[t]he final judgment has not been issued."