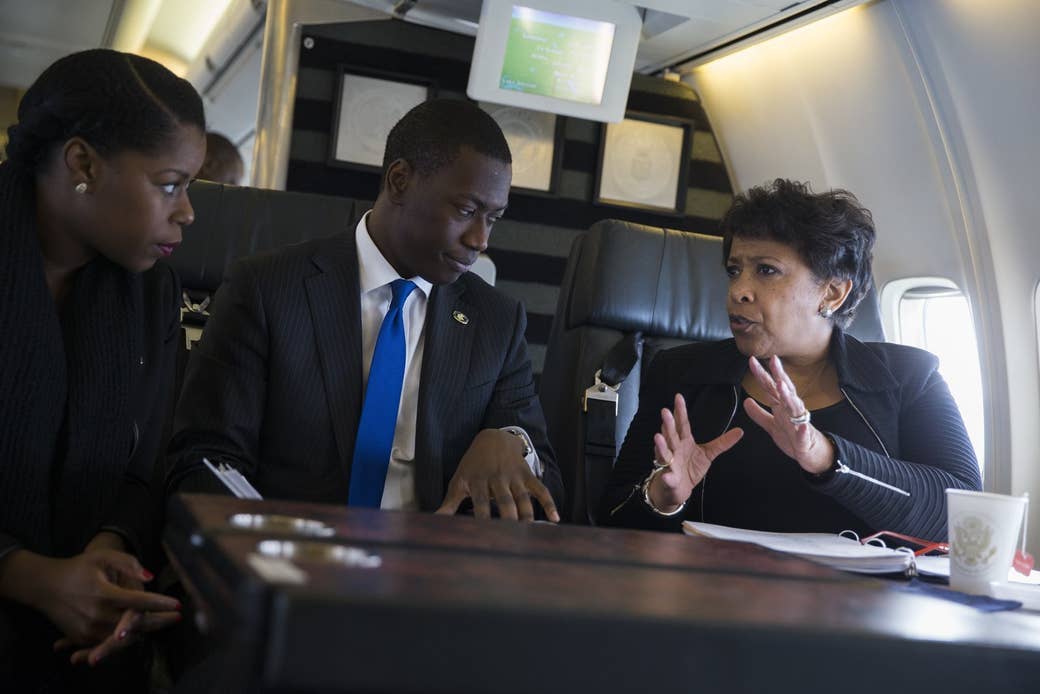 Attorney General Loretta Lynch is already more than halfway through her expected time as the head of the Justice Department.
She's only been there a year. She has a limited period of time to make her mark on the office — in a period dominated by crises, from attacks from Charleston to San Bernardino to police protests from Chicago to Baltimore.
Quietly, beneath that series of events, she has an overarching mission: When it comes to the Department of Justice, she said in a wide-ranging interview with BuzzFeed News, "the position — on a whole host of issues — should always be toward inclusion and equality."
From police accountability to the national re-examination of criminal justice priorities to LGBT anti-discrimination efforts to Black Lives Matter protests, Lynch kept returning to an aim of advancing inclusion and equality in describing her efforts at the helm of the Justice Department.
The interview came at the tail end of an unusual trip intended as capstone to Justice Department's National Reentry Week: Lynch, a sitting attorney general, visited a medium-security federal prison in Talladega, Alabama, on Friday. Then she flew to Mobile, Alabama, to meet with the U.S. Attorney, Kenyen Brown, for a few events aimed at promoting reentry programs that Brown has long backed.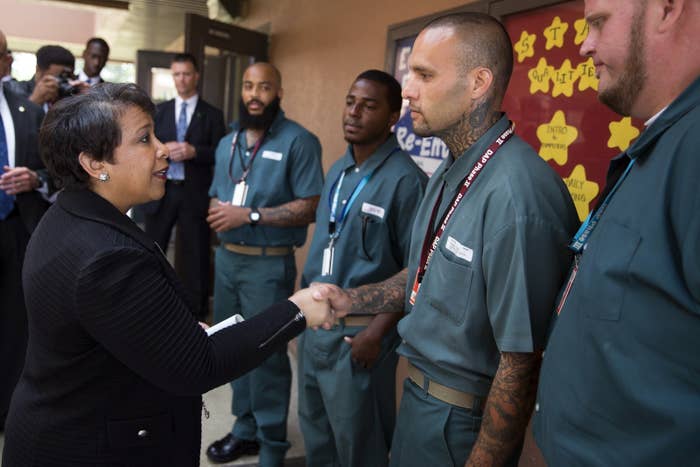 "One of the benefits of being attorney general is that you get to pick a week — and name it something," she joked to a group of inmates at a substance abuse treatment program in Talladega.
This was Lynch trying to wrest control of the news cycle and push an affirmative story — how the Justice Department is trying to reintegrate people who have served time back into society.
It's "what we call 're-entry,' but what is really helping people get back home," Lynch told a group of inmates in a classroom at the start of her tour of the prison. Later, she spent about a half-hour with five inmates in a sit-down roundtable discussion, talking about the programs they participate in, the work-related certifications they've obtained, and how several of the men maintain connections with their children and grandchildren.
"We sit in Washington, and we try and figure out what works and what doesn't work," she told the inmates, "but in order to do that we have to hear from people who are actually in the programs."
Both prison and Justice Department staffers spoke constantly about how unusual it is for men serving sometimes lengthy prison sentences — many for violent crimes — to be given direct access to the attorney general of the United States. The unusual nature of the visit was clear throughout the morning. When Lynch asked if she could walk out into the rows of inmate workers at a facility where inmates were making Army trousers, she was told that she could not.
"Almost one in three Americans has had some contact with the criminal justice system," she said on the flight home of what she called a critical juncture for discussion of reentry issues. "When you reach that saturation point, people begin to understand, in a very visceral way, the difficulties of reentry."
The current moment — in which drug sentencing laws are being reexamined, and the federal government is removing initial hiring questions about criminal background for many jobs — could be a huge shift in criminal justice policy. But it also can prove to be tricky politics. The relatively nascent coalition between progressives, libertarians or libertarian-minded conservatives, and some corporate interests to transform the criminal justice system is fairly untested on a national political scale.
Saying that "we're reexamining things," Lynch said: "I think that's a very, very good thing. I think it's something we always have to be committed to doing: Are the choices that we made in the past still the right ones for today?"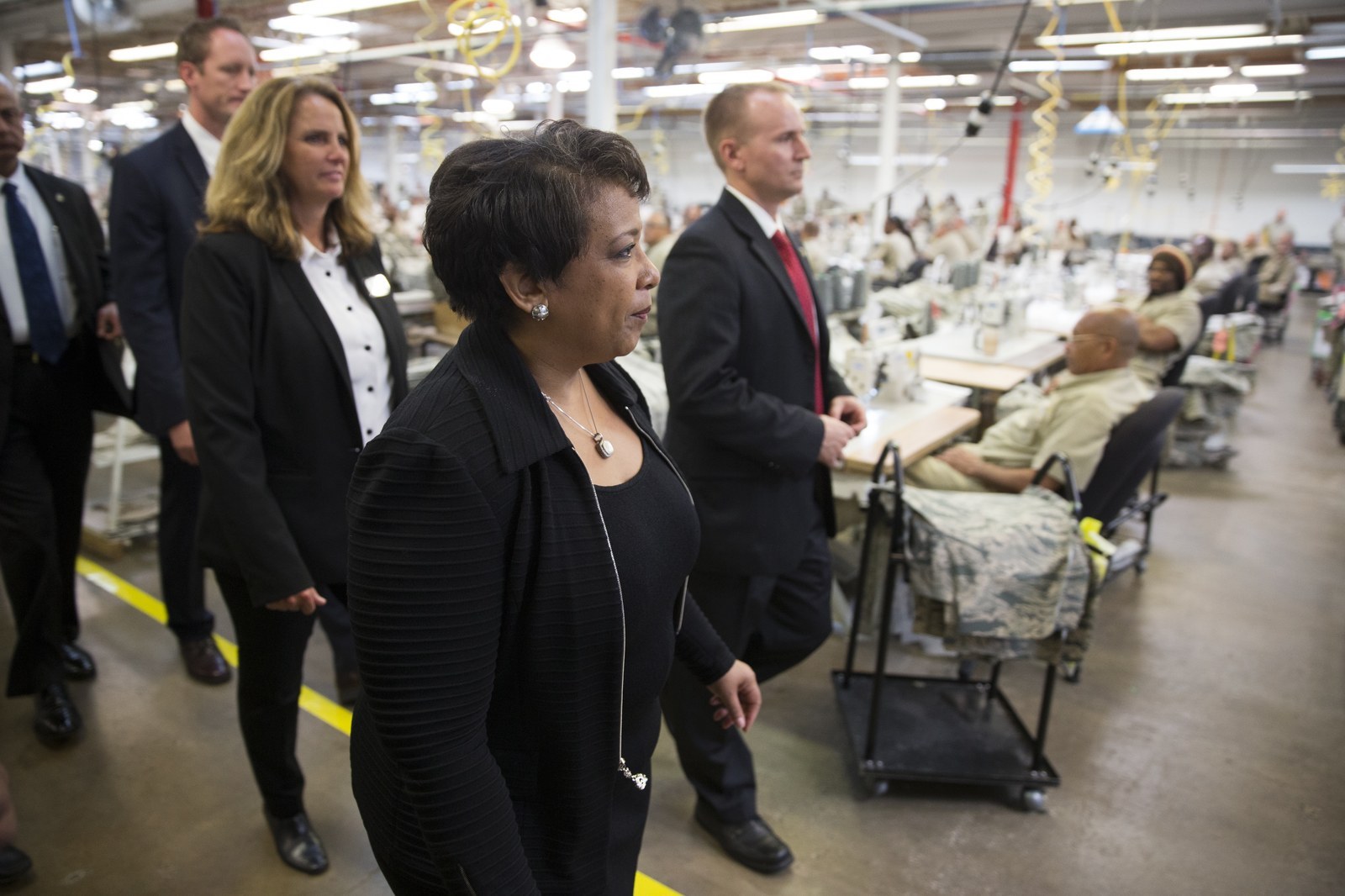 While the Justice Department directed attention this past week at the reentry process, much of the public attention over the past year and a half when it comes to criminal justice issues — since the police shooting death of Michael Brown in Ferguson, Missouri — has been on the police side of the process.
Does the attorney general think the country is learning from the events — including attention paid to other "police-involved shootings" — since then?
"I do," she said. "I actually do."
Because of the ever-present video capabilities that many people have on their phones today, Lynch said, "[W]e do have viral videos of extremely difficult acts to watch — people being shot, people losing their life, being harmed — it has caused a lot of turmoil because people are rightfully frustrated."
While she called it "unfortunate" that it took "painful" moments like Brown's death or those of others — including Freddie Gray, Tamir Rice, and Sandra Bland — to draw attention to different elements of black people's interactions with police forces across the country, Lynch said that now the issues cannot be ignored.
"Because now, people who have — for whatever reason, this is not part of their experience — that have tended to say, 'No, this isn't a problem,' 'I don't think it's as bad as you say,' 'Oh, it can't be that serious.' No one can really hide behind that shield anymore, and so we have to face this," Lynch said. "I always liken it to the civil rights era, when television showed what was happening to the marchers, particularly the kids — actually, in parts of this state — drawing national attention to it, and people had to come up with solutions."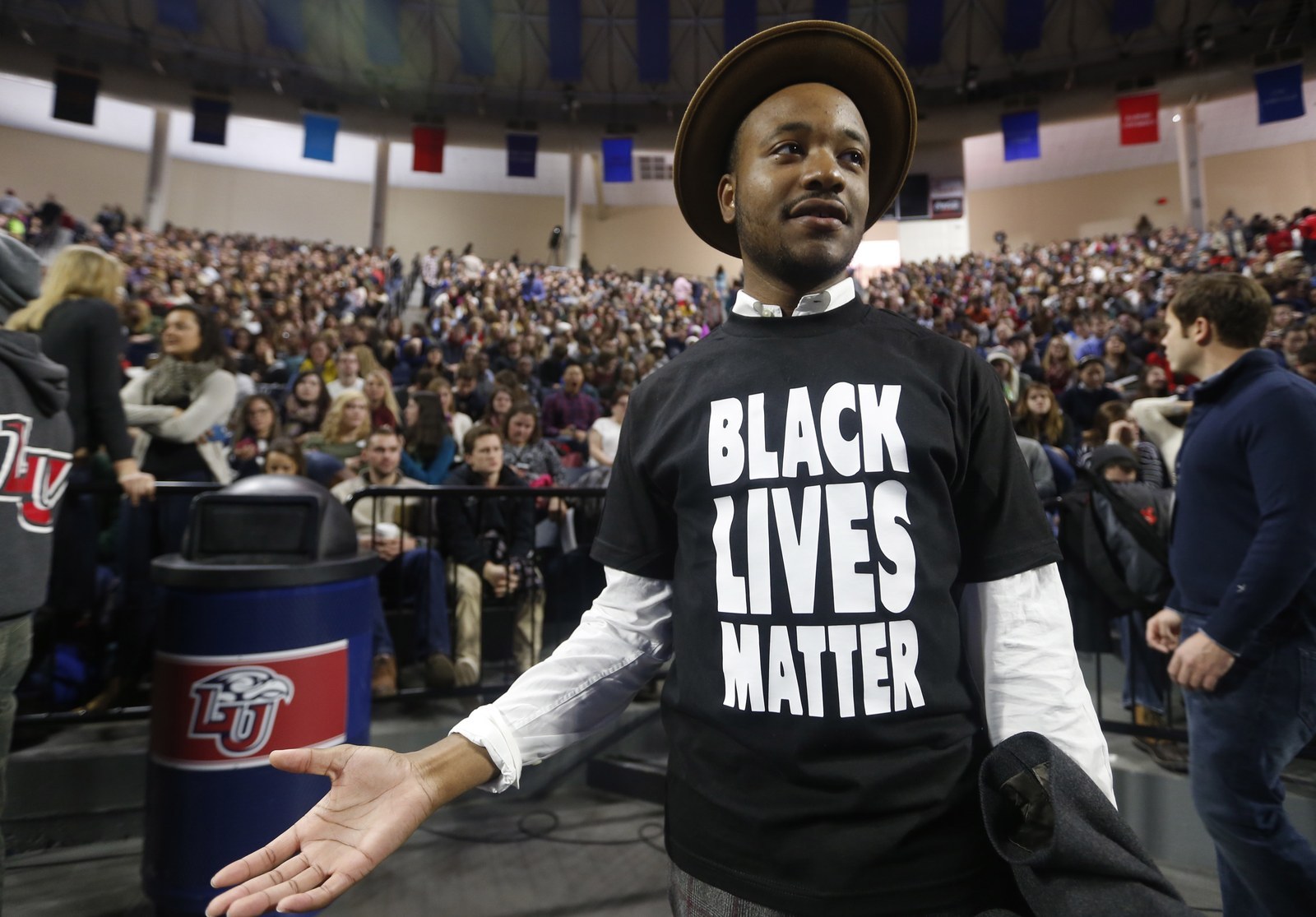 Those videos, and the moments of protest created in their wake, Lynch said, have "led to a conversation, the likes of which we really haven't been able to have, on the issues of community involvement, police accountability, race and the criminal justice system, the economy and the criminal justice system, poverty, joblessness, all these things are being talked about."
Lynch sounded an optimistic note, too, saying, "[W]e see law enforcement stepping up and being accountable, we see local law enforcement dealing with officers who have crossed the line, we see community members being involved in police training and police discussions."
Whether all police efforts at "stepping up and being accountable" are going well is another question. Last week, after news came out that the City of Cleveland had reach a $6 million settlement with the family of Rice — shot by police seconds after they drove up to the 12-year-old, who was carrying a toy gun — the Cleveland police union responded that they hoped the family would use some of the money "to help educate the youth of Cleveland in the dangers associated with the mishandling of both real and facsimile firearms."
The videos have also galvanized a new generation of activists — loosely organized under the phrase Black Lives Matter — that have dominated the 2016 campaign and thrust forward criminal justice issues into the national discourse. The activists have not always been received with universal warmth. President Obama recently said that, for the Black Lives Matter movement, "you can't just keep on yelling" after you've gotten the attention of those in leadership positions. Earlier in the month, former President Clinton — who last year apologized for some of the tough-on-crime policies he pursued as president — had an aggressive, and at points dismissive, response to protesters challenging him on actions taken by his administration and a term, "superpredator," once used by his wife in the 1990s.
Lynch isn't frustrated with the Black Lives Matter activists.
"I don't comment on what other people say about the movement or anything like that, because they have their own perspective," she said, "but what I would say is that we, in this country, have a strong tradition of a protest movement being often the forefront, raising issues, airing issues, bringing them to the light, bringing them to the forefront, and that it's an incredibly important role to play — particularly when young people are involved with them, because they will continue that work."
That "work," she continued, "has many dimensions. I think activists are needed in a whole variety of fronts," saying that people are needed "to raise those issues," "to talk about policy about those issues," and "to implement policy" that is adopted in response to such discussions.
"There's a whole lot of work out there to be done — and I think the protest movement is an important part of that."
Criminal justice issues, of course, aren't the only issues getting the attorney general's attention.
Over the weekend, Ted Cruz — locked in an uphill battle with Donald Trump for the Republican presidential nomination — attacked Trump on Meet the Press for, in his words, "agreeing with Barack Obama and Hillary Clinton that grown men should be allowed to use little girls' restrooms."
That's not how Loretta Lynch would put it.
Lynch's Justice Department is one of the key agencies advancing that Obama administration position — first adopted by the Equal Employment Opportunity Commission — that sex discrimination bans for the workplace and schools should be read to include a ban on anti-transgender discrimination, including allowing people to use restrooms that correspond with their gender identity.
"If we're going to have the view that we're going to protect everyone in this society equally, we have to mean it."
The Justice Department decided under Attorney General Eric Holder that Title VII's ban on sex discrimination covered gender identity, and Lynch's Justice Department filed a brief before a federal appeals court supporting a student's claim regarding the education argument. Lynch said the department is "very gratified" that the court recently affirmed the department's position.
"To me, this is really an issue of equality and fundamental fairness and what kind of a society do we want to be," she said, unprompted. "We decided over 200 years ago that we wanted to be an inclusive society, and we wanted to guarantee equal rights for all. For that to mean something, we have to be careful, we have to be vigilant, so that when people, for whatever reason, are either [made to] feel like they're on the outside — a particular group — or are placed on the outside, that that doesn't happen. And transgender issues are no different, to me, in that regard."
She said she believes that the among the roles of the Justice Department is to protect the vulnerable: the elderly, children, and human-trafficking victims. "Our transgender family members and friends are also incredibly vulnerable to discrimination, in terms of the laws that we see, but also to abuse," she said.
Lynch called the Shepard-Byrd Hate Crimes Prevention Act "a tool to deal with that" when transgender people are being targeted. "But then, this to me is all a part of the whole: If we're going to have the view that we're going to protect everyone in this society equally, we have to mean it."
Asked if that would include the Justice Department similarly adopting the view of the EEOC that sexual orientation-based discrimination is a type of sex discrimination barred under existing civil rights laws, Lynch hedged on the issue. "We're looking at that issue, also, and we'll definitely come to a conclusion soon as to what position to take," she said. "But I think that overall, the position — on a whole host of issues — should always be toward inclusion and equality."
The issue is that there isn't much time left. Obama will leave office in less than a year.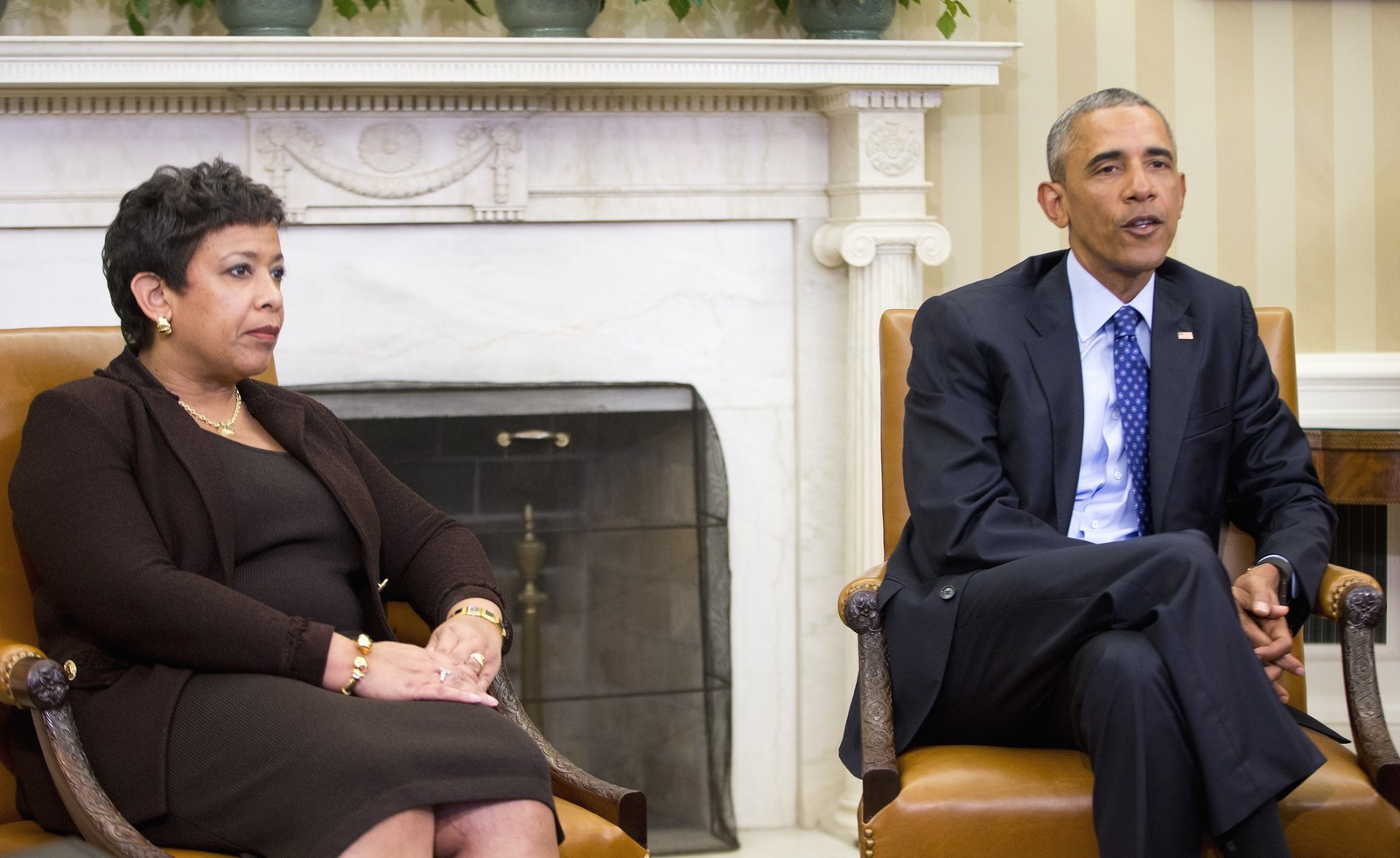 Lynch made it clear that she's going to keep pressing forward at advancing her mission of increasing inclusivity and equality — the next endeavor is a review of women in the criminal justice system.
The men in the Talledega prison talked a lot "about the effect of the programs that they're in on their families," Lynch said. "We find that, when you incarcerate a woman who's a mother, it really does tear a family apart. So, we want to see: What are we doing to keep them connected?"
Outside of that new initiative, Lynch said that she aims to carry through initiatives that she and Holder before her have begun over the next nine months. If the tenor of news lately is fairly dark, Loretta Lynch is optimistic about the effect of the things that already have happened and that programs she has put in place "will go on beyond" her time running the department.
"We now have discussions on these really hard, very difficult issues that have been difficult to have before and … we're having more of a conversation than ever," she said. "It's not a perfect situation by a long shot. There is still tension, there is still mistrust between law enforcement and community members, but what we see is situations where we come together and build bridges, it can be done."
For example, she said efforts like the projects highlighted during National Reentry Week, law enforcement and community empowerment efforts, and other police training efforts will continue over the remaining months and, she hopes, into the next administration.
"I don't know what's going to happen in the cases that we're talking about, for example, in the Title VII field," she said. "But I think, for me, when you look at the direction of the law, it always moves toward equality. It is slow and painful. Many times it is difficult. We don't get there overnight.
"But I think the work that we're doing here, and over the next nine months is going to contribute to that."