WASHINGTON — In one of the strongest shows of support for marriage equality ever demonstrated on the political right, more than 80 prominent Republicans have signed on to a Supreme Court brief laying out the conservative case for marriage equality — and elevating the longtime Bush aide behind the effort.
Ken Mehlman, who served as an adviser to President George W. Bush and chairman of the Republican National Committee, has become a leading Republican voice for marriage equality since coming out as a gay man in 2010. But after spending years building the coalition of lawmakers, former governors, and high-level GOP operatives who signed the brief to be filed this week, Mehlman now finds himself at the center of the national marriage debate.
Although the justices won't hear the case until March 26, and eyes are now focused on whether the Obama administration itself will file a brief in support of striking down California's Proposition 8, the Republicans' brief has made waves as a symbol of just how much the landscape has shifted in a few years.
For his part, Mehlman said the case comes down to a simple point of fairness.
"We believe the court should affirm the overturning of Proposition 8 and affirm the fundamental right of every American citizen to marry the person they love," Mehlman told BuzzFeed Tuesday via email. "It impacts such a fundamental right, the right to marry the person you love. What could be more basic and more important to people's happiness, security and freedom? And as the men and women on this brief thought about their own fundamental political and constitutional values, we concluded that the court should overturn proposition 8 and re-affirm the right to marriage for all Americans."
Recruiting the group of conservative signatories for the brief was no easy task, said Mehlman, but the years-long process illustrates a shifting consensus on the issue within the Republican Party.
"[We] discussed it with men and women we had worked with in politics around the country. Some of these conversations began a few years ago in my case, with thoughtful people I know trying to think about this issue and sometimes coming to different conclusions than they had before," he said.
The effort resulted in getting two members of Congress on board — Reps. Ileana Ros-Lehtinen and Richard Hanna — along with several former governors and members of Congress, and dozens of former administration officials, campaign staffers, and political consultants.
"I knew there were a lot of Republicans that are supportive, but there's never really been an opportunity like this to get everyone on the same page," said Kathryn Lehman, a Republican lobbyist working with Freedom to Marry and Log Cabin Republicans.
"If we want to be a strong party, we've got to learn to be inclusive, not exclusive," said Ana Navarro, the National Hispanic co-chair for John McCain's presidential campaign and also a co-signer. "And we have got to learn to co-exist as Republicans, whether you are a believer in traditional marriage as only between a man and a woman or whether you are a supporter of marriage equality."
"I think it's important that we don't get caught on the wrong side of history and on the wrong side of love and commitment," Navarro added.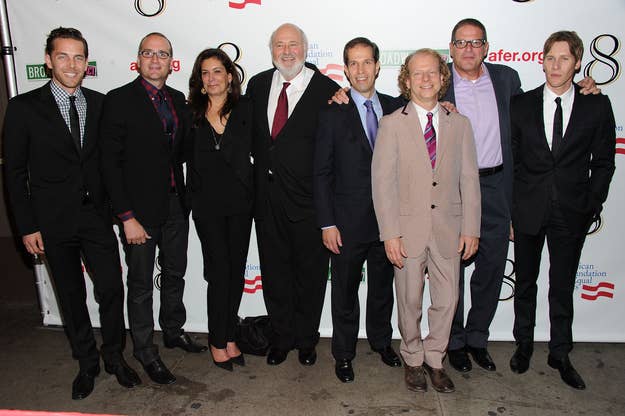 Mehlman has also received plaudits from the head of the nation's largest LGBT rights organization, Human Rights Campaign president Chad Griffin.
"Ken's work on this is incredible. We wouldn't have that brief were it not for [him]," said Griffin, who founded the American Foundation for Equal Rights in 2009 to advance the lawsuit against Proposition 8, and has long promoted adding a bipartisan image to the marriage equality cause.
Griffin called the brief "a dream come true."
"When ... we brought in Ted Olson to this case, it was really a first. A prominent Republican not only taking a position in support of marriage equality, but really helping to lead the charge with regard to the Proposition 8 case," Griffin said. "Shortly thereafter, Ken came into our effort and we asked him to join our board of directors. Ted and Ken helped open the doors, and this brief is really the realization of that work and Ken's time, energy, effort, relationships."
Mehlman's work on marriage equality in recent years came after he faced significant criticism for his work for President George W. Bush during the 2004 election, in which 11 states voted to amend their state constitutions to ban same-sex couples from marrying, and at the RNC during the time Bush supported a federal amendment to ban such marriages.
As Griffin noted, Mehlman has worked to advance marriage equality since coming out, both by supporting the Proposition 8 case and pushing same-sex marriage bills in several states. Of this week's brief, Andrew Sullivan wrote Tuesday, "I think this is a huge achievement for Ken, morally, and politically."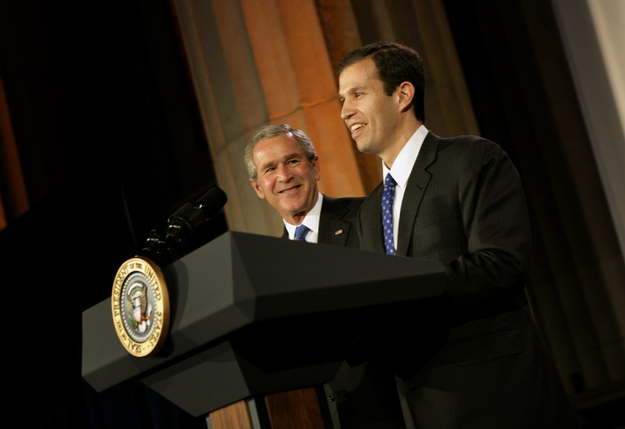 A draft of the brief, which will be formally filed later this week, presents the conservative case for marriage equality, arguing that there is no legitimate reason for excluding same-sex couples from civil marriage — something the brief notes has been held repeatedly by the Supreme Court to be a fundamental right.
The brief also details both how conservative principles are advanced by allowing same-sex couples to marry.
"In several states, we've seen what has happened when marriage is available to all citizens: families are stronger, not weaker, kids are more secure in their homes because there isn't a risk of losing it if a parent dies or there aren't questions about medical decisions, communities are benefited because someone who is sick or old has someone who will care for them," Mehlman explained. "So the fears that proponents of Proposition 8 [described] have been proved to be without evidentiary support."
The brief may add pressure on the White House to weigh in on the case.
"Vice President Cheney and Laura Bush were in favor of marriage before President Obama was, so it wouldn't be the first time GOP stars were to the left of the President on this issue," quipped Margaret Hoover, a Republican supporter of marriage equality who signed on to the brief.
Asked if the brief would have an impact on the administration's decision whether to file, though, Navarro didn't see a likely connection.
"I think, when it comes to gay rights, it's a very personal issue and everybody has got to do what they think is right for them. It is certainly my hope that the administration will file something, but I don't think any Republican thinks we have much control or influence over what the administration does," she said.
For Mehlman, the brief is not only about the Supreme Court — it's about the future of his party, and the country.
"I hope that our brief will be useful to the court and also that it will speak for millions of Americans who, like the signers, have conservative values and who support civil marriage for gay and lesbian couples because we are conservatives, not in spite of it."