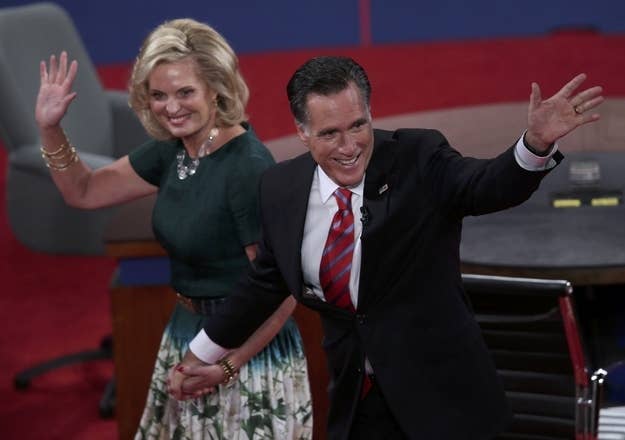 After much delay, Log Cabin Republicans — an organization of gay Republicans — announced today that it has issued a "qualified endorsement" of Mitt Romney for president. The organization did so despite Romney's recently renewed support for a constitutional amendment to ban same-sex couples from marrying.
In explaining the move, the organization states in its full endorsement statement, "The qualified nature of this endorsement means that Log Cabin Republicans will be most active in our support for House and Senate candidates. ... While many of our members will also be working hard on behalf of Governor Romney, growing the pro-equality Republican presence in the House and Senate is our highest electoral priority this year."
In its broad news release, however, it did not note the endorsement as "qualified," saying only "the National Board of Directors of the Log Cabin Republicans has elected to endorse Governor Romney for president."
R. Clarke Cooper, the group's executive director, defended the endorsement in a statement, saying "Despite our disagreement with Governor Romney on the issue of marriage, on balance it is clear that in today's economic climate, concern for the future of our country must be the highest priority. We are Republicans, and we agree with Governor Romney's vision for America in which success is a virtue, equal opportunity is ensured, and leaders recognize that it is the American people, not government, that build our nation and fuel its prosperity."
Romney campaign spokesman Ryan Williams told BuzzFeed, "Governor Romney welcomes the endorsement of the Log Cabin Republicans and appreciates their support."
Ted Olson, the former George W. Bush administration lawyer who is now one of the lead lawyers challenging Proposition 8, is in a similar position — fighting for marriage equality for same-sex couples and supporting the Romney-Ryan ticket.
"Like the Log Cabin Republicans, I am proud to support Governor Romney for president, and I am proud to be an advocate for the freedom to marry," Olson said in the LCR statement. "This endorsement speaks to Log Cabin's principled belief in equality for all Americans, and the pragmatic recognition that our nation is in need of new leadership. Getting our fiscal house in order is more than an economic imperative - it's a moral imperative. Gay or straight, Americans deserve a president who will secure a future for our children that doesn't leave them buried in debt."
The NOM Pledge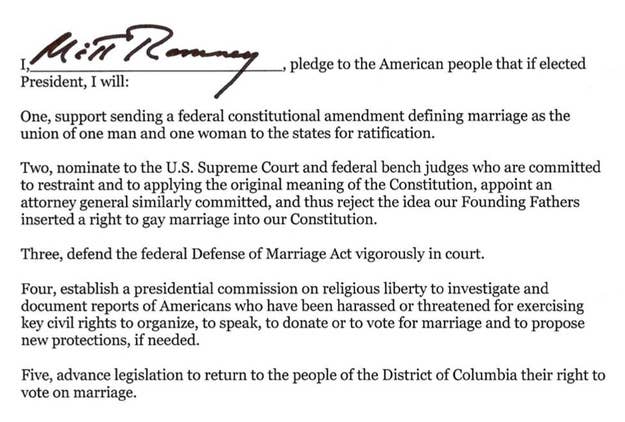 Regarding the National Organization for Marriage pledge that Romney signed in 2011, the LCR full statement notes, "From the day Governor Romney signed this pledge, Log Cabin has been outspoken in our opposition to this exercise in an outdated politics of division. Even with this endorsement, we will continue to voice our disagreement with any call for a constitutional amendment federalizing a definition of marriage that excludes LGBT families."
"While even the suggestion of enshrining discrimination in our nation's most precious document is deeply offensive, there is a significant difference between a valid threat and an empty promise made to a vocal but shrinking constituency. In our judgment, the NOM pledge is ultimately merely symbolic and thus should not be the basis of a decision to withhold an endorsement from an otherwise qualified candidate, particularly given the gravity of the economic and national security issues currently at stake."
The statement did not address the other portions of the NOM pledge.
Over the weekend, however, Romney campaign senior adviser Bay Buchanan reiterated Romney's support for the amendment, telling BuzzFeed, "Governor Romney supports a federal marriage amendment to the Constitution that defines marriage as an institution between a man and a woman. Governor Romney also believes, consistent with the 10th Amendment, that it should be left to states to decide whether to grant same-sex couples certain benefits, such as hospital visitation rights and the ability to adopt children. I referred to the Tenth Amendment only when speaking about these kinds of benefits — not marriage."
The Romney campaign has not responded to a request for comment about whether that comment means that a Romney presidency would attempt to roll back Obama administration rules requiring the availability of hospital visitation rights for same-sex couples.
In the past, Log Cabin held back its endorsement from President George W. Bush in 2004 for coming out in support of the proposed Federal Marriage Amendment.
GOProud, another group for gay conservatives, endorsed Romney earlier this year.
GOProud's co-founder, Chris Barron, told BuzzFeed this morning, "We are disappointed that they have offered only a qualified endorsement and made it clear they won't work to elect Governor Romney. We need all hands on deck and every vote we can get right now to help defeat Barack Obama."