Liberal Groups Said They Wanted Three White House Advisers Fired — But Then Only Named Two
A number of high-profile liberal and progressive advocacy groups want Stephen Bannon and Sebastian Gorka to be fired. While groups announced they would call for Stephen Miller's firing as well, none of the advocates mentioned him on a Sunday call.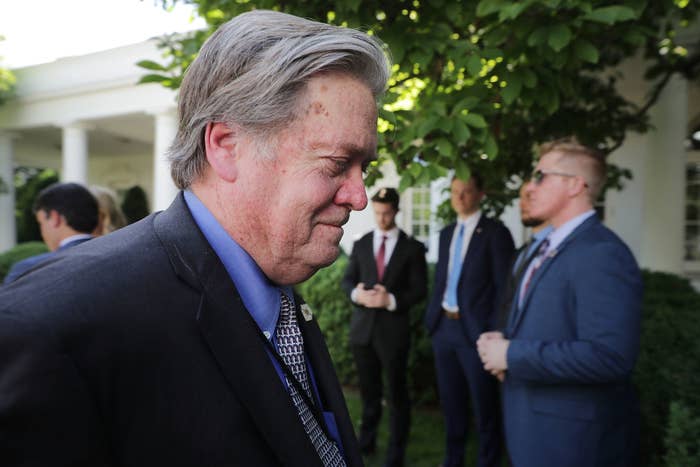 As progressives and liberals decide where to direct their attention in the nonstop news cycle that is the Trump era, civil rights groups have focused on two people: Stephen Bannon and Sebastian Gorka.
Initially, leaders from the civil rights groups also included Stephen Miller with the other two in a news release — but, oddly, he was not included after that.
Early Sunday afternoon, in the midst of white supremacist protests in Charlottesville that sparked counterprotests and violence, some top liberal and progressive advocacy groups announced a call urging action from President Trump.

The news advisory about the call — sent out at least by the Leadership Conference on Civil and Human Rights and the NAACP Legal Defense and Education Fund — made clear the groups would be calling on "Trump to fire White House Chief Strategist Stephen Bannon, White House Deputy Assistant Sebastian Gorka and White House Senior Advisor Stephen Miller."
When the call took place about two hours later, however, the aim had been reduced by one name.
"President Trump should remove Steve Bannon and Sebastian Gorka, who have stoked hate and division, from his administration," the head of the Leadership Conference, Vanita Gupta, said.
"Firing Mr. Bannon and Mr. Gorka would be a sign that he's serious about changing direction," said Richard Cohen, the head of the Southern Poverty Law Center.

Discussing white supremacist and neo-Nazi groups, Muslim Advocates' Farhana Khera said, "He must rid his administration of those who give comfort and support to these groups. Specifically, I'm talking about Steve Bannon and Sebastian Gorka."
None of the advocates who spoke even mentioned Miller's name in their statements made during the call.
In the past, liberals and others have pointed to Bannon's work as the head of Breitbart, and his statement that the site is a "platform" for the alt-right, and to reports that Gorka belonged to Historical Vitézi Rend, a far-right Hungarian group that had ties to the Nazi party and a complicated history. Gorka has denied he belonged to the group and denied holding anti-Semitic beliefs.
A petition launched by the Leadership Conference in the aftermath of the call similarly only named Bannon and Gorka.
The same focus appears to be coming from liberals in Congress as well.
On Wednesday, BuzzFeed News reported that a planned censure resolution being introduced by Democrats would include censure for, according to the resolution, "employing people with ties to white supremacist movements in the White House, such as Steve Bannon and Sebastian Gorka."
Asked about why Miller's name was included in the news advisory but not the call, a Leadership Conference spokesperson initially provided a statement condemning all three men — but drawing a distinction between Bannon and Gorka, and Miller's policy work.
"The Leadership Conference strongly believes that supporters of white supremacy and white nationalism, including the so-called 'Alt right', violent extremism, racial bigotry, and neo-Nazism should not serve in the White House or at any level of government. That includes people like Stephen Bannon and Sebastian Gorka, who have clear ties to organizations that promote hate, and Stephen Miller, an architect of policies like the Muslim ban and the curb on legal immigration that stoke hate and division," according to the statement.

Asked for further clarification, the spokesperson acknowledged that the call on Sunday focused on Gorka and Bannon, but still maintained that the group continues to oppose Miller's continued employment in the White House: "The Leadership Conference urges the president to fire Stephen Miller, who creates and pushes policies that seek to divide us, like the Muslim ban and the latest anti-immigrant policies."
As to the censure resolution, a spokesperson for one of the leaders of the effort, Rep. Jerrold Nadler, said the language wasn't limited to them, in effect, and called Bannon and Gorka just "the most obvious" names.