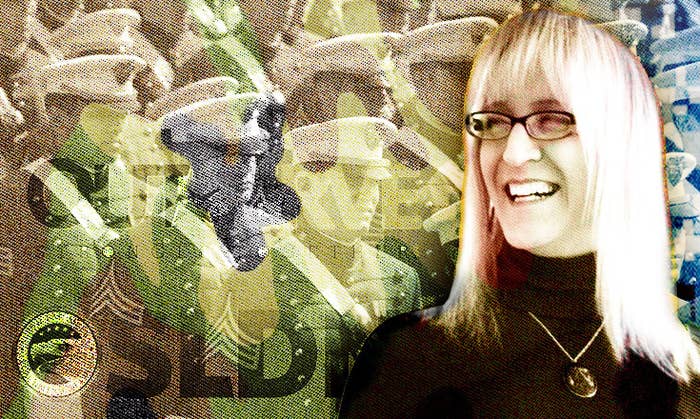 WASHINGTON — OutServe-SLDN executive director Allyson Robinson was asked by the board to resign Saturday, a decision that led several senior staffers and at least one board member to resign in protest.
The board co-chair, Josh Seefried, has been accused by the board member who resigned in protest, Sue Fulton, of having "rushed this vote through" on Saturday.
Seefried, however, would not comment, saying only, "We can't talk right now. We have some internal issues to deal with first, then will be updating the community."
Asked about the decision, Robinson would only tell BuzzFeed, "It would be inappropriate for me to comment at this time."
[Monday's update, which includes new statements from Robinson and the board, here.]
It is unclear for how long Robinson will continue to be serving as the executive director. Saturday's move came at a regularly scheduled board meeting, with no advance notice of the plans to seek Robinson's resignation and only after the board spent several hours in executive session.
Although no one would speak on the record about the reasons for the board's decision to seek Robinson's resignation, sources familiar with the board's decision expressed widely divergent views on factors that figured into the move — from fundraising and leadership abilities to personality conflicts to anti-transgender bias. Those sources, additionally, have their own interests, which could shade their views and comments.
In an email obtained by BuzzFeed, OutServe-SLDN director of external relations Zeke Stokes wrote Saturday night:
Today, the Board of Directors made decisions that have compromised the trust I had placed in it heretofore. They have chosen a direction that is inconsistent with what I believe is necessary to secure a successful future for the organization. In doing so, they have for the foreseeable future sacrificed the viability of the mission.

For that reason, I can no longer represent OutServe-SLDN to the public or to our members and donors. Thus, effective today, I have resigned as a member of the staff and wish to no longer be affiliated with the organization.
In addition to Stokes, Gary Espinas, the director of chapter and member services, resigned, as did Legal Director David McKean, although his resignation is pending resolution of ongoing legal commitments.
McKean told BuzzFeed, "It would be inappropriate for me to comment on yesterday's events. But while I share Zeke's conclusion, at this time I will remain with the organization to determine how to resolve matters related to client representation in accordance with legal ethics rules and requirements."
The news of Robinson's forced resignation and the resulting resignations was first reported by The Bilerico Project.
Fulton confirmed her resignation to BuzzFeed Sunday morning, saying, "I cannot comment other than to say I was one of the board members who resigned.
In an email obtained by BuzzFeed, however, Fulton emailed board co-chair Josh Seefried and board member Katie Miller on Sunday morning, providing some insight into the internal power struggle:
I was a member of the OS-SLDN Board yesterday, and I did NOT vote to ask Allyson to resign. Neither did Shannon. Matthew Phelps and Beth Schissel did not have the opportunity to vote either. Did you even ask for a roll call? On a decision like this?

You cannot characterize this publicly as a "unanimous" vote of the Board. If you do so, Board members will speak publicly to deny that they voted for it. The details of who was in the room and who wasn't when you rushed this vote through will not support your case.
BuzzFeed also has learned that Fulton had attempted to get the board to hold off on asking for Robinson's immediate resignation, seeking a two-week delay. The attempt was unsuccessful.
Robinson is the first out transgender head of a national LGBT organization whose focus is not predominantly transgender issues. The organization has struggled to find footing after the repeal of "don't ask, don't tell," but Robinson's hire last October was seen by many advocates as a bold move into the future for the organization.
[Update at 11:55 a.m.: Two additional board members have resigned, a source tells BuzzFeed: Matthew Phelps and Beth Schissel, both named in Fulton's email. Neither responded immediately to requests for comment.
There were 18 board members, according to the group's website, prior to the resignations. Robinson is a board member.]
[Update at 2:45 p.m.: John Aravosis at AmericaBlog published a prior email sent by Fulton on Saturday that proposed to the board — but apparently was sent to others as well — "the establishment of a Committee that we would delegate to meet with Allyson with the following proposal: 'This isn't working out, we'd like to work together on a transition plan that has you resigning…'."
Aravosis discusses but does not print the remainder of the email. He also claims the email makes it appear Fulton was supportive of the effort to remove Robinson, but Fulton disagreed with that assessment, writing at AmericaBlog, "The second email from me was an effort to craft a motion that gave Allyson until July 12, rather than the motion on the floor that wanted her terminated immediately. I would not have wanted the email to get out. It was part of the agonizing process of trying to keep the Board from acting recklessly. I failed."
Aravosis also notes that "one month ago, OutServe-SLDN's chief financial officer Francisco (Pancho) Ramirez resigned. Ramirez had been with the organization since 2005."]
[Update at 4:30 p.m.: Kulsoom Naqvi, staff attorney, and Erica Reardon, communications and development associate, are no longer listed as staff at OutServe-SLDN. They, along with Stokes and Espinas, had been listed on the website as staff Sunday morning, but the four names were gone as of 4:30 p.m. Sunday. Robinson and McKean remain listed as staff, along with four others. [Note: A source familiar with their departure says that, despite only being removed from the staff listing today, both left at different times over the past few weeks as part of ongoing reorganization.]
No changes have been made to the board of directors page as of 4:30 p.m.]
Stokes' full email:
Dear friends:

My entire professional life, I have maintained a motto: "Work Hard, Be Nice."

So I will not betray that now. Instead, I will say that it has been the great honor of my career to serve our nation's brave LGBT service members, veterans and their families. I could never have imagined when I accepted this position, that people like Charlie Morgan would enter my life and make such a profound impact on me.

Today, the Board of Directors made decisions that have compromised the trust I had placed in it heretofore. They have chosen a direction that is inconsistent with what I believe is necessary to secure a successful future for the organization. In doing so, they have for the foreseeable future sacrificed the viability of the mission.

For that reason, I can no longer represent OutServe-SLDN to the public or to our members and donors. Thus, effective today, I have resigned as a member of the staff and wish to no longer be affiliated with the organization.

For the rest of my life, I will be forever grateful for the opportunity to serve our nation's LGBT military community; however, the actions of this board are not worthy of their service and sacrifice. I choose to honor them with my resignation effective today.

Zeke
[UPDATE: This report has been updated as additional comment was provided on the resignations, with the most recent update at 4:45 p.m.]