LGBT Military Group To Choose New Board, Co-Chair At Center Of Dispute To Step Down
OutServe-SLDN announces formation of a transition committee, a group of four Board Members and four Chapter Leaders, to appoint new leadership. "The organization needs healing," outgoing co-chair Josh Seefried says.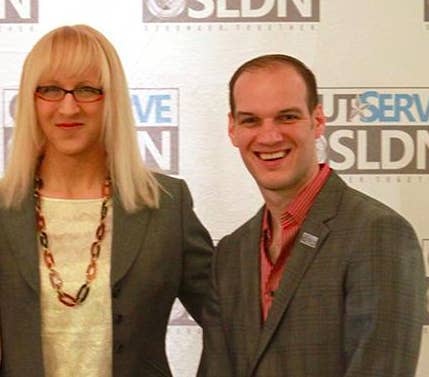 WASHINGTON — A new board of directors is coming to the LGBT military group OutServe-SLDN, but the latest moves being announced Wednesday evening are intended to allow for "a time to heal," outgoing board co-chair Josh Seefried told BuzzFeed.
In a statement released Wednesday evening, Seefried announced his plans to step down from the board, and the board of directors announced "the formation of a transition committee, a group of four Board Members and four Chapter Leaders who will be working side-by-side to appoint new leadership to the Board of Directors and begin to see the organization in a new direction."
Following the news this past weekend that the board had sought executive director Allyson Robinson's resignation, some staff and board members also resigned from the organization. This led to an emergency board meeting, which then led to a statement from the board and Robinson — in which her resignation was not immediate and she said it was made of her own accord. Several OutServe-SLDN chapters remained unsatisfied and, as The Bilerico Project noted, demanded that Seefried leave the board.
Now, Seefried will be doing so — on Monday — and the committee of chapter leaders and board members will be, potentially, attempting to reset the organization after a chaotic period that left everyone, inside and outside the organization, less than sure that the organization has a solid future.
"I own the last week, the fact that this PR disaster happened, is on my leadership, and I own that," Seefried told BuzzFeed. He added, though, "It's hard to see the LGBT community be very harsh when people may not know all the information or see everything."
Asked what the new committee's focus would be, Seefried said, "That's for the committee to decide. The committee needs to, one, get the whole information. They need to know the status of the organization. They need to know financially where we're at. They need to know all that information so they can start making decisions."
According to the board statement:
The members who have been selected by their peers to represent the OutServe-SLDN membership are Tania Dunbar, Todd Burton, Brynn Tannehill, and Regis Sullivan. They hail from OutServe Ladies, the Military Advisory Council, OutServe Trans, and OutServe Georgia, respectively. Katie Miller, Mike Magee, Matthew Phelps, and Regina Grattan volunteered on behalf of the Board of Directors.
Noting the dire financial situation in which he said the organization finds itself, however, Seefried would say, "In the short term, what's going to have to happen is that the organization is going to have to survive financially — to be able to stay on its feet. I think that very, very tough calls are coming for this organization, and I think that not everyone is going to agree with those calls."
Looking toward the organization he helped form before DADT was repealed, when he went by J.D. Smith to protect his anonymity as a current service member, he said, "OutServe was amazing at ... how lean it was, and that's where organizations in the Beltway should really [look]: 'Do we need to operate with large staff, or can we be leaner to actually do the mission?'"
"And then, going more into the medium and longer term, it's going to be about creating a system in which membership are setting the strategic priorities. I really see the organization going toward a mentorship model. In my own unit, I get people coming up to me that say, 'Hey, I'm just coming out to my family, do you have that kind of advice?' I think that's where OutServe-SLDN really needs to explore to grow."
Regarding questions that had arisen as to whether anti-transgender bias had played into the board's actions regarding Robinson, Seefried said, "There was nothing in the events of the past few days that was something that occurred because of anyone's anti-trans bias. That couldn't be further from the truth. This board proudly hired the first trans ED of any organization focused on the full LGBT community."
Speaking more personally — but with a piece of advice for the larger LGBT nonprofit world — Seefried, who is 27, said, "It's not easy being one of the youngest people in the movement in a leadership position. I think that's part of the reason this week went so south is, I'm the youngest person on a board in a co-chair position of, probably, any major organization, and that's not easy, being in that role. What I want to say, as advice to whole LGBT movement is that this kind of situation isn't going to be rare, as we go into a post-DOMA world and we start to achieve more as a movement, millennials and younger folks are going to need to be able to step into roles and onto boards, and I don't think our movement prepares for that."
Now, though, he said OutServe-SLDN needs some time to right itself if it's going to move forward on a surer footing.
"The organization needs healing," he said. And, I guess the last thing I'll say is, that's what we need, a time to heal. What we need now is that — we've come to an agreement with chapter leaders to do this committee, and the community really needs to let us heal and rebuild. And, I hope that they respect that. That's what's best for the servicemembers [because] we have so much more to do."
Seefried's Full Statement:
Three years ago, I found myself blackmailed under 'Don't Ask, Don't Tell.' Eventually that led me to a position to help create change. I'm incredibly proud of what OutServe-SLDN has accomplished under my tenure as co-director and co-chair of the organization. I'm more proud of the teammates I got to work with. The fact people like Air Force Technical Sergeant Jonathan Mills was able to successfully get a magazine distributed on military bases worldwide, before DADT ended is stunning. Just weeks after DADT was repealed, we managed to have a conference of nearly 200 servicemembers in Las Vegas. Most importantly I was proud to work with heroes like Aubrey Sarvis, to merge OutServe and SLDN.
This fight and this organization's work is not over. This comes down to the men and women in uniform who continue to serve in silence. There are thousands of servicemembers and DoD civilians that still feel alone and more importantly, our trans brothers and sisters still cannot serve openly.
OutServe-SLDN has decided to create a committee, a group of four Board Members and four Chapter Leaders who will be working side-by-side to create recommendations to see the organization in a new direction. That means changes in leadership, including myself.
I will be resigning in the near term from OutServe-SLDN and supporting the recommendations that committee comes to. Regardless of title, I will do everything I can to support a smooth and orderly transition.
There are going to be tough decisions ahead for this organization and not everyone is going to agree with them. Actively serving LGBT servicemembers, DoD civilians, and veterans deserve to have their voice heard. This has always been the role of OutServe and OutServe-SLDN: to give voice and social connection to those that would otherwise serve and suffer in silence. This is a mission that needs to continue, and we ALL should be doing everything we can to make sure it continues.