LGBT Military Group Held Emergency Board Meeting To Discuss Leader's Ouster
The OutServe-SLDN board of directors held a Sunday night conference call to discuss the status of the organization and its leader, Allyson Robinson. Update: Saying she will continue to lead the organization "in the near term," Robinson said Monday afternoon, "I have decided of my own accord to step down ...."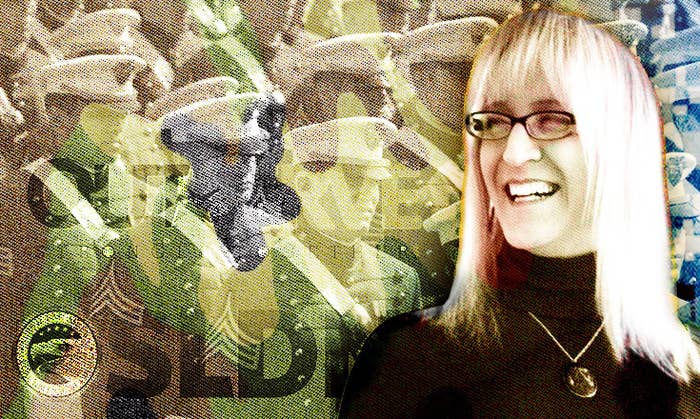 WASHINGTON — The board of directors of OutServe-SLDN held an emergency board meeting Sunday night to discuss the staff and board resignations that had been reported throughout the day Sunday, as well as the underlying Saturday decision to ask executive director Allyson Robinson to resign.
According to a person on the call, OutServe-SLDN will be releasing a statement to its members this afternoon. No further information was given by the source, and neither the organization nor board co-chair Josh Seefried has provided any public statement since the news was reported by the Bilerico Project and then BuzzFeed on Sunday morning.
Asked for comment Monday afternoon, Seefried — who has himself become the target of an attempt to remove him from his leadership role — told BuzzFeed, "[N]othing at this time."
[Update at 6:25 p.m.: Robinson has told the members of OutServe-SLDN that she will "continue to lead [the organization] in the near term," but also stated, "I have decided of my own accord to step down, and will work with our members to ensure an orderly transition to the next phase of this organization's life."
Robinson's statement posted at OutServe Magazine:
This weekend's events were most unfortunate and deeply troubling for many of us, but for my part, as from the beginning of my tenure with this organization, I am fully and firmly committed to our LGBT service members, veterans, and their families and to their fight for equality. For that reason, and to honor those who've shared those values with me, it is my intent to continue to lead OutServe-SLDN in the near term as we approach an historic moment for our community and our country. After that, at a date to be determined, I have decided of my own accord to step down, and will work with our members to ensure an orderly transition to the next phase of this organization's life.

Very few people ever get the opportunity in this life to hear from those whose lives they've touched just how much they are loved and respected. I have no words to express my gratitude for the hundreds who have reached out to me privately or stood up for me publicly over these last 24 hours to show their support: from the military community, the LGBT community, and most especially, most dear to me, the troops of OutServe-SLDN and their families. For that, I am blessed beyond measure.

In light of the momentous events the coming days hold for us all, I intend to put this matter behind us and look forward to shifting the focus back to where it belongs: our LGBT service members, veterans, and families, who sacrifice so much every day, and their ongoing fight for full equality.

— Allyson Robinson, Executive Director, OutServe-SLDN
The board also issued a statement:
Washington, DC – The OS-SLDN Board and staff are in the process of transforming the organization from primarily a legal services organization into a membership services and advocacy organization. This not only includes revising our business model to operate effectively under new political and financial realities, but is also part of a larger effort to increase the role of the organization's 6,500 members in the leadership and direction of the organization.

This past Saturday an email containing the contents of confidential internal discussions of the OS-SLDN Board of Directors was erroneously distributed to an email list containing recipients outside of the Board of Directors. The board would like to clarify that the drafted item was only part of a series of discussions aimed at transitioning the organization in what has been a rapidly changing financial and political landscape facing the LGBT movement, which will soon include a Supreme Court decision on the constitutionality of the Defense of Marriage Act. As is the case with many of our partners at this critical time, OS-SLDN is facing real and significant financial obstacles, forcing the Board to look critically at all aspects of its operations and to consider difficult decisions, including cutting costs and staffing reductions.

Board Co-Chair, Josh Seefried, stated, "There is no excuse for the series of events that transpired this past weekend. On behalf of the Board of Directors, I sincerely apologize for this as well as the impact it's had on our staff's and members' trust and confidence in the organization. Allyson Robinson has led OutServe-SLDN as one of the most transformational leaders of this movement, and there is not a member serving on this board who does not respect and admire her work for this organization and the LGBT movement."

"Allyson has continually put our LGBT service members, veterans, and their families first in the changes the organization has faced since the repeal of DADT," stated co-chair April Heinze. "As many in our community know, the LGBT movement is evolving quickly, and so will its institutions. Many people thought that after the repeal of 'Don't Ask, Don't Tell' all the military LGBT organizations would or should disappear. As Allyson Robinson and her staff have so powerfully and effectively reminded the nation, the mission for full equality in our Armed Forces is incomplete."

Robinson, a 1994 graduate of West Point, has led OutServe-SLDN through some of the movement's most significant victories since the repeal of DADT, including the public vetting of Chuck Hagel for the office of Secretary of Defense, the highlighting of ongoing discrimination against gay and lesbian military families at Ft. Bragg and elsewhere, and the extension of non-DOMA restricted benefits to same-sex military partners. She has worked tirelessly to put military families at the center of the discussion of the Defense of Marriage Act and has become the nation's leading advocate for transgender inclusion in the military.

In light of these events, the board and Allyson will be working together toward a successful transition of the organization. Allyson will continue to serve as Executive Director throughout this period.

OS-SLDN operations and planned events, unless explicitly noted, will continue as planned to include the 2013 OutServe-SLDN Leadership Conference which will be held in San Antonio, Texas in October.
Neither statement sets up any substantially different timeline for Robinson's departure than had been suggested previously upon the breaking of the initial news of Robinson's ouster. The only substantive difference, if it is one, is that Robinson now says her departure is "of [her] own accord."
(This update was updated at 6:45 p.m. to include the board statement.)]
[Update at 8:45 p.m.: Sue Fulton, a board member who resigned on Sunday, told BuzzFeed Monday night that the board statement inaccurately portrayed the circumstances of the past few days.
"The statement of the board is troubling to me. I was in the room, and it was my understanding that the board had rejected all options that did not include the resignation of Allyson Robinson as executive director," Fulton said. "The suggestion that they did not ask Allyson for her resignation is offensive to me and other board members, as well as staff, who resigned. If the board were still considering other options in which Allyson would have stayed on as executive director, I would not have resigned, nor, I suspect, would others have."]
After a day of reporting from the Bilerico Project and BuzzFeed on the resignations of multiple staff and board members, which followed the initial decision by the board on Saturday to seek Robinson's resignation, the emergency board meeting was held via telephone Sunday night.
BuzzFeed has since obtained a copy of Beth Schissel's board resignation letter, in which she wrote was "completely dismayed by the decision to ask Allyson to resign" and resigning as a result of that decision.
Matthew Phelps, one of the board members who submitted his resignation, meanwhile, announced that he is staying on the board for the time being.
In a statement provided to BuzzFeed and others, he said, "As many of you know, I submitted my resignation to OutServe-SLDN yesterday. It was not immediately accepted by the board co-chairs, and at their request I have agreed to withhold my resignation for the time being. My primary focus has been and always will be in service to my country and ALL service members who defend it."
[Update at 2 p.m.: Although Phelps would not comment on any organizational developments that might be forthcoming, he did tell BuzzFeed, "I can confirm I will remain on the board. My resignation has been officially withheld."]
[Update at 2:10 p.m.: A person familiar with the board discussions tells BuzzFeed that the board has been unable to come to a decision on a statement, following a move to remove board co-chair Seefried. The votes for removal were not there, the source said, and Seefried has refused to step down voluntarily.
Bil Browning at the Bilerico Project, meanwhile, reported that "[n]ine OutServe-SLDN chapters have threatened to break away if Seefried does not step down as board co-chair," a fact that BuzzFeed has independently confirmed from a source familiar with the plans.]
[Update at 4:10 p.m.: Nathaniel Frank — the author of Unfriendly Fire, a book about the military's ban on out gay service, and a leading national expert on LGBT military service — has resigned from the board of OutServe Magazine. In an email sent today to the magazine's editor and provided to BuzzFeed, Frank wrote:
After hearing this weekend of actions taken by the OutServe-SLDN Board of Directors that do not appear to reflect either the best interests of the organization or the proper procedure for making organizational decisions, I have concluded I can no longer serve on the board of OutServe Magazine. As someone who has devoted the bulk of my professional career to researching and sharing information about the experiences and challenges of LGBT service members, I am hopeful that Outserve-SLDN or some other organization will be able to adequately serve the needs of this and the wider U.S. military community. It has been my honor to serve in my capacity as Magazine board member alongside many dedicated and professional staff and board members. Effective today, I am resigning my position, and I wish all our service members the very best.

Best,
Nathaniel Frank
There has still been no public statement from the board of OutServe-SLDN.]
Here is Schissel's full letter:
Board:

When I was approached by Jeff Cleghorn to consider joining the board, I was both honored and humbled. Jeff was on the other end of a phone line - a lifeline to me - when I was in the quagmire of being investigated and ultimately discharged under DADT. The support provided me by SLDN was invaluable. Despite trepidation regarding my ability to become a fundraiser, I agreed to be nominated. And after talking with Jeff and Sue Fulton, I felt assured that the sum total of my life experience both in and out of the military and the all gray hairs earned along the way could be put to use by this organization moving forward.

I am completely dismayed by the decision to ask Allyson to resign. She is the right leader for this organization. Period. There is no one else who has the years of experience in the trenches and gravitas to reach across the table in the Pentagon and the halls of government who can get us to win-win on the issues facing the folks in uniform. And that after all, should be the focus - the mission, the mission, the mission.

I won't compromise my integrity in asking friends, colleagues and strangers to share their treasure to support an organization in chaos that has put egos before mission. I am, therefore, resigning from the board.

Regards,
Beth L. Schissel, MD