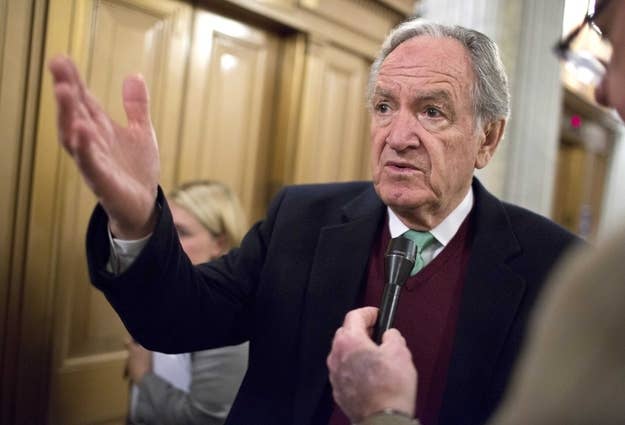 WASHINGTON — LGBT advocates — who faced a setback this week when the Senate kept protections for same-sex couples out of immigration reform — will have to wait until after the Fourth of July holiday to see any action on another top priority: a bill to ban workplace discrimination against LGBT people.
"I've got a couple, three things on my agenda right now. I think we're going to do ENDA probably after the Fourth of July break," Sen. Tom Harkin, the chairman of the Health, Education, Labor and Pensions Committee that is considering the Employment Non-Discrimination Act, told BuzzFeed this week.
Supporters had hoped to see the bill move out of the committee by June at the latest.
At ENDA's introduction, the bill's lead sponsor, Sen. Jeff Merkley of Oregon, had told BuzzFeed that he hoped to have the bill marked up in May or June.
"It's not ideal," said Freedom to Work executive director Tico Almeida, who called the delay "disappointing."
"It would have been the preference of many LGBT advocates to hold the markup in May or June, but the committee has a very busy schedule, and I do think that some policy makers in Washington, D.C., have a philosophy that nothing should be done on any gay rights issue until after the Supreme Court rules in the marriage equality cases," he said. Almeida said he disagrees with that philosophy, but, "[M]any people in this town have decided to put all LGBT issues on hold until the Supreme Court rules."
Almeida's organization has attempted to move forward nonetheless, filing a complaint on Wednesday in Illinois alleging that ExxonMobil discriminates on the basis of sexual orientation in its employment practices.
Human Rights Campaign spokesman Michael Cole-Schwartz wouldn't directly criticize Harkin's move, only telling BuzzFeed, "We have been pressing the chairman to bring up for a markup and have every confidence that he will make good on that pledge. We would like to see that as soon as possible."
Almeida, whose organization has been more vocal than HRC in criticizing the lack of legislative and executive movement on workplace protections, nonetheless added, "We remain 100% confident that Chairman Harkin plans a markup this summer that will move ENDA successfully from the committee and position it for floor action in the fall."
On that, Cole-Schwartz concurred, saying, "We expect that ENDA will be marked up with plenty of opportunity for the majority leader to bring it for a vote as well. Our hope is that ENDA will receive a floor vote this year."
Merkley's office had no comment on Harkin's statement, but a spokesman noted that the bill already has support from 46 co-sponsors, plus Reid's support, and that they remain optimistic the bill will be heard on the Senate floor this year.
Two Republicans, Sens. Susan Collins and Mark Kirk, are co-sponsors of the bill. Eight Democrats — Sens. Maria Cantwell, Tom Carper, Heidi Heitkamp, Tim Johnson, Joe Manchin, Bill Nelson, Mark Pryor, and John Rockefeller — and Independent Sen. Angus King, who caucuses with the Democrats, are not co-sponsors.