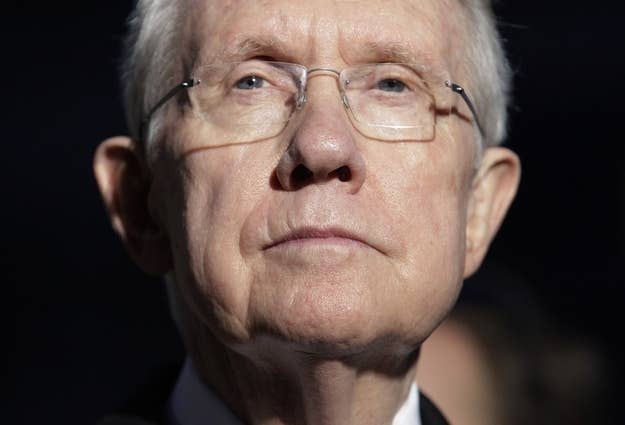 WASHINGTON — Following a rush of endorsements of the legislation over the past two days, a leading advocate says the full Senate will be considering the Employment Non-Discrimination Act — a bill to ban anti-LGBT bias in employment — next week.
Human Rights Campaign vice president of communications Fred Sainz told BuzzFeed Wednesday that Majority Leader Harry Reid informed Minority Leader Mitch McConnell on Tuesday that the full Senate will take up ENDA next week.
"Late last night, Leader Reid informed Leader McConnell that the Senate will consider ENDA next week. It's still unclear as to when Leader Reid will file for cloture," Sainz said of the bill, which bans sexual orientation and gender identity discrimination in employment for most employers.
A McConnell aide said he was unaware of any conversation having happened between the leaders about the plans. Spokespeople with Reid's office did not provide comment on the plans.
On Monday, Reid announced on the Senate floor that ENDA would be considered during this work session, which is scheduled to end by Thanksgiving. Reid also discussed the importance of pending judicial nominations, specifically for the D.C. Circuit Court of Appeals, as a priority for this work session. Later Monday, he filed cloture on the nomination of Patricia Millett to the prominent appeals court.
Currently, advocates claim support from 59 senators, including Wednesday's announcement by Sen. Joe Manchin's office that the West Virginia Democrat will support the bill and Thursday's planned swearing-in of Sen.-elect Cory Booker, who backs the bill. All 54 Democrats in the Senate currently co-sponsor or at least have said they will vote for the bill. Four Republicans have signaled support for the legislation through co-sponsorships or votes: Sens. Susan Collins and Mark Kirk co-sponsor the legislation and Sens. Orrin Hatch and Lisa Murkowski voted for the bill in the Senate Judiciary Committee.
Additionally, Sen. Rob Portman on Tuesday said he is "inclined to support" the bill. Other senators being targeted by advocates include Republican Sens. Kelly Ayotte, Dean Heller, Jeff Flake, John McCain and Pat Toomey. Flake, however, told the told Washington Blade that he would not support the bill because of the inclusion of protections for transgender workers. McCain made comments critical of the legislation, The Huffington Post reported, but he remains a target for some advocates.