LGBT Advocates Give Obama A Pass For A Night
Scant reference of LGBT rights during the State of the Union, but advocates remain hopeful. "He laid out a vision," one advocate says.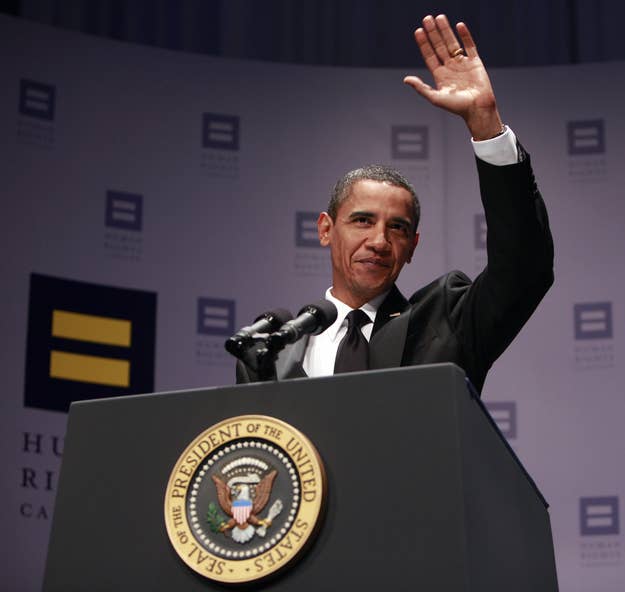 WASHINGTON — Although President Barack Obama did not mention specific actions he would take to advance LGBT rights in the coming year during Tuesday's State of the Union address, most advocates appeared ready to give the president a pass — for the night.
Obama did include broad references to LGBT equality in the speech, saying that part of "the basic bargain" in America is that "if you work hard and meet your responsibilities, you can get ahead, no matter where you come from, no matter what you look like, or who you love."
He most directly addressed an area of LGBT advocates' concern when he later said, "We will ensure equal treatment for all service members, and equal benefits for their families — gay and straight."
Those mentions were enough to appease LGBT advocates, especially given the prominence their issues received in Obama's Inaugural address in January.
"Of course, we would have liked to have seen our community's priorities in the speech," Human Rights Campaign's spokesman, Fred Sainz, told BuzzFeed. "But let me be clear: The references in the speech were meaningful. Both reaffirm his commitment to equality in ways that are substantively and thematically important."
Advocates do, however, expect specific efforts to follow tonight's broad brushstrokes, from action on stopping anti-LGBT job discrimination, to supporting gay and lesbian couples asking the Supreme Court to strike down California's Proposition 8, to opening the military to out transgender service.
"The president has the power to issue an executive order banning companies that contract with the federal government from discriminating in employment based on sexual orientation and gender identity. This is a direct and immediate action he can take that will help millions of Americans," National Gay & Lesbian Task Force executive director Rea Carey said in a statement, adding that he "should also exert pressure on Congress to finally pass the Employment Non-Discrimination Act."
Richard Socarides, a former advisor to President Clinton on LGBT issues, who has been critical at times of the pace of progress by the Obama administration, issued both praise — and a checklist: "I think the inaugural address was so broadly thematic and aspirational, and gay rights was so central in it, that we are pretty much stopped from complaining about the State of the Union, but I hope that the president is planning to soon sign the ENDA-related executive order and file a brief in the Proposition 8 case. I think he will do both soon."
On the marriage front, Freedom to Marry President Evan Wolfson said activists, as well as the president, have work to do in the coming months.
"I'm still riding high on his historic inaugural address exaltation of the freedom to marry, and focused on the work we need to do to win more states and continue winning over more hearts minds. That's how we maximize our chances of winning in court and beyond," Wolfson told BuzzFeed Tuesday night.
Noting this week's action by the Pentagon to extend same-sex domestic partner benefits, OutServe-SLDN executive director Allyson Robinson said more must be done: "To finish the task, the Supreme Court must strike down the so-called Defense of Marriage Act. Secretary Panetta's successor must enact equal opportunity and non-discrimination policies that protect LGBT troops and ensure America's military can attract and retain America's best. And outmoded, obsolete policies that bar qualified American patriots who are transgender from military service must be eliminated."
Not everyone was satisfied with Obama's overall performance, meaning Obama had some LGBT critics Tuesday night — on the left and the right.
GetEqual, which led a protest outside the White House Sunday night urging action on the executive order, pushed back again at Obama's inaction on that front. "He had his pen out today to sign other Executive Orders — it's incumbent on the LGBT community to ask why he decided to put that pen away before protecting 25% of the American workforce from workplace discrimination," GetEqual managing director Heather Cronk said in a statement.
"As LGBT conservatives, Log Cabin Republicans is pleased with recent progress toward equality for gay and lesbian Americans. If the president truly wants to be an ally to our community, he will not only continue pushing for social equality, but stop with the platitudes and get serious with a plan that addresses our nation's fiscal problems," Gregory T. Angelo, Log Cabin Republicans interim executive director said in a statement.
Center for American Progress vice president for external affairs Winnie Stachelberg, who generally has been a strong supporter of the administration, defended the president, telling BuzzFeed, "I think there's a comfort level, there's an acknowledgment of the integration of LGBT issues into the American frame. I think the president today, he painted a picture, rather than issuing a set of proposals. He laid out a vision, and we were part of that vision in a very integral way. Now, we need to start getting things done and engaging. I'm up to the task, and the people in the LGBT community are as well."
HRC's Sainz echoed that, saying of Tuesday night's speech, "This president has done a lot for LGBT people, but one of his greatest legacies will be the unapologetic way in which he has included LGBT people when speaking about our country and the way it should afford opportunity to all."