WASHINGTON — As President Trump's administration began, the White House website was turned over from former President Obama's team to the Trump team.
Understandably, the Trump White House started anew — with a barebones site that includes just six short "issues" sections. (There is news in what the new administration chose immediately to highlight.)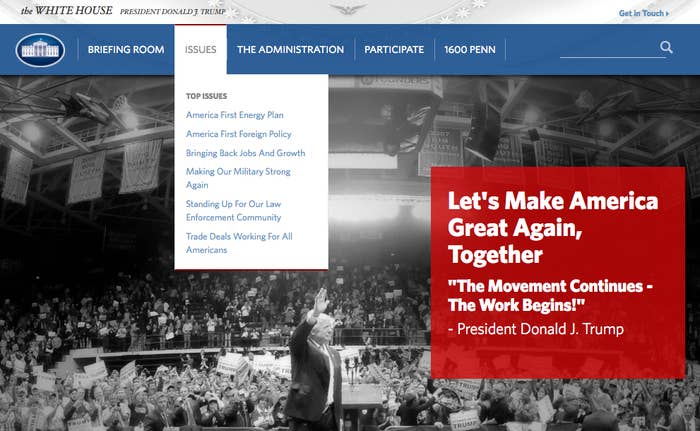 The whole site is basically empty — less than four hours into Trump's presidency. In the news section, for example, there is only one entry.

A Trump White House official noted that the Trump administration will be adding information to the site in the weeks and months to come.
"The initial launch featured biographies, select new issue pages, and a live stream of the Inaugural events," the official said. "Additionally, the Trump transition team worked with the White House's IT Team to ensure that the Trump Administration's version of WhiteHouse.gov maintained and replicated content about the White House as an institution, about the building, and historical information about Presidents."
Nonetheless, news organizations and advocacy groups pressed the argument that, as the Washington Post put it, "LGBT rights page disappears from White House web site." The Human Rights Campaign — an LGBT advocacy group — followed up with a news release, "Trump Administration Removes All Mentions of LGBTQ People or Rights from The White House Website."
LGBT mentions, though, aren't alone. Everything from the Obama White House site is gone — because it's a brand new site. What's more, the Obama White House coordinated this plan; they laid out the plan for removing all of the Obama White House content from the site back in October 2016.
As Ohio State law professor Chris Walker pointed out, even the Office of Management and Budget website — within the White House — had been "removed" as of Friday afternoon.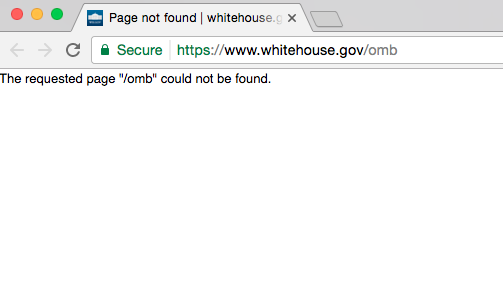 While it's not clear — in any sense — what will happen with LGBT rights under the Trump administration, this does not appear to be a sign of anything beyond the fact that the new president has a new website.
Obama's LGBT page — and everything else — is still available at the now-archived Obama White House site.
The Trump White House official added, "The Trump Administration appreciates the hard work of the Obama Administration's Office of Digital Strategy and White House IT teams which laid the foundation for a smooth digital transition and the seamless handoff of social and digital platforms."