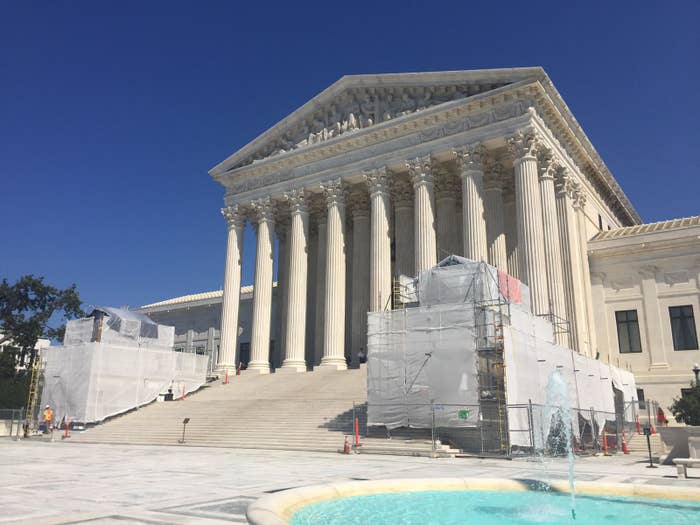 WASHINGTON — Lawyers for a transgender student who was barred under his Virginia school's policy from using the boys' restroom urged the Supreme Court on Tuesday to allow a lower court ruling in his and the Obama administration's favor to stand.
The student, Gavin Grimm, who had used the boys' restroom previously, was barred from using the boys' restroom after the school district adopted a policy limiting restroom use to students' "biological sex." After the policy was implemented, Grimm, represented by the ACLU, sued the district.
The 4th Circuit Court of Appeals held in Grimm's favor earlier this year, ruling that the Obama administration's pro-transgender schools policy — that sex discrimination bans include a ban on anti-transgender discrimination — is a permissible reading of regulations implementing Title IX of the Education Amendments of 1972.
The Gloucester County School Board in Virginia asked the Supreme Court in late August to hear its appeal of that decision. On Tuesday, lawyers for Grimm opposed that request.
"Title IX entrusts the administrative agency with responsibility for making policy judgments about when to permit differential treatment on the basis of sex," the lawyers wrote. "The Department of Education's reasonable interpretation of its own regulation falls squarely within that delegation of authority and is worthy of deference."

The 4th Circuit ruling led a district court to issue an injunction against Gloucester County School Board, barring it from enforcing its policy. This summer, however, the Supreme Court granted the school district a stay of that injunction pending the outcome of the school district's certiorari petition — meaning the school could once again enforce its policy for the time being.
Tuesday's filing by Grimm's lawyers came 15 days after the school district's certiorari petition was filed — despite the fact that parties have 30 days to respond to such requests for review.

"We are filing our brief early so that the Supreme Court can consider the request for review as soon as possible," ACLU attorney Joshua Block, the counsel of record in the case, said in a statement. "We hope the Supreme Court rejects the school board's request to hear the case and that Gavin will finally be able to attend high school without being singled out and stigmatized every time he has to do something as basic as using the restroom. Every day that the stay remains in effect, Gavin loses another day of his senior year that he will never get back."