Alabama Executes Man Convicted Of 1992 Murder
Christopher Brooks was executed by Alabama on Thursday evening — despite three U.S. Supreme Court justices raising questions about the state's death sentencing laws.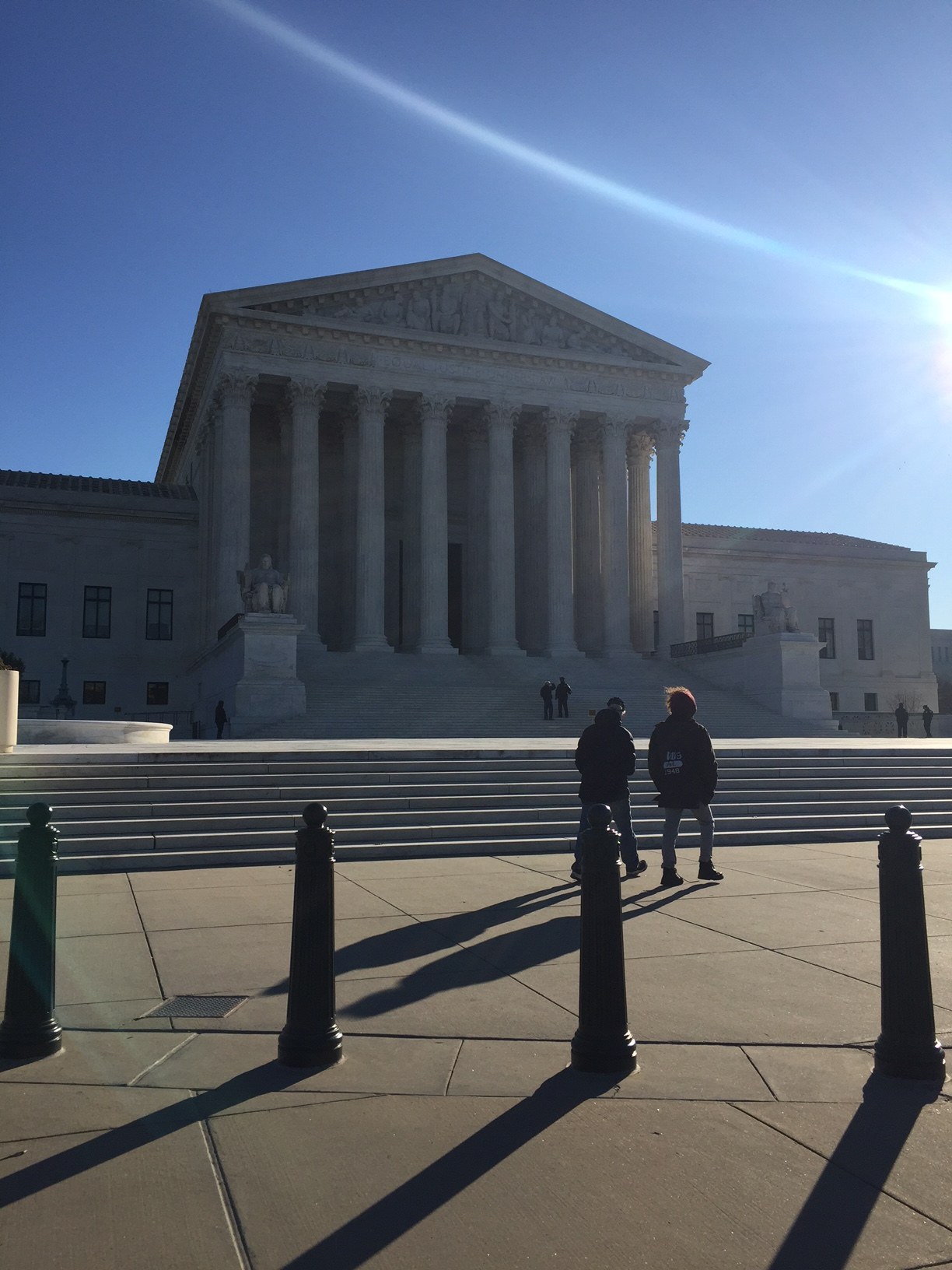 UPDATE
The Supreme Court denied a stay of execution to Christopher Brooks on Thursday evening. He is due to be executed by Alabama Thursday for the 1992 murder of Jo Deann Campbell.
Justice Sonia Sotomayor, joined by Justice Ruth Bader Ginsburg, noted that the constitutionality of Alabama's death sentencing system rests on shaky ground after last week's decision striking down Florida's death sentencing system. She concluded, though, that "procedural obstacles" in this case — likely the fact that he was convicted in the 1990s and that the recent decision would not apply to his conviction — led her to vote against the court taking up Brooks's case.
Justice Stephen Breyer went further, writing that he would have granted a stay. In a short statement dissenting from the denial of a stay, he added, "The unfairness inherent in treating this case differently from others which used similarly unconstitutional procedures only underscores the need to reconsider the validity of capital punishment under the Eighth Amendment."
The justices also denied a stay of execution to Brooks based on a second claim he raised regarding the drugs the state plans to use to execute him. There were no noted dissents to that ruling.
ORIGINAL REPORT
WASHINGTON — Lawyers for an Alabama man due to be executed on Thursday have asked the Supreme Court to step in and stop his execution because of claimed similarities between the death sentencing laws in Alabama and Florida — whose death sentencing scheme was struck down by the justices this past week.
If the execution of Christopher Brooks, convicted for the 1992 murder of Jo Deann Campbell, goes forward, it would be the third execution in the country this year — but the first for Alabama since 2013.

Brooks is due to be executed at 6 p.m. Central Time, unless the courts or Alabama Gov. Robert Bentley delay or halt the execution.
Brooks met Campbell at a summer camp, and Campbell allowed Brooks to stay at her place one night. She didn't show up to work the next day.
Campbell was found bludgeoned to death underneath her bed in her apartment, according to court documents. Brooks was later seen driving Campbell's car, and had her credit card in his possession. Police found Brooks had also cashed Campbell's paycheck and had pawned some items from her apartment.
The questions before the Supreme Court relate to the trial at which Brooks was convicted and the way the state plans to execute him.
Alabama, like Florida, places the final decision of whether to impose death on the judge — not a jury. A petition for a writ of certiorari and application for a stay of execution in Brooks's case arguing that such a system is barred by the U.S. Supreme Court were filed at the court after business hours on Tuesday, lawyers for Brooks told BuzzFeed News.
The filings, provided to BuzzFeed News, came hours after the Alabama Supreme Court had denied Brooks's initial request that the state court put his execution on hold while it determined the effect of the U.S. Supreme Court's decision in the Florida case, Hurst v. Florida.

Brooks was sentenced to death in 1993 for the 1992 murder of Jo Deann Campbell. The jury in his case had recommended a death sentence on an 11-1 vote. Judge James Hard, after hearing additional evidence, sentenced Brooks to death.

In the petition, mostly a repeat of the argument (discussed at length here) rejected in a one-sentence order by the Alabama Supreme Court, the lawyers argue that because of the significant similarities between the Alabama and Florida death sentencing laws, "Alabama's use of advisory juries in its capital-sentencing scheme violates Hurst."
Beyond that, however, Brooks's lawyers face an uphill battle convincing the justices that the Hurst decision — or even its earlier capital sentencing juries decision from 2002 — applies to Brooks because his case is no longer on direct appeal (and was not even by 2002). This retroactivity question, which likely will be heavily argued in cases finalized between the 2002 decision and this past week's decision, is a much harder question for an inmate like Brooks.
On Wednesday the state opposed the request, arguing that Alabama's death sentencing scheme remains constitutional under both the 2002 decision and this past week's Hurst ruling.
A key reason, the state argues, backing up that view is the fact that the Supreme Court had previously ruled that the state's system is constitutional — and allowed Alabama executions to proceed even after it had agreed to hear the Florida case.
Regardless, the state argues, even if it were to be held to apply to Alabama's death sentencing law, the Hurst ruling is not retroactive under prior Supreme Court precedent and, as such, "Hurst changes nothing for Brooks."
Brooks's lawyers filed a reply brief, arguing, as to the retroactivity, that it could be argued that "Hurst's affirmation of the jury right should constitute a watershed rule" — one of the standards used by the court for determining whether a ruling applies retroactively.

Additionally, Brooks is also asking the U.S. Supreme Court to stay his execution over concerns about the drugs that will be used in his execution.
Alabama plans on using midazolam, which is a sedative, followed by a paralytic and a drug that stops the heart.

The three-drug protocol Alabama uses is identical to the combination of drugs the U.S. Supreme Court upheld in a ruling last year. In that case, Glossip v. Gross, the court also held that inmates challenging a method of execution must present an available, alternative means of execution that would be significantly less likely to cause substantial pain.
As an alternative, Brooks suggests a one-drug protocol using only midazolam, sodium thiopental, or pentobarbital.
Pentobarbital is a hard drug for corrections officials to get their hands on, and the Alabama Department of Corrections says they are unable to get it. Sodium thiopental has no FDA-approved manufacturers, and it would be illegal for states to import the drug — although that has not stopped other states. Midazolam has never been used as the sole drug in an execution, and so far the courts have been skeptical that it would prove more effective than the three-drug protocol Alabama plans to use.
In Brooks's petition before the Supreme Court, his lawyers raise the question of whether a statement by prison officials that they cannot obtain the offered "alternative means" — here, a different drug protocol — is sufficient to defeat the inmate's claim.
Read Brooks's cert petition out of the 11th Circuit Court of Appeals: