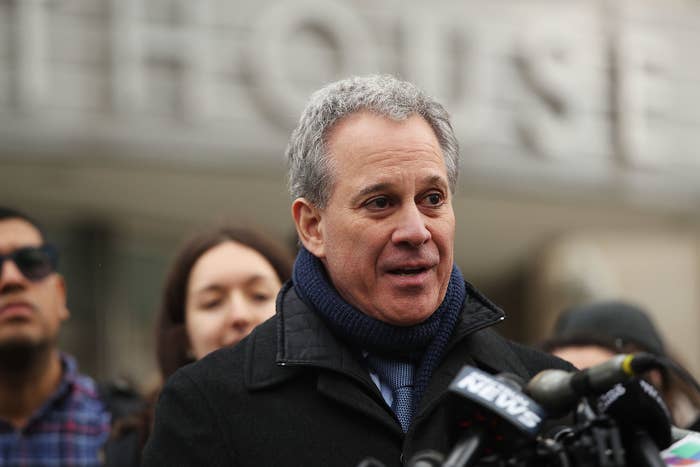 A federal judge on Friday ordered a lawyer to provide a legal backing for a request related to the explosive claim that Michael Cohen — and possibly President Donald Trump — were aware of accusations against former New York Attorney General Eric Schneiderman since 2013.
The lawyer, Peter Gleason, did not respond to requests for comment, but he told the New York Times that he had spoken to Cohen, Trump's longtime personal lawyer, in 2013 about accusations that he says two women brought to him about Schneiderman, who resigned this week after the New Yorker reported allegations that he abused multiple women.
In a letter submitted to US District Judge Kimba Wood, who is hearing Cohen's request related to materials seized from his properties by federal agents on April 9, Gleason sought a court order to seal any documents seized in the raid that relate to communications about the two women.
"The extent of Mr. Cohen memorializing any of our conversations is unknown," Gleason wrote in the letter. "However, these two women's confidentiality, as victims of a sexual assault, should be superior to that of any unrelated subpoena."
Wood quickly responded, ordering Gleason to submit a memorandum of law supporting the request by May 18 or to withdraw the request.
In the letter, Gleason claimed that he went to a retired New York Post reporter, Steve Dunleavy, to discuss the claims and that Dunleavy "offered to discuss the matter with Donald Trump."
Gleason claimed that he then received a call from Cohen, which he took to mean that Dunleavy had spoken to Trump.
Dunleavy did not respond to a request from BuzzFeed News for comment, but told CNBC that he had never spoken to Trump or Cohen about the matter.
Gleason acknowledged in response that he didn't know who Dunleavy had spoken to but maintained that he received a call from Cohen after he had talked to Dunleavy about the women's accusations.
Asked if Trump had been made aware of allegations against Schneiderman in 2013, Rudy Giuliani, Trump's outside lawyer, told BuzzFeed News, "I've seen some correspondence on it" — a reference to Friday's letter — "but Jay [Sekulow] and I have not had a chance to talk to the president about it."
Given that Trump was not yet a public official at that point, Giuliani added, "I don't know if there is much that they could have done at that point."

Noting that Schneiderman had brought suit against Trump in August 2013, alleging that Trump University engaged in fraud, Giuliani said of the potential reasons for talking to Trump about the allegations, "Maybe he was hoping that could be of use to the president."
In September 2013, Trump did write a vague tweet about Schneiderman, asking if he was "a crook."
Neither Cohen nor his lawyers responded to a request for comment on the claims.

Charles Clayman, one of the lawyers at Clayman & Rosenberg representing Schneiderman, had no comment on the letter.

For their part, the New Yorker reporters involved in the initial Schneiderman story stated that the women in their story had no "ties" to Trump or Cohen and that they had "no knowledge of Gleason."
Tasneem Nashrulla contributed to this story.