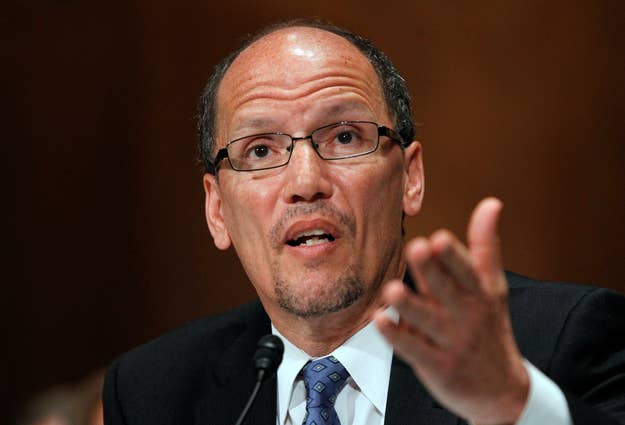 WASHINGTON — Labor Department officials have refused for more than a year to answer questions from BuzzFeed about whether transgender workers for federal contractors are legally protected from discrimination. And, nearly a month into Labor Secretary Tom Perez's tenure, answers are no more forthcoming.
The questions surround Executive Order 11246, which was signed by President Lyndon Johnson and bans federal contractors doing more than $10,000 a year of business with the federal government from discriminating on the basis of race, sex, religion, or national origin. The executive order is enforced by the Labor Department, and, under the department's policies, an April 2012 ruling by the Equal Employment Opportunity Commission should have led the department to expand its definition of sex in the executive order to include anti-transgender discrimination.
The Labor Department, however, has issued no public guidance about the issue, and officials have refused repeated requests for comment on the issue.
One advocate has said the White House is to blame for the department's silence, but, regardless of the cause, it has been more than a year since the department's policies suggest that it should have been enforcing anti-transgender discrimination as a violation of an executive order it is responsible for enforcing.
As recently as Tuesday afternoon, however, Labor Department representatives could not immediately provide an answer about whether its enforcement of the executive order includes anti-transgender discrimination and did not respond with an answer, as a spokesman said would be provided.
The change in policy from the EEOC came about on April 20, 2012, when the agency decided, in a complaint brought by Mia Macy, that the definition of "sex discrimination" under Title VII includes anti-transgender discrimination. The Labor Department's Office of Federal Contract Compliance Programs (OFCCP) has a policy of applying the EEOC's interpretation of Title VII to its interpretation of the executive order.
Within weeks of the Macy decision, a trio of scholars at the Williams Institute wrote that "[t]he OFCCP has an explicit policy of interpreting the nondiscrimination requirements of EO 11246 in a manner consistent with Title VII principles, and has followed EEOC regulations and guidance in enforcing EO 11246."
Following up on that and other reporting, former Labor Secretary Hilda Solis never answered the question of whether her department was including anti-transgender discrimination in its enforcement of the executive order. Nor has the director of the OFCCP, Patricia Shiu, whose office has direct responsibility for enforcement of the executive order.
When asked about the issue in July 2012, Solis told BuzzFeed that the office had been "working on this issue for a long time," but when pressed further, said, "I direct you to [Patricia] Shiu, on my staff, my director there, because I'm just coming back from extensive traveling."
Since that time, several department spokespersons have refused repeated attempts by BuzzFeed to get information about whether the order's enforcement now includes anti-transgedner discrimination.
Perez took over the department on July 23, however, which led some advocates to be hopeful that a renewed emphasis on the issue would lead to action. Perez, they noted, brings a record of pro-LGBT enforcement with him from his prior role as the head of the Civil Rights Division in the Justice Department. While there, he implemented the Matthew Shepard and James Byrd Jr. Hate Crimes Prevention Act and investigated anti-LGBT police activity by the New Orleans Police Department.
As recently as last week, though, a department spokeswoman, Laura McGinnis, told BuzzFeed, "I don't have anything on that, I'm afraid, but I'll let you know if anything changes."
In contrast, both the EEOC and the Justice Department have made clear that, as to Title VII, it is enforcing the expanded definition of "sex discrimination," as has the Education Department in its enforcement of Title IX.
The Labor Department, however, is silent. A month ago, Tico Almeida with Freedom to Work told BuzzFeed that the White House was holding up enforcement of the executive order to include anti-transgender discrimination.
"I am told that the Labor Department leadership has been severely controlled by the senior White House staff, which I'm told has forbidden Labor officials from formally adopting the Macy decision," Almeida said.
A spokesman for the White House, Shin Inouye, had been contacted and given the quote prior to publication of the report in an attempt to get comment from the White House on the matter, but no comment was provided.
When asked about the BuzzFeed report on July 31, White House Press Secretary Jay Carney said, "I'm not aware of that report."
More than a month later, neither the White House nor the Labor Department have denied the charge. In addition to inquiries made Tuesday with Labor Department officials, a request Tuesday afternoon to a White House official for a response to Almeida's charge was not returned.
Human Rights Campaign spokesman Michael Cole-Schwartz told BuzzFeed that the organization has sought action from the Labor Department on the issue, saying it is "imperative" the department take action.
"It is HRC's position that in light of the EEOC's Macy decision, the current federal contractor executive order should be interpreted to include anti-transgender discrimination and we have made that clear to the Labor Department," he said. "As we have discussed with officials there, it is imperative that they adopt this interpretation to give recourse to those discriminated on the basis of their gender identity."
Almeida continued his push, focusing on the day-to-day impact of the department's silence.
"Enormous corporate contractors like ExxonMobil are signing new federal contracts on a regular basis, and the Labor Department is not inserting Macy workplace protections into those binding agreements along side the provisions giving African-Americans, Latinos, women, veterans and all Americans the freedom to work without discrimination," he said.
"The recalcitrance of the White House staff is going to make Secretary Perez look lawless, if they continue to refuse to issue official guidance adopting the unanimous and bipartisan Macy decision well over one year after it became federal law," he said of the department's new leadership. "I hope Secretary Perez can persuade the senior White House staff to stop dragging their feet on our pathway to LGBT workplace fairness."