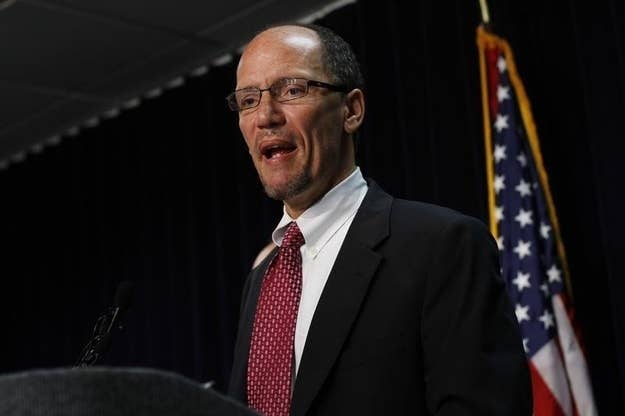 WASHINGTON — Labor Department officials blocked a reporter from speaking with Labor Secretary Thomas Perez Monday because of what officials believed the reporter would ask the secretary about: LGBT workers' rights.
Following an event with Perez and Michelle Obama on veteran hiring, Labor Department officials allowed all reporters present other than a BuzzFeed reporter to speak with Perez.
When asked about the decision, Labor Department spokesman Egan Reich said the BuzzFeed reporter was held outside the event because the department did not believe BuzzFeed would ask about veteran hiring.
BuzzFeed has been seeking information for more than a year about whether the Labor Department is enforcing a current executive order that bans federal contractors from discriminating on the basis of sex to include banning discrimination on the basis of gender identity. Two weeks ago, Labor Department officials declined to make Perez available for an interview about the issue.
The Labor Department's Office of Federal Contract Compliance Programs is responsible for enforcing Executive Order 11246, which bans federal contractors from discriminating on several bases, including sex. Because of a 2012 Equal Employment Opportunity Commission ruling that the sex discrimination ban in Title VII of the Civil Rights Act of 1964 includes a ban on anti-transgender discrimination, BuzzFeed has asked whether the Labor Department is interpreting the executive order similarly.
Department officials — including former Secretary Hilda Solis and OFCCP Director Patricia Shiu — have refused to answer.
After Secret Service closed the room Monday before the event began according to routine procedures, attendees and journalists who arrived were taken to overflow room simulcasting the event taking place in the Great Hall of the Labor Department. While other journalists from the overflow room were escorted into the Great Hall once the first lady had left the event, a BuzzFeed reporter and another journalist were left outside the event. That other journalist confirmed to BuzzFeed that he later was allowed to speak to Perez. BuzzFeed, however, was told that Perez was not available and had gone to a lunch. When pressed, the Labor Department official, Reich, told the reporter that other Labor officials believed BuzzFeed would not be asking about veterans hiring. Because the questions were not expected to be on the topic sought by the Labor Department, officials did not provide access to Perez at the public event.
Questions about the executive order were relevant to Monday's event about employment opportunities for veterans. Among the contractors highlighted at the event was Bechtel, which was identified by the Williams Institute at UCLA as one of four of the largest 15 federal contractors that does not include gender identity in its nondiscrimination policy. As recently as Feb. 7, Bechtel signed a $58 million contract with the Department of Energy.
"Too many veterans face steep challenges finding employment after completing their honorable service to our country, and for LGBT veterans, there's an added hurdle given that so many defense contractors operate in places like Virginia, Florida, and Texas where state laws fail to provide LGBT protections against unfair discrimination," Tico Almeida of Freedom to Work — which has pressed the Labor Department to explain whether its enforcement of the executive order includes transgender workers — told BuzzFeed.