Kim Davis Released From Jail, Lawyer Says She Will Not "Violate Her Conscience"
Judge David Bunning ordered the Rowan County clerk to be released — and that she not interfere with her deputy clerks' efforts to grant marriage licenses to all couples. Here lawyer, however, says, "She cannot allow her name to be associated with something that conflicts with God's definition of marriage."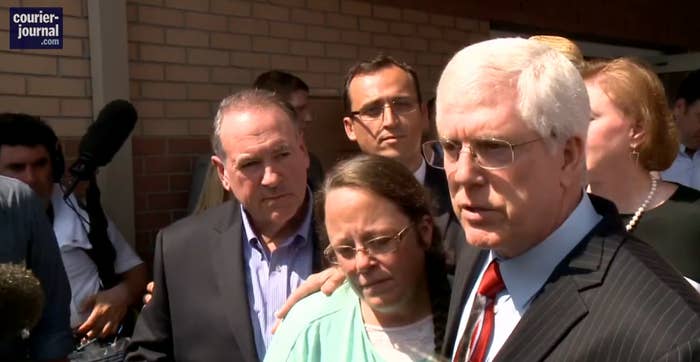 WASHINGTON — Rowan County Clerk Kim Davis, who had been held in jail since Sept. 3 for contempt for refusing to end her "no marriage licenses" policy, on Tuesday was released from jail.
"Defendant Davis shall be released from the custody of the U.S. Marshal forthwith," U.S. District Court Judge David Bunning ordered. "Defendant Davis shall not interfere in any way, directly or indirectly, with the efforts of her deputy clerks to issue marriage licenses to all legally eligible couples."
A crowd gathered outside the Carter County Detention Center, where Davis was held. The crowd played Christian rock and people held crosses, American flags, a flag that read "Liberty" and a "Mike Huckabee for President" sign.
In the order announcing her release, Bunning made clear that should Davis interfere with her clerks' efforts, he would consider "appropriate sanctions." Additionally, Bunning ordered the lawyers for the deputy clerks who agreed to issue licenses to file a status report with the court regarding their compliance with the court's orders in the case every two weeks.
When asked at a news conference whether Davis would do when she returned to work, her lawyer, Mat Staver, said, "Kim Davis cannot, will not violate her conscience."
Expanding on those comments at a rally that followed, Staver said of the licenses themselves, "Whether her name is on it or not, it's still under her authority. ... She cannot allow her name to be associated with something that conflicts with God's definition of marriage."
"She'll do her job, but she won't violate her conscience," he told reporters after Davis was released, calling the licenses issued recently "not valid."
When asked if spending time in jail was worth it, Davis seemed to nod her head "yes."
Staver and Huckabee both spoke at the rally, and Davis gave a brief statement thanking her supporters. The rally also featured several prominent national opponents of LGBT rights, including Family Research Council president Tony Perkins and the head of the National Organization for Marriage, Brian Brown — who talked about people throughout American history like Kim Davis who have stood up for "just causes," including "one woman on a bus."
To much applause at the rally, Staver said that Clerk Davis "will not resign [her] position."
Saying that he was "glad" to hear that Davis was released, Kentucky Gov. Steve Beshear told reporters, "I took no joy at all in the fact that the clerk was in custody, but that was a matter between the judge and clerk. Hopefully we can move forward now."
He continued, however, to lay out his opposition to Davis's actions.
"I don't see that the religious freedom law has been trampled on," he said. "What you have here was a public official who voluntarily ran for election to that office who is being paid $80,000 in taxpayers' money, and the statute set out the duties of that office. But then she decided she could pick out the duties she would perform — and not perform some of the others."
Bunning had ordered Davis's release after receiving notice from the plaintiffs in the case on Tuesday morning that several of them were able to obtain marriage licenses on Sept. 4. "The Court is therefore satisfied that the Rowan County Clerk's Office is fulfilling its obligation to issue marriage licenses to all legally eligible couples, consistent with the U.S. Supreme Court's holding in Obergefell and this Court's August 12, 2015 Order."
Lawyers had informed the court on Tuesday morning that three of the four couples who brought the lawsuit — two same-sex couples and one opposite-sex couple — already had received marriage licenses.
"This case was brought to ensure that all residents of Rowan County, gay and straight, could obtain marriage licenses. That goal has been achieved," William Sharp, the legal director of the ACLU of Kentucky, who represented the plaintiffs in the case.
The judge's order came moments after Davis asked the 6th Circuit Court of Appeals to release her from jail immediately.
In Davis's appeal of the contempt order, her lawyers argued that her being jailed was inappropriate.
"Believing that marriage is the union of a man and a woman, only, and acting in accordance with those beliefs, are not crimes in Kentucky, or elsewhere," they wrote. "To prosecute Davis as if she is a criminal is wrong, and, to do so without guaranteeing her the rights of one so accused, is still worse."
Davis was held in contempt on Sept. 3 following a hearing over her refusal to comply with the trial court's Aug. 12 order that she stop her "no marriage licenses" policy, adopted because of Davis's religious opposition to her name appearing on same-sex couples' marriage licenses.
On Monday, Davis's lawyers asked for an emergency injunction halting Beshear from enforcing what they call his same-sex marriage mandate" against her.