Kentucky Clerk Asks Supreme Court To Stop Marriage License Ruling From Taking Effect
The trial court's order that Rowan County Clerk Kimberly Davis stop her "no marriage licenses" policy is due to take effect, at the latest, on Monday.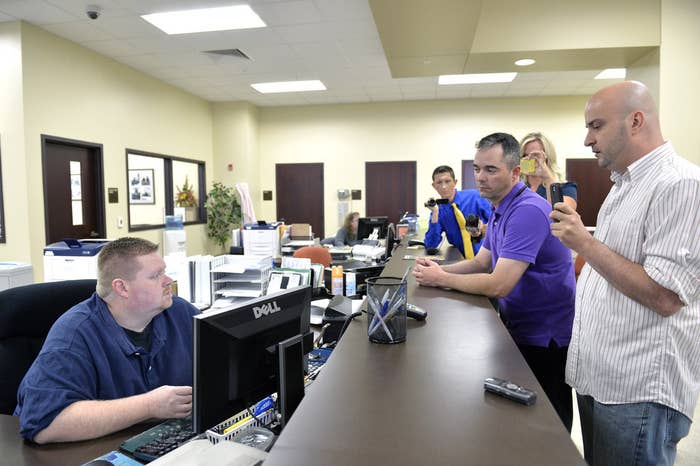 WASHINGTON — The Kentucky County clerk seeking to be exempted from providing marriage licenses to same-sex couples has taken her request to the Supreme Court — which ruled in favor of same-sex couples' marriage rights in June — in a filing Friday afternoon.
Rowan County Clerk Kimberly Davis asked Justice Elena Kagan, responsible for hearing such requests from cases out of the 6th Circuit Court of Appeals, to issue a stay during her appeal of the trial court's decision against Davis's claim.
Earlier this month, the trial court in the case ordered that Davis stop her "no marriage licenses" policy, put in place because she objects to her name appearing on the marriage licenses of same-sex couples, as to the plaintiffs who sued her. The judge, U.S. District Court Judge David Bunning, put that ruling on hold until, at the latest, Monday.
Because of that, Davis asked Kagan to at least issue a temporary stay while Kagan considers whether to issue a stay to last through the full appeal. If Kagan is "disinclined" from granting those requests, however, Davis asks for the matter to be referred to the full Supreme Court.
On Wednesday, the 6th Circuit denied Davis's request for a stay pending appeal, leading Davis to go to the Supreme Court on Friday for relief.
"On June 26, 2015, immediately following this Court's decision in Obergefell v. Hodges, the Kentucky Governor ... issued a directive (the "SSM Mandate") ordering all Kentucky County Clerks to authorize same- sex "marriage" ("SSM") licenses, without exception," the lawyers for Davis write.
They go on to argue that "the SSM Mandate demands that she either fall in line (her conscience be damned) or leave office (her livelihood and job for three-decades in the clerk's office be damned)."
The 6th Circuit on Wednesday held that Davis had "little or no likelihood" of succeeding in her case. Her lawyers argued to Kagan on Friday, though, that — even if the 6th Circuit ultimately ends up agreeing with Bunning that Davis cannot be exempted from issuing licenses to same-sex couples — there is "at least a reasonable probability" that the Supreme Court would hear the case and "at least a fair prospect" the justices would side with Davis.
Specifically, Davis argues that the policy requiring her office to issue licenses to same-sex couples "substantially burden[s]" her religious freedom rights under the U.S. and Kentucky constitutions and Kentucky's Religious Freedom Restoration Act. Additionally, she argues, the policy "constitutes an impermissible religious test."
In a separate filing Friday, this one at the trial court, Davis asked Bunning to extend the trial court's stay — which, at the latest, expires on Aug. 31 — until the Supreme Court resolves her latest request.
Update
Judge David Bunning denied the request to extend his stay on Aug. 28, meaning it has ended and his order that Rowan County Clerk Kimberly Davis stop enforcing her "no marriage licenses" policy against the same-sex couples who sued her is in effect.
Additionally, the Supreme Court has announced no action from Justice Elena Kagan on the requests that she issue a stay pending appeal or at least issue a temporary stay while she considers the request (or refers the request to the full court).
In Rowan County, meanwhile, a person who answered the phone at the clerk's office a little before noon Monday said that the office is open but that they are not issuing marriage licenses.
Finally, The Morehead News reported this past week that the Rowan County Attorney's Office referred charge of official misconduct to the Kentucky Attorney General's Office this past week over Davis's handling of the matter.
Read the filing to Justice Elena Kagan:
Download PDF