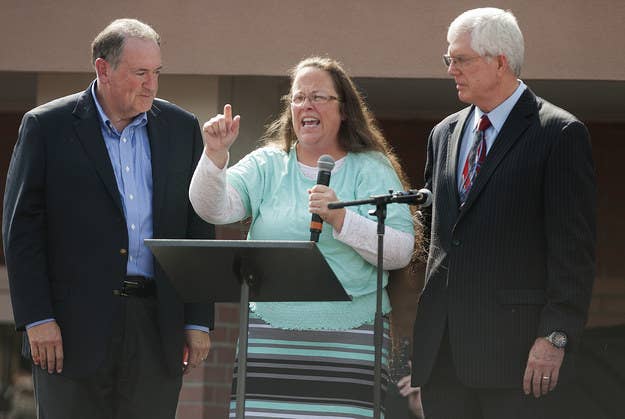 WASHINGTON — Lawyers for Rowan County Clerk Kim Davis asked a federal appeals court on Friday to effectively end the requirement, currently in place under an order from the trial judge, that all couples be allowed to marry in the county.
On Aug. 12, U.S. District Court Judge David Bunning ordered that Davis end her "no marriage licenses" policy as to the four couples — two same-sex and two opposite-sex couples — who brought the lawsuit. Davis had implemented the policy after the Supreme Court ruled in favor of nationwide marriage equality on June 26; Davis has religious objections to her name appearing on same-sex couples' licenses.
In a new request to the 6th Circuit Court of Appeals, Davis's lawyers took aim Friday at a Sept. 3 ruling from Bunning that expanded the Aug. 12 ruling to include "other individuals who are legally eligible to marry in Kentucky."
After being jailed for contempt of court in the same Sept. 3 hearing where Bunning expanded the Aug. 12 order, some of Davis's deputy clerks began issuing licenses the next day. After being jailed over the weekend, Davis was released on Sept. 8 and ordered not to interfere with her deputy clerks in their issuance of licenses.
In Friday's filing, Davis's lawyers call the move by the plaintiffs' lawyers seeking to expand the Aug. 12 injunction to include all couples "a disingenuous motion" aimed at making the initial injunction "encompass a class of persons not covered by the injunction."
To support this argument, Davis's lawyers note that, earlier, the plaintiffs' lawyers had filed a motion seeking class certification in the case — an effort to have the case expanded to apply to all couples seeking to marry in the county. While that motion was under consideration — Bunning still has not ruled on it — the plaintiffs' lawyers, seeking the "clarification" of the initial injunction, "sought to convert the Injunction's relief, which was limited and personal to them by their own request, into a class-wide preliminary injunction," Davis's lawyers argue in Friday's filing.
Then, Bunning, on Sept. 3, granted the "clarification" request.
Davis's lawyers also note that Bunning's order releasing Davis from jail for contempt ordered that she not interfere with the issuance of any marriage licenses in the county — clearly, therefore, linking her release to the "clarified" Sept. 3 injunction, the same day she was found in contempt, and not the initial Aug. 12 injunction.
Shortly after this latest motion was filed on Friday, the 6th Circuit directed that the plaintiffs file a response to Davis's request "on or before the close of business, Tuesday, September 15, 2015."
Davis also has appealed the contempt order itself and asked the 6th Circuit to halt Gov. Steve Beshear from enforcing what her lawyers refer to as a same-sex marriage "mandate."