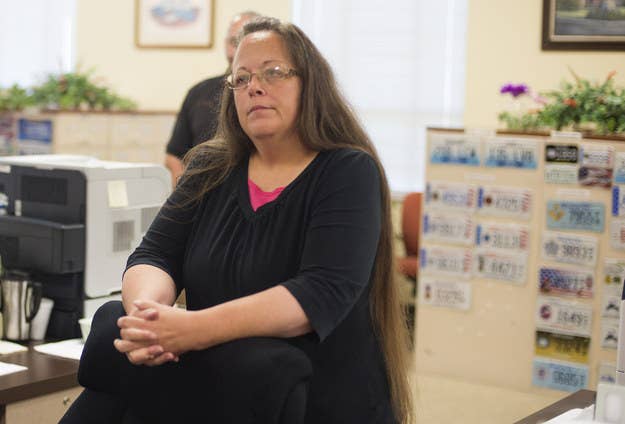 WASHINGTON, D.C. — The Kentucky clerk in the center of a fight to be exempted from having to issue marriage licenses to same-sex couples went back to the federal appeals court on Monday, pressing her own case against Gov. Steve Beshear.
The move is Rowan County Clerk Kim Davis's latest attempt at being exempted from issuing marriage licenses to same-sex couples in the wake of the Supreme Court decision in Obergefell v. Hodges, declaring marriage equality to be a nationwide right in June.
Davis, who was jailed after being held in contempt of court for refusing to follow a federal court order that she stop her "no marriage licenses" policy, went to the 6th Circuit Court of Appeals on Monday in a case she has brought against the governor.
In response to the first lawsuit, the case that led to her jailing, was brought by couples seeking to marry, Davis later brought her own complaint — suing the Kentucky governor for ordering that all clerks issue marriage licenses to same-sex couples.
Although Beshear's actions are referred to in Monday's appeals court filing more than two dozen times as a "mandate," the word "mandate" never appears in Davis's initial complaint against Beshear. There, Davis's lawyers lay out Beshear's quick implementation of the Supreme Court's marriage equality ruling. Then, they note, "Governor Beshear has maintained that county clerks must issue marriage licenses, including to same-sex couples, despite any clerk's 'own personal beliefs.'"
The trial court judge in the case, U.S. District Court Judge David Bunning, put Davis's request for a preliminary injunction halting Beshear's "mandate" on hold while the appeal of the case against Davis was pending. Davis had notified the court that she was appealing that decision.
She also asked Bunning to issue an injunction halting the governor from enforcing the so-called "mandate" while she appealed Bunning's decision to put her request for a preliminary injunction against Beshear on hold.
On Monday, Davis argued that Bunning's move to put a decision on that request off until at least Sept. 11 — particularly given that she is in jail — was "impracticable."
As such, she asked the appeals court to consider her emergency request now and issue an injunction stopping enforcement of "Gov. Beshear's SSM Mandate against her" and "exempting her from authorizing marriage licenses" until that appeal can be heard and decided.
"In an assault upon her individual liberty and dignity, Davis currently sits incarcerated in the Carter County Detention Center (Kentucky), in significant part, because Gov. Beshear has refused to take elementary steps to accommodate Davis' undisputed, sincerely-held religious beliefs about marriage," Davis's lawyers told the appeals court on Monday. "As a prisoner of her conscience, Davis continues to request a simple accommodation and exemption from Gov. Beshear, who is overseeing Kentucky marriage policy."