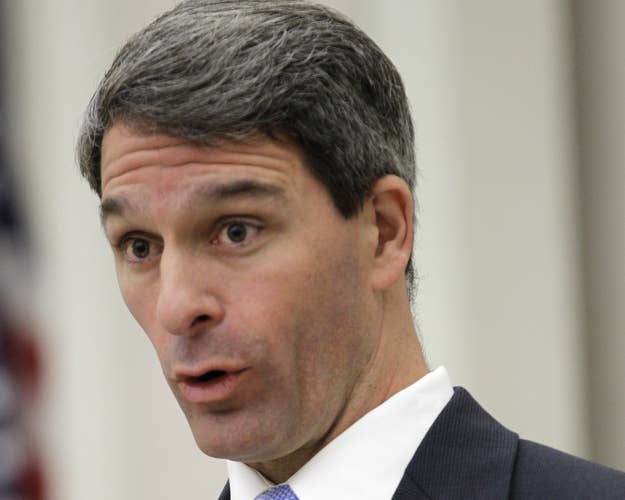 WASHINGTON — Although most people think sodomy laws have been unconstitutional since the Supreme Court's 2003 ruling in Lawrence v. Texas, Virginia Attorney General Ken Cuccinelli would like to explain why — in his view — that's not so.
What's more, he wants the 4th Circuit Court of Appeals to agree with him and uphold the constitutionality of Virginia's sodomy law — which makes anal and oral sex between people of any sex a crime — in the process.
Cuccinelli last week asked the full appellate court to reverse a three-judge panel's decision and uphold the application of the law in a criminal prosecution against William Scott MacDonald, a very unsympathetic defendant.
MacDonald, 47 at the time, was convicted of violating the state's criminal solicitation statute, which applies whenever a person over 18 "commands ... or otherwise attempts to persuade" a person under 18 to commit a felony.
According to the appeals court decision, MacDonald called up a 17-year-old girl, met her in a Home Deopt parking lot, went to her grandmother's house, and then asked the girl to perform oral sex on him and have sex with him. She "declined both proposals," but MacDonald later told the police that she "performed oral sex against his will." The girl "gave a sharply conflicting account," according to the court, and he was charged with filing a false police report, among other more serious crimes.
Specifically, MacDonald eventually was convicted of soliciting a minor to commit the felony of violating Virginia's "Crimes Against Nature" statute, or sodomy law. Under the sodomy law:
If any person . . . carnally knows any male or female person by the anus or by or with the mouth, or vol- untarily submits to such carnal knowledge, he or she shall be guilty of a [felony.]
Although the U.S. Supreme Court is generally viewed as having struck down sodomy laws in the 2003 case of Lawrence v. Texas, the court's action in the case does not actually take the laws off the books, but rather renders them unconstitutional to be enforced. Few states have, in fact, repealed the laws since then. Cuccinelli's office argues further that the Lawrence decision doesn't render sodomy laws unconstitutional in all situations and that it is constitutional to apply the law in this situation because it involves a minor.
At the least, Cuccinelli argues, MacDonald's request to have the federal courts overturn his state-court conviction "is unavailable [under federal law] if there is 'any possibility for fairminded disagreement' regarding a state court ruling," citing to a Supreme Court ruling to that end, and there is, Cuccinelli asserts, disagreement about the effect of Lawrence here.
Two of the three judges to hear the appeal disagreed, in a decision issued March 12.
In considering Cuccinelli's argument, the appeals court discussed the various ways courts attempt to "save" statutes from being found unconstitutional by interpreting them narrowly but also noted that the Supreme Court has warned about "the dangers of too much meddling" because that would mean the judicial branch has taken over the role of the legislative branch. New laws can be passed in certain situations that might be constitutional even where a previous law cannot be "saved."
The court concluded that Virginia's sodomy law after the Lawrence decision is such a law, writing, "We are confident, however, that we adhere to the Supreme Court's holding in Lawrence by concluding that the anti-sodomy provision, prohibiting sodomy between two persons without any qualification, is facially unconstitutional."
Because they found it to be facially unconstitutional, that means it is unconstitutional in all situations and could not be used to convict MacDonald of the solicitation crime.
In the March 26 filing asking the full panel of the court to uphold MacDonald's conviction and reverse the three-judge panel's decision, however, Cuccinelli writes that "a reasonable state court could conclude that Lawrence did not wholly invalidate Virginia's sodomy statute."
Applying that to the request for a federal-court decision overturning a state-court conviction, Cuccinelli writes:
Plainly, the scope of the Supreme Court's decision in Lawrence was not so evident that it necessarily invalidates sodomy convictions even where no expectation of privacy among consenting adults is involved. Thus, there is no basis to conclude that the state courts "erred so transparently that no fairminded jurist could agree" with their rulings.
After receiving arguments opposing the panel reconsideration, the judges of the 4th Circuit will vote whether to take the en banc appeal.