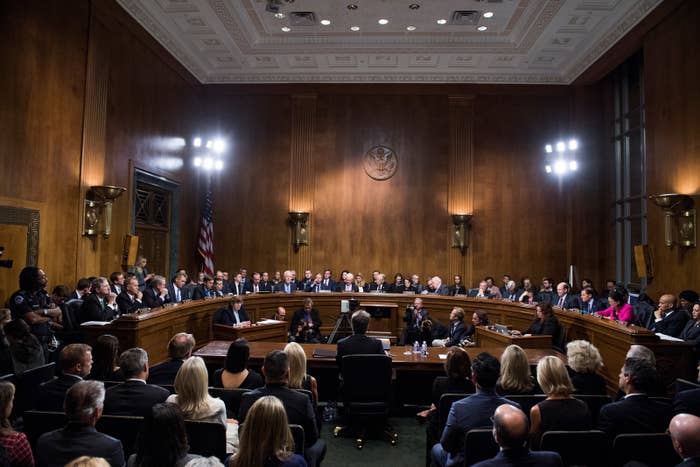 President Donald Trump's Supreme Court nominee, Brett Kavanaugh, was confirmed Saturday to the Supreme Court by the narrowest of margins.
The Saturday 50–48 vote for confirmation came in the wake of sexual assault allegations and the judge's emotional and partisan pushback in a hearing last week.
Kavanaugh's confirmation is the closest successful Supreme Court confirmation vote since the invention of the mousetrap.
In fact, only one other justice in the nation's history has been confirmed on a one-vote basis: former justice Stanley Matthews, who was first nominated in the closing days of Rutherford Hayes' presidency; the Senate did not act on that nomination. Hayes' successor, James Garfield, renominated Matthews, however, and he was confirmed on a 24–23 vote on May 12, 1881.

On Friday afternoon, both Sens. Susan Collins and Joe Manchin — the two last undeclared votes — announced they planned to vote for Kavanaugh's confirmation following Friday's 51–49 vote to end debate on the nomination. (Sen. Lisa Murkowski opposed Kavanaugh's confirmation, but, on the final tally, asked to be recorded as "present" as a courtesy to her fellow Republican, Sen. Steve Daines, who supports Kavanaugh's appointment but was attending his daughter's wedding in Montana.)
After Matthews' 1881 confirmation, he served on the court for less than a decade until his death in March 1889. His most famous opinion was the Supreme Court's unanimous decision in Yick Wo v. Hopkins, an 1886 decision holding that it was still unconstitutional to apply a law in a discriminatory way even if it was neutral on its face. That was, Matthews wrote for the court, what had happened to Yick Wo in San Francisco with its application of an ordinance regarding the issuance of laundromat licenses.
Only two other would-be justices faced such close votes in the history of the country — and neither was confirmed. One of former president Herbert Hoover's nominees, John Parker, was defeated on a 39–41 vote in 1930 in the midst of the Great Depression. Before that, former president James Buchanan's nominee, Jeremiah Black, had his nomination voted down on a 25–26 vote less than two months before the start of the Civil War.
UPDATE
This story was updated with additional information about the expected votes of Sens. Susan Collins, Joe Manchin, Lisa Murkowski, and Steve Daines.
UPDATE
This story was updated after Saturday's confirmation vote.