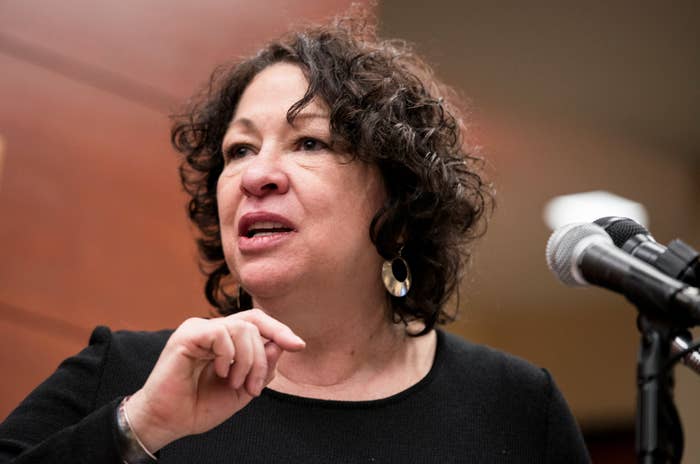 WASHINGTON — Justice Sonia Sotomayor issued an order early Monday evening that stops same-sex couples in Kansas from being able to marry beginning after 5 p.m. CT Tuesday. She added, however, that she or the full Supreme Court could issue an order that changes that at some point in the future.
The move came in response to the request from Kansas Attorney General Derek Schmidt filed with Sotomayor earlier Monday.
After the 10th Circuit Court of Appeals denied the state's request for a stay last week, Schmidt had said he would be asking for a stay from Sotomayor — who hears procedural requests like this from the 10th Circuit.
In addition to arguments raised by other states' officials in support of a stay, Kansas officials argue that the federal courts never should have taken on the issue — as the Kansas Supreme Court had ordered briefing on the implications of the 10th Circuit's ruling that Utah's similar marriage ban is unconstitutional on Kansas' ban.
In her Monday order, Sotomayor also called for a response to Kansas' request by 5 p.m. ET Tuesday. Sotomayor can then decide the matter on her own, or she can refer the question to the full court.
Although the Supreme Court had been granting stays in similar circumstances earlier this year, it changed course in October after denying several states' requests to hear appeals of challenges to their states' bans. Since then, the court has allowed multiple rulings against bans on same-sex couples' marriages to take effect, even during appeals.
Notably, as to a request made by Idaho officials, Justice Anthony Kennedy issued a brief stay in October while the court considered the matter. Later that week, the court denied Idaho's request for a stay.
After last week's decision from the 6th Circuit Court of Appeals upholding four states' bans, however, lawyers on both sides of the issue will be watching the Supreme Court's handling of the Kansas issue for some signals on whether the 6th Circuit decision has changed the dynamic on the issue with the justices.
This post has been updated to include news of Justice Sonia Sotomayor's order.
Here is the opening of Kansas' application: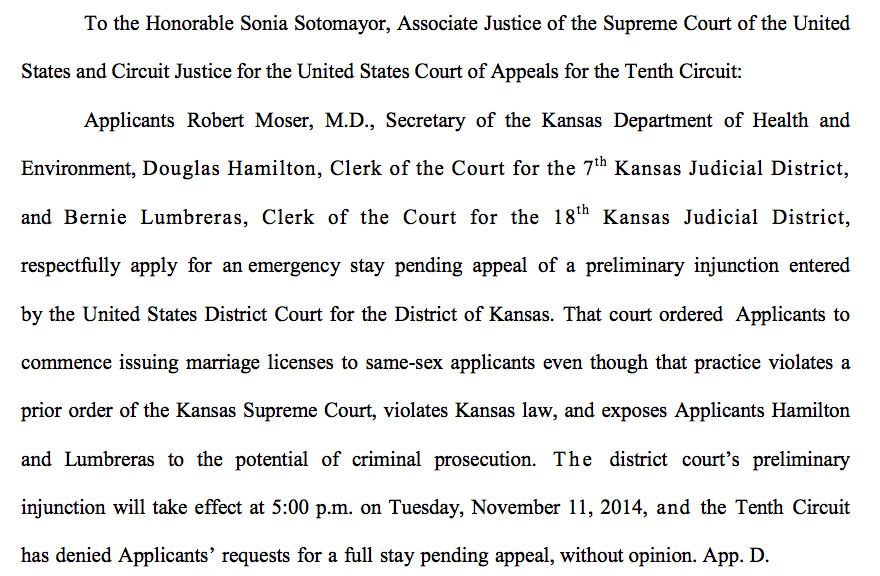 Here is the order from Justice Sotomayor: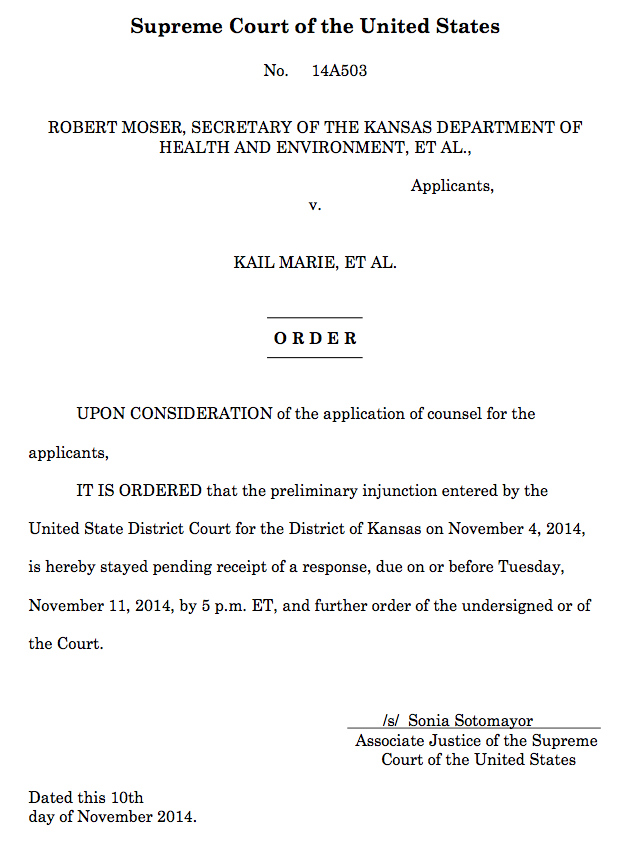 The plaintiffs in the case filed their opposition to Kansas' stay request, arguing, "The public interest would be best served by this Court adhering to the consistent practice it has followed since it denied the petitions for certiorari on October 6, 2014, and denying the application for a stay pending appeal."