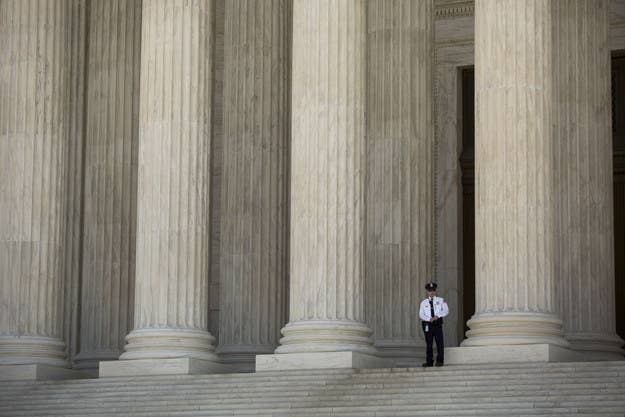 WASHINGTON — The Supreme Court justices showed deep division Wednesday on the use of a sedative drug, midazolam, in executions — from accusations that death penalty opponents are engaged in "guerrilla" warfare to a pointed attack on whether Oklahoma's lawyer could be trusted.
In arguments that included repeated discussion of the since-discontinued practice of burning people at the stake, the ultimate outcome of the case before the court — a challenge by Oklahoma inmates to the use of midazolam in the state's execution protocol — was anyone's guess.
The court returned to the question of the constitutionality of lethal injection drugs in the wake of several problematic executions in which the new drug, midazolam, was used.
In Ohio, Oklahoma, and Arizona, multiple executions involving midazolam resulted in the execution taking longer than expected and reports that the person being executed either was still moving or otherwise showed signs of remaining conscious.
In Oklahoma, the botched execution of Clayton Lockett a year ago today led the governor there, Mary Fallin, to order a review of the state's protocol.
Justice Anthony Kennedy, the key vote in the case, was mostly quiet throughout the arguments — asking only one question about whether the court should consider the fact that midazolam is only in use due to the "unavailability" of other drugs, whose effect is more well-known, because of the efforts of death penalty "abolitionist[s]."
That comment followed questioning by Justices Samuel Alito and Antonin Scalia about what Alito called the "guerrilla war against the death penalty" by death penalty opponents, whose efforts are "reducing access to drugs."
The arguments, which Chief Justice John Roberts extended by an extra five minutes per side, focused primarily on tough questions posed by Roberts, Scalia, and Alito to Robin Konrad, who represented the inmates, and even more tough — and at times, accusatory — questions to Oklahoma Solicitor General Patrick Wyrick from Justices Stephen Breyer, Sonia Sotomayor, and Elena Kagan.
At one point in Wyrick's argument in defense of the use of the drug, Sotomayor, essentially, told the state's lawyer that he had lied in his briefs before the court.
"I am substantially disturbed that in your brief you made factual statements that were not supported by the sources [you cited], and in fact directly contradicted," she told him. "So nothing you say or read to me am I going to believe, frankly, until I see it with my own eyes in the context, okay?"
Sotomayor was then given wide berth by her colleagues to go into detail to question him regarding some of those examples, from the state's characterization of the Food and Drug Administration's description of the drug to its characterization of one of the studies about the drug on which the state relied.