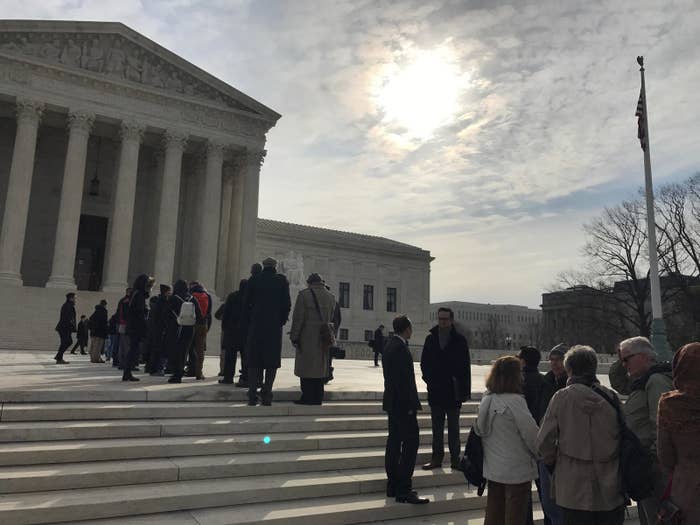 WASHINGTON — The Supreme Court on Monday appeared likely to strike down a North Carolina criminal law that bars people on the state's sex offender registry list from "accessing" social networking websites.
Justices expressed concern with the state's law as limiting people's access to what have become "crucially important" places for political communication — with Justice Elena Kagan noting, "The president now uses Twitter."
Kagan asked repeated questions about the ways in which the law would limit people from sites like Twitter that "have become embedded in" the country's political and religious culture.
The state's lawyer, Senior Deputy Attorney General Robert Montgomery, responded that the law doesn't bar those on the registry from the entire internet, but that didn't satisfy Kagan and others who continued to press Montgomery on the scope of the law.
In response to a question from Justice Stephen Breyer about the basis for the state's decision to limit all access to such sites, Montgomery replied that there are "no enforceable less restrictive ways" to accomplish the state's goals.
Throughout the arguments, multiple justices noted the amicus curiae — or, friend of the court — brief filed in the case by the Electronic Frontier Foundation, which argued that the state's ban could be applied to "any commercial website that allows access to minors and permits users to post comments under their own name or nickname that other users may see and respond to in order to exchange information about an article, product, or service."
The potential, they and others argue, is that accessing a web site like nytimes.com could trigger the criminal law because it allows people to create profiles in order to comment on and respond to articles. Although Montgomery argued that the Times' site is not covered by the law, the argument continued to raise concerns throughout the hour on Monday morning.
If there were any questions about the direction the case is headed, they appeared to be put to rest when Montgomery pointed to a 1992 case, Burson v. Freeman, in which the court upheld a 100-foot buffer zone barring political activity outside polling places as the basis for its argument that North Carolina's law should be upheld.
"I think that does not help you. At all," Justice Anthony Kennedy replied. "Do you have anything better than that?"

Kennedy continued, flatly saying that if Burson is the state's only case supporting its argument, "[Y]ou lose."
Montgomery provided no other case.