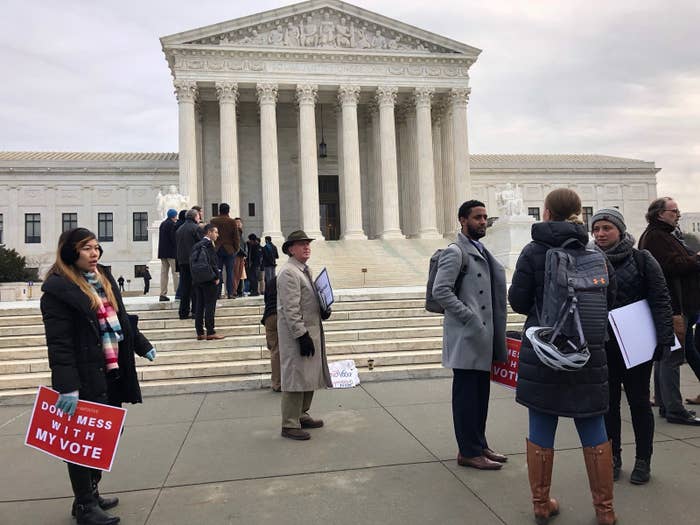 The Supreme Court appeared likely to uphold Ohio's system for removing voters from its voter rolls following arguments on Wednesday.
Under Ohio's system, a voter who does not vote in a two-year period is sent a notice. If they do not return the notice and fail to vote for the next four years, their voter registration is canceled.
The A. Philip Randolph Institute, represented by Campaign Legal Center's Paul Smith, argued on Wednesday that Ohio violates federal voting laws by basing its decision to remove voters on their failure to vote.

The state, however, counters that its decision is based on the evidence it obtains over that time — the failure to vote and failure to return the notice followed by more nonvoting — that the person has moved.
Justices Anthony Kennedy and Stephen Breyer joined Chief Justice John Roberts and Justice Samuel Alito in skeptically questioning Smith's arguments for the challengers to Ohio's system.
"What are they supposed to do?" Breyer asked Smith at one point.
Kennedy followed up by asking whether the state could mail the notice to all voters in Ohio, rather than just those who hadn't voted over the past two years, to start the process, which Smith said would violate federal law — just in a different way.
The questions to Ohio Solicitor Eric Murphy, primarily from Justices Elena Kagan and Sonia Sotomayor, did not appear to make a dent in the support for Ohio's process — or at least for Ohio's ability to choose that process from among many options.
Murphy at one point noted that failure to vote "cannot be the sole basis for removal" but that "doesn't mean it can't be used" at all.
The Trump administration had weighed in in support of Ohio's position, with US Solicitor General Noel Francisco arguing that Ohio's process is OK for that very reason — that the "protective process" (as in, the notice mailing) makes Ohio's process different than a "use it or lose it" process where nonvoting could lead to voter registration removal.
That issue formed the majority of Smith's time at the lectern, with Smith arguing that the state not receiving the notice back tells "nothing" about whether the person moved.
Roberts countered that it shows something, and the two — joined at points by Kennedy and Alito — went back and forth, with Roberts finally acknowledging, "I think we're both just repeating ourselves."
Justices Clarence Thomas and Neil Gorsuch did not ask any questions at the arguments. That, combined with the fact that it wasn't necessarily clear whether Breyer's questions at argument represented his primary view of the case, could leave an (unlikely) opening for a narrow victory for the challengers — but the generally tone of the morning suggested otherwise.

CORRECTION
Paul Smith is a lawyer at Campaign Legal Center. A previous version of this story misstated his employer.