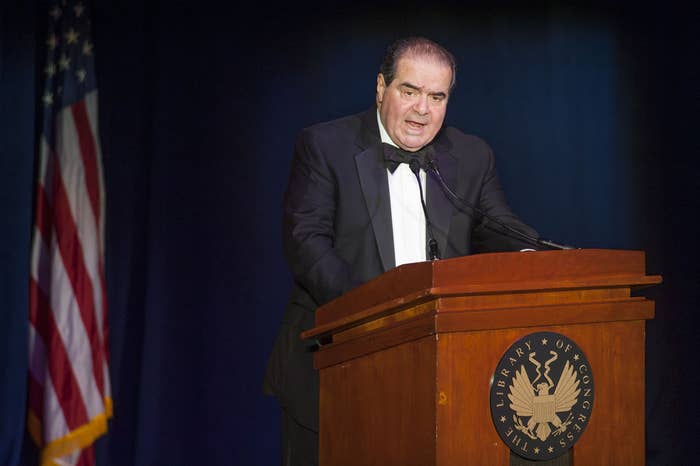 WASHINGTON — Supreme Court Justice Antonin Scalia told attendees of a speech given Tuesday that four of his colleagues believe the death penalty is unconstitutional and that "he wouldn't be surprised" if the court ends the penalty, according to reports from the event.
Speaking at Rhodes College, the conservative justice bristled at the concept, believing the penalty to be constitutional and telling attendees that death penalty opponents should go to the states if they want to end it, Jennifer Pignolet of The Commercial Appeal tweeted.
According to Pignolet's report, Scalia said that "he 'wouldn't be surprised' if his court ruled it unconstitutional, despite his belief that the Constitution allows for it with the establishment of protections like a fair trial."
Specifically, Scalia said that "he now has 4 colleagues who believe it's unconstitutional," Pignolet tweeted.
The statements provide new insight into the court's internal discussions—or at least Scalia's take on his colleagues—as his comments go further than Scalia's colleagues have gone themselves.
In dissenting from the court's June decision upholding Oklahoma's use of the drug midazolam in its lethal injection protocol, Justice Stephen Breyer, joined by Justice Ruth Bader Ginsburg, wrote, "I believe it highly likely that the death penalty violates the Eighth Amendment. At the very least, the Court should call for full briefing on the basic question."
While close to declaring a view that the penalty is unconstitutional, the opinion reached no definitive conclusion—and neither justice has voiced opposition to decisions refusing stays of execution in multiple cases brought to the court since then.
Although Scalia did not, from available reporting on the speech, name the justices of whom he was speaking, the other two justices who dissented from the Glossip v. Gross decision—Justices Sonia Sotomayor and Elena Kagan—did not even go as far as Breyer did in his dissent. Sotomayor, in her dissenting opinion, focused primarily on the midazolam issue directly before the court and the question of whether those challenging a method of execution must propose an alternative method. Kagan joined that dissenting opinion.
And, while Justice Anthony Kennedy has written about "enforc[ing] the Constitution's protection of human dignity" in the course of addressing limits to the death penalty, the justice has not publicly stated any unambiguous opposition to the penalty itself.
A spokesperson for Rhodes College told BuzzFeed News that the Supreme Court's public information office informed the school that no recordings of the speech would be allowed. An official with the court's public information office told BuzzFeed News that there would not be a text of Scalia's speech made available.