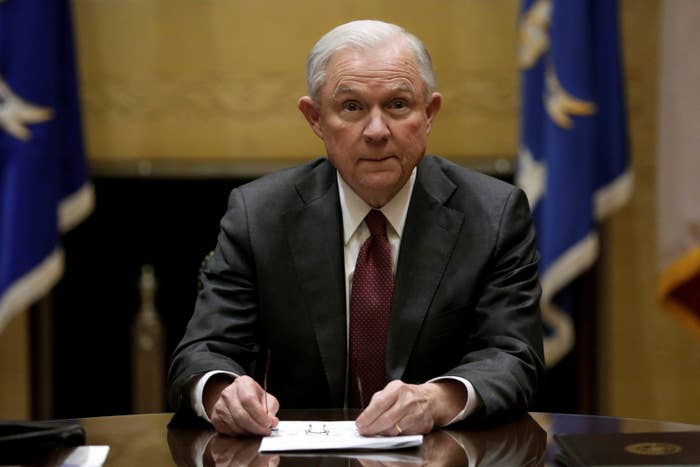 WASHINGTON — The Justice Department took a step back Friday from its prior position of advancing transgender people's rights under existing civil rights laws.
On just the second day of Attorney General Jeff Sessions' tenure at the helm of the Justice Department, the federal government filed a notice in the lawsuit Texas and other states had brought against the Obama administration's pro-transgender policies.
The moves taken in the filing — a joint filing made with the states — suggest that the federal government's position on the pending legal questions surrounding transgender people's rights could be changing soon. At the least, it suggests the new administration is pulling back while it determines the position it will be taking in the case.
The Justice Department announced in the short filing that it was withdrawing its request that the US Court of Appeals for the Fifth Circuit limit a lower court's nationwide injunction of the pro-transgender policies to instead cover only those states that had brought the litigation.

Then, in a joint request with the states challenging the policy, the states and the Justice Department both requested that the oral arguments on that issue be removed from the court's calendar.
Finally, they note, "The parties are currently considering how best to proceed in this appeal."
The argument, advanced by the Equal Employment Opportunity Commission and later by the Justice Department and other federal agencies, is that existing civil rights law bans on sex discrimination should be read to include a ban on anti-transgender discrimination because it is a type of sex discrimination.
During the presidential campaign, President Trump suggested he supported the rights of transgender people to use the restroom that matches their gender identity, but he later clarified that he believed the Obama administration had gone too far by trying to create a national policy. He said the decisions should be left to state and local governments.
Nonetheless, despite the Justice Department move, the EEOC — an independent federal agency — appeared to be keeping its fight for the pro-transgender interpretation of the law proceeding in court.
The agency filed a brief on Friday making its case to the US Court of Appeals for the Sixth Circuit.
"Title VII's prohibition on discrimination 'because of ... sex' encompasses discrimination based on transgender status and/or transitioning," the EEOC lawyers wrote. "This conclusion is based on the text of Title VII, as well as decisions of the Supreme Court and this Court that have long recognized that Title VII forbids gender from playing a role in employment decisions."
Notably, the appeal — in a case brought by the EEOC against a funeral home that it alleges discriminated against an employee because she is transgender — also makes the argument that the Religious Freedom Restoration Act does not provide a defense to the funeral home's actions here.