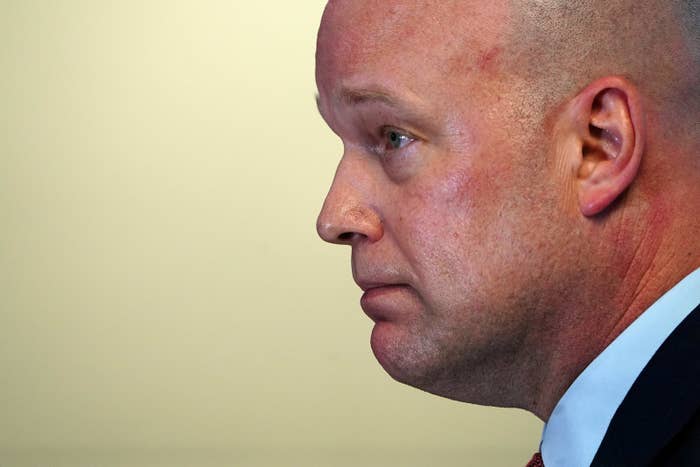 President Donald Trump may have a pick he plans to nominate to be attorney general, but his Justice Department has yet to file the required paperwork that states Jeff Sessions has left the office.
Under the Federal Vacancies Reform Act, the head of the Justice Department was to report the vacancy in the office of attorney general and any appointment of an acting attorney general to the head of the Government Accountability Office "immediately."
It's been a month since Trump forced Sessions to resign from his position as attorney general and then tweeted that Matthew Whitaker, Sessions' chief of staff, would be the acting attorney general.
There has been no notification.
The comptroller general of the United States, the head of the accountability office, hasn't received any reporting of either the vacancy or the acting appointment, a GAO spokesperson told BuzzFeed News on Friday morning.
A Justice Department spokesperson did not respond to a request for comment on why the GAO reporting has not happened.

This reporting is important — in addition to being the law — because the GAO tracks the length of service of acting officers under the vacancies law and is responsible for reporting to Congress and the White House when such acting officers serve beyond the permitted time allowed under the law (usually 210 days).
Neither the White House nor the Justice Department has been willing to make public the presidential memorandum appointing Whitaker, so the lack of notification is a further irregularity that makes the process behind Trump's decision to appoint Whitaker less transparent and less easily understood.
It is even more notable that the reporting requirement has not been taken care of in light of the fact that there are multiple legal challenges to Whitaker's authority that are pending in courts across the nation, up to and including the Supreme Court.
As to Whitaker's appointment itself, the White House has simply said there is a memorandum and that it was sent to Whitaker.
"After accepting the resignation of Attorney General Jeff Sessions, the President signed a memorandum addressed to Matthew Whitaker, directing him to perform the functions and duties of the office of Attorney General, until the position is filled by appointment or subsequent designation," White House spokesperson Raj Shah told BuzzFeed News in a statement last month.
Neither the White House nor the Justice Department has provided a copy of the memorandum, despite repeated requests, with the White House refusing to turn it over.