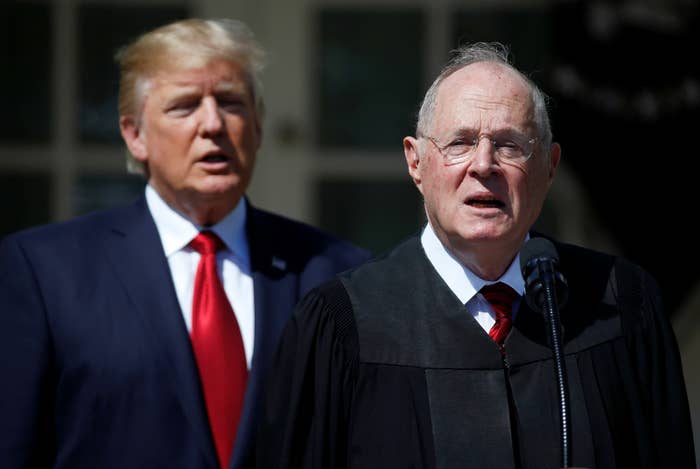 Justice Anthony Kennedy announced on Wednesday that he would be stepping down from the bench after more than 30 years on the high court — a move that could alter the face of the court and the future of its decisions.
In a letter to President Donald Trump, Kennedy said his retirement will be effective July 31, adding that it is "the highest of honors to serve on this Court."

Kennedy's decision to step down after years of providing the critical fifth vote to forge a majority opinion in pivotal cases — the "swing-vote justice," he was often called — means that Trump will get a second chance to name a nominee to the Supreme Court, a legacy-shaping opportunity that could affect the country for decades.
Although the court generally respects its prior precedents — referred to as stare decisis — it need not do so. A reconstituted court with Kennedy's replacement on the bench would have the capability to revisit some of the key 5-4 decisions — from marriage equality to abortion — issued during Kennedy's tenure.
Those questions, no doubt, will be front and center in Senate confirmation hearings over his successor.
For his part, Trump on Friday said that he met with Kennedy on Wednesday at the White House for about half an hour. Trump said the task of picking his nominee will "begin immediately" and will "come from the list of 25 people" that he previously had issued. "Hopefully we will pick someone who is just as outstanding."
Later at a rally in North Dakota, Trump told supporters he was also honored by Kennedy's timing.
"I'm very honored that he chose to do it during my term in office because he felt confident in me to make the right choice and carry on his great legacy," he said.
Shortly after the news became public, Majority Leader Mitch McConnell spoke from the Senate floor, thanking Kennedy for his service and for his "ardent defense of the First Amendment and the First Amendment's right to political speech" — a reference to the 2010 Citizens United decision decried on the left for its role in increasing the role of corporate money in elections.
"The Senate stands ready to fulfill its constitutional role ... to fill this vacancy," he said. "We will vote to confirm Justice Kennedy's successor this fall."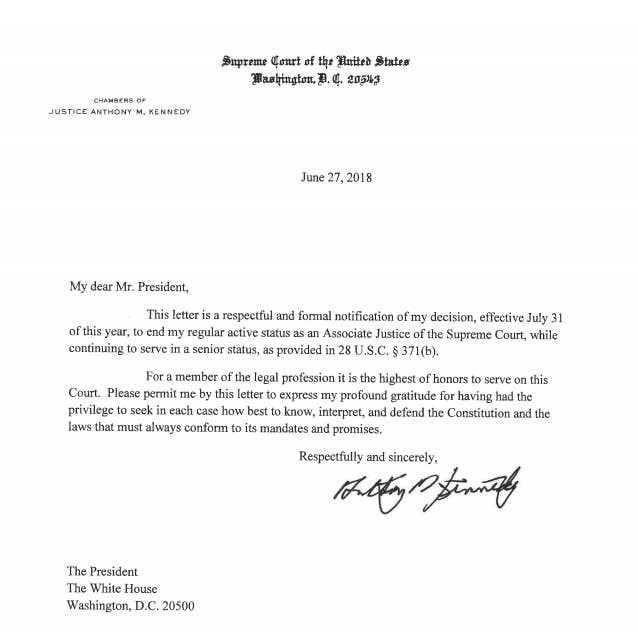 Kennedy, who joined the Supreme Court in February 1988, already had been serving as a federal appellate judge on the US Court of Appeals for the 9th Circuit for almost 13 years before taking his seat on the high court.
After more than 43 years as a judge, the California-raised jurist announced his decision at the end of a complex term at the Supreme Court — and a year and a half into the Trump administration.
While voting to uphold the travel ban this week, Kennedy nonetheless wrote separately in what turned out to be a final note of sorts about his view of what America is and — in the most Kennedy of ways — what it should be.
"The First Amendment prohibits the establishment of religion and promises the free exercise of religion. From these safeguards, and from the guarantee of freedom of speech, it follows there is freedom of belief and expression," he wrote. "It is an urgent necessity that officials adhere to these constitutional guarantees and mandates in all their actions, even in the sphere of foreign affairs. An anxious world must know that our Government remains committed always to the liberties the Constitution seeks to preserve and protect, so that freedom extends outward, and lasts."
Kennedy's decision to step down comes just a little more than a year after Trump's first nominee to the court, Justice Neil Gorsuch, took his seat on the bench — the result of Senate Republicans' decision not to consider former President Barack Obama's nominee to replace Justice Antonin Scalia, who died in February 2016. After Trump's unexpected win, he nominated Gorsuch from a list of mostly federal and state appellate judges who are backed by the Federalist Society.
Now, with only a bare majority required in the Senate to replace Kennedy, Trump will put forth a second high court nominee. He has said in the past that he would again return to the list, which he has since expanded to include others, for another nominee, should a vacancy occur.
Kennedy's legacy on the court had appeared to have been set three years ago, when the court issued its decision in Obergefell v. Hodges, the case that brought marriage equality to the US.
Echoing and expanding on his rulings over the past 20 years in three other rulings expanding the rights of gay, lesbian, and bisexual people, Kennedy declared, "Under the Constitution, same-sex couples seek in marriage the same legal treatment as opposite-sex couples, and it would disparage their choices and diminish their personhood to deny them this right."
Of the same-sex couples challenging marriage bans — but in language that sums up his gay rights legacy — Kennedy went on to write, "They ask for equal dignity in the eyes of the law. The Constitution grants them that right."
Kennedy also had joined with the court's more liberal members and, while she was on the court, Justice Sandra Day O'Connor in upholding the constitutional right to an abortion — most notably in a key 1992 decision in which he, O'Connor, and retired Justice David Souter coauthored an opinion declaring that "the essential holding of Roe v. Wade should be retained and once again reaffirmed."
On many matters, though, Kennedy was a reliable vote for a conservative majority on the court.

Most notably, it was Kennedy who authored the court's opinion in Citizens United — the decision praised by McConnell on Wednesday. Kennedy regularly sided with the conservative bloc in favor of corporate interests, writing the court's majority opinion this term, for example, that foreign corporations could not be sued in US courts under the Alien Tort Statute for connections to terrorist acts committed abroad.

Kennedy also provided the critical fifth vote for the court's conservative majority in siding with George W. Bush in the December 2000 case that ended that year's presidential election and brought Bush to the White House.
The 2000 election was the fourth presidential election that took place with Kennedy on the high court, and he would stay on the court through four more.
President Ronald Reagan nominated Kennedy to the Supreme Court in November 1987, his third choice to fill the seat of then-retiring Justice Lewis Powell. Reagan's first choice, Robert Bork, was rejected by the Senate. His second choice, Douglas Ginsburg, withdrew his name from nomination after he acknowledged having smoked marijuana.
The Senate quickly approved Kennedy's nomination, however, without a single senator objecting on the final vote on Feb. 3, 1988: 97–0.
Thirty years later, another significant part of Kennedy's legacy might be that he is leaving the court with several open questions on issues that have long captured his interest — questions that his successor could help resolve for the next generation.
After taking up two cases this term raising questions about whether courts can resolve partisan gerrymandering claims, and, if so, how, the court punted on both equal protection and First Amendment questions raised — and Kennedy, who has long expressed interest in partisan gerrymandering issues, wrote nothing in either case.
In another case — linked with Kennedy's legacy on gay rights — the court again punted, this time on the issue of whether religious opposition to same-sex couples' marriages should exempt people and businesses from following public accommodation nondiscrimination laws generally applicable to all. This was the Masterpiece Cakeshop case, and although Kennedy wrote the court's opinion in the case, the court did not resolve that key question — with Kennedy and the court instead focusing the decision on "hostility" to religion that was shown to the baker by the Colorado Civil Rights Commission.
A third area in which Kennedy left his ultimate view unresolved is the death penalty. Although he regularly sided with conservatives on challenges brought as to the method of execution a state chose to use, he joined with the court's more liberal members in key decisions restricting who is eligible for the death penalty and expressed great concern with executions. At the same time, he never decided to join some of his more liberal colleagues in publicly questioning whether the constitutionality of the death penalty itself should be reconsidered.