WASHINGTON — A state court judge in Missouri on Wednesday ruled that the state's ban on same-sex couples' marriages is unconstitutional, allowing same-sex couples to marry in St. Louis.
With no stay putting his ruling on hold, Judge Rex Burlison's ruling means same-sex couples, at least within St. Louis, should be able to marry immediately.
The state had filed the lawsuit over the summer to stop St. Louis officials from issuing marriage licenses to same-sex couples.
Although Burlison declared the state's ban unconstitutional, the only apparent direct impact of the litigation is that St. Louis officials can issue marriage licenses to same-sex couples.
BuzzFeed News has asked Missouri Gov. Jay Nixon and Attorney General Chris Koster's offices for information about whether the state will appeal the ruling and whether the state officials will interpret the ruling as having statewide effect.
The statewide LGBT group, PROMO Missouri, suggested that all residents of Missouri could now marry same-sex partners if they wished by going to St. Louis City Hall:
About a month ago, another state judge ruled that Missouri had to recognize the marriages of same-sex couples who marriage legally elsewhere — a decision that state officials did not appeal.
Here is the court's order:
Same-sex couples began applying for marriage licenses almost immediately in St. Louis:
Missouri Attorney General Chris Koster has appealed the ruling, he said in a statement, but will not seek a stay of the trial court's ruling pending appeal.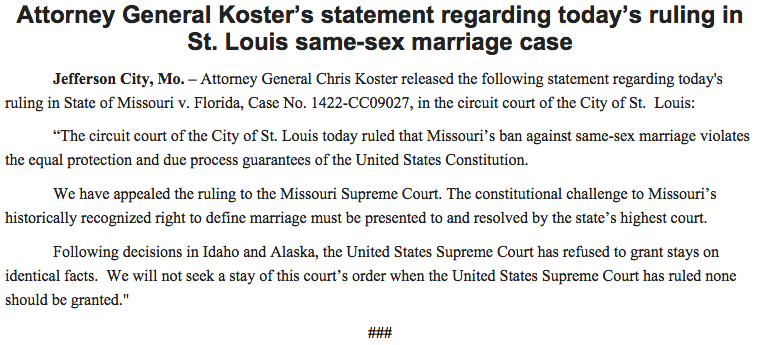 The only comment from Missouri Gov. Jay Nixon's office on today's marriage ruling was a spokesman's comment that "for right now we'll need to refer you to the Missouri Attorney General's Office."