Judge Rejects Lawsuit To Stop Use Of New Election-Related Software In Ohio
"This suit was completely baseless and caused unnecessary concern and confusion," Ohio's top election official said.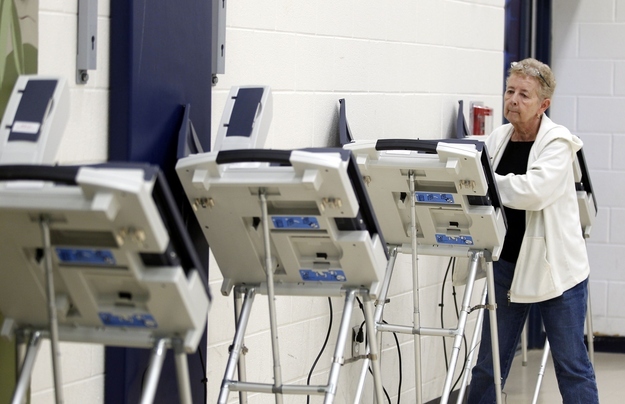 A federal judge on Tuesday rejected a last-minute request to stop Ohio's top election official from using a new software program in the Buckeye State's vote-reporting process.
Although Ohio Green Party chairman Robert Fitrakis claimed a software change implemented by Ohio Secretary of State Jon Husted created "imminent risk" that persons will be able to "access the recording and tabulation of votes cast by Ohio voters," the company, Election Systems & Software, Inc. (ES&S), and Husted denied the claims. From U.S. District Court Judge Gregory Frost's opinion:
According to ES&S, the EXP software does not count votes and has no capability to "write" over or otherwise change election results stored in county computers tabulating the vote.
Frost described how Husted's office explained the software:
In election days past, counties traditionally reported vote totals to the Secretary by manually entering the data into a computer and then transmitting that data to the Secretary's Office. Instead of doing it that way, the counties with the EXP software may now put the "jump drive" into the county computer, obtain the data, and then plug the jump drive into the computer used for transmitting the information to the Secretary's Office. ... According to the Secretary's counsel, the EXP software allows the Secretary to obtain vote count results more quickly while eliminating the possibility of human error inherent in the old system.
After reviewing the information that Fitrakis provided and finding it lacking, Frost concluded that Fitkrakis had "no likelihood of success on the merits" and did not face "irreparable harm," two standards for issuing the injunction Fitrakis sought. Thus, he denied the request.
Fitrakis is among those who have claimed that George W. Bush stole the 2004 election in Ohio, a claim most Democrats, including Senator John Kerry, reject.
In a statement following the ruling, Husted said, "This suit was completely baseless and caused unnecessary concern and confusion. All Ohioans' votes are tabulated at the local level and separately reported to the Secretary of State on Election Night through a secure connection. The system is not only safe, it is much improved since the last presidential election."