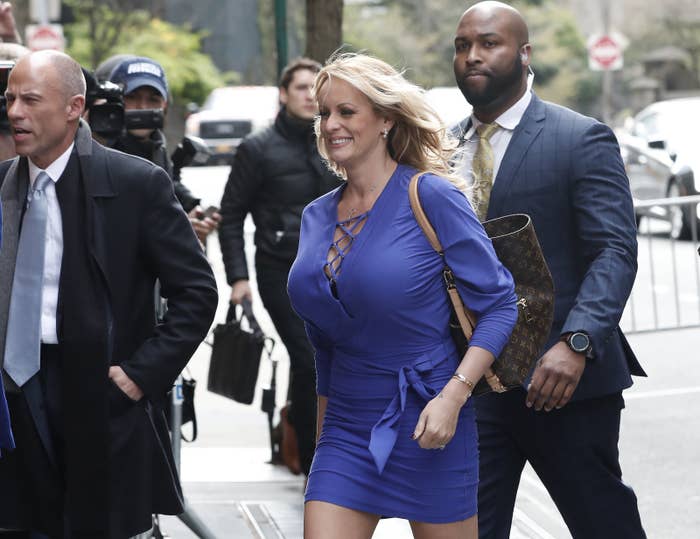 A federal judge on Friday put Stormy Daniels' lawsuit against President Donald Trump and his longtime personal lawyer Michael Cohen on hold for at least 90 days due to the ongoing criminal investigation into Cohen.
The FBI searched Cohen's home and office in New York on April 9. Days later, his lawyers, joined by Trump's, asked US District Judge James Otero to stay Daniels' lawsuit.
Daniels, whose legal name is Stephanie Clifford, is an adult film star who has claimed to have had a sexual relationship with Trump more than a decade ago. Trump has denied Daniels' claims about the relationship.
In 2016, however, she signed a settlement agreement requiring her not to talk about the relationship. As part of the agreement, she received $130,000 — a payment facilitated by Cohen. Daniels' lawsuit is an effort to have that settlement agreement tossed out — in part because Trump did not sign it.
Cohen's and Trump's lawyers argued for the stay, saying Cohen's Fifth Amendment right against self-incrimination would be implicated if Daniels' lawsuit were to proceed while Cohen faces the possibility of criminal prosecution in the New York investigation.
Otero agreed — granting a stay and setting a conference to discuss the status of the stay on July 27.
"While it is undeniable that Plaintiff has a valid interest in the prompt resolution of her claims, where Mr. Cohen's Fifth Amendment rights are heavily implicated and the potential impact on the criminal investigation substantial, Plaintiff's interests do not outweigh the necessity of a stay," Otero wrote.
Under Otero's order, the parties are to file a joint report on where things stand with the criminal investigation on July 17.
Daniels' lawyer, Michael Avenatti, tweeted that he and his client "likely" will be appealing the decision "early next week."