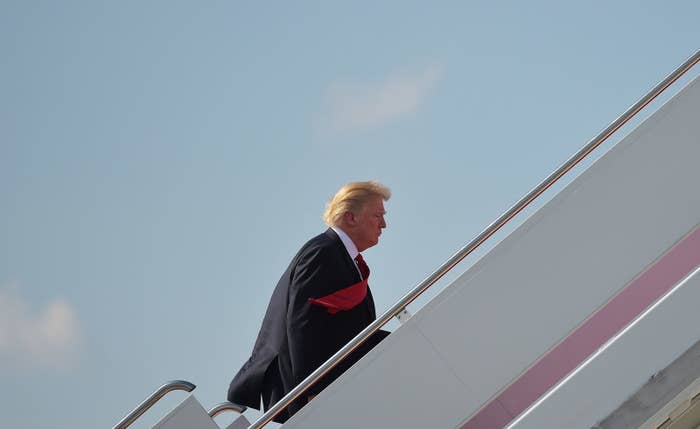 WASHINGTON — The federal judge who halted enforcement of President Trump's new travel and refugee ban on Sunday denied the Justice Department's request that the judge issue a "clarification" about the scope of his order.
As Trump made his way back to Washington from another weekend at his Mar-a-Lago resort, his Justice Department's attempts to defend the president's executive order were met with a short, pointed defeat.

In a filing on Friday night, Justice Department lawyers had argued that, despite the temporary restraining order's language barring enforcement of sections 2 and 6 of the new order — the travel ban and refugee ban sections — "many of the provisions of those sections were not addressed in the briefs that Plaintiffs filed in support of their motion." Because of that, the federal lawyers argued, "It is therefore unclear whether the Court intended for its Temporary Restraining Order to extend to all of those provisions."
On Saturday, lawyers for Hawaii opposed the request.
On Sunday, US District Judge Derrick Watson sided with Hawaii, in a brief, electronic order that did not even wait for the Justice Department to file the reply brief it had previously planned to file.
"[T]here is nothing unclear about the scope of the Court's order," Watson wrote — quoting from the TRO issued earlier in the week: "Defendants ... are hereby enjoined from enforcing or implementing Sections 2 and 6 of the Executive Order across the Nation."
In the one-paragraph order on Sunday, Watson then concluded, "The Federal Defendants' Motion is DENIED."
The Justice Department moves in Hawaii — essentially slowing things down at the trial court level — came even as the department on Friday also had filed a notice of appeal in the case out of Maryland, where a more narrowly focused court order halted enforcement of the travel ban but did not address the refugee ban.
That move sends the issue of the new executive order to the US Court of Appeals for the Fourth Circuit — while the Justice Department appears to be seeking to avoid, at least for now, sending the Hawaii case up to the US Court of Appeals for the Ninth Circuit, which ruled against Trump on the first executive order and has been subject to criticism from Trump since.
Read the electronic order from Judge Watson: