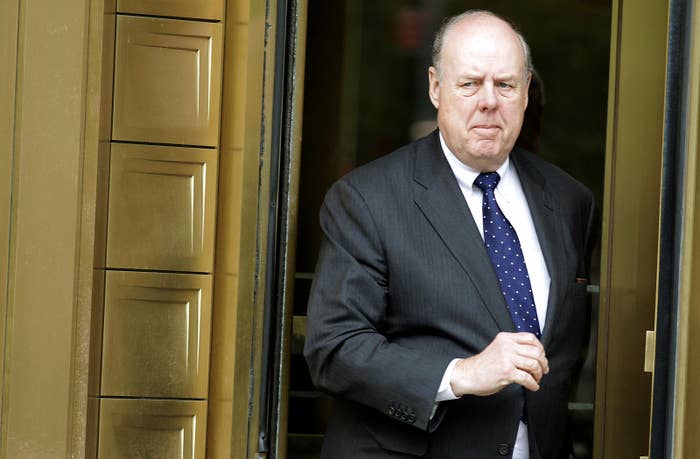 John Dowd resigned Thursday as President Trump's lead attorney in the Russia inquiry, according to several reports, in a major shake-up of the legal team defending the president in the special counsel's investigation.
The New York Times first reported Dowd's resignation, according to "two people briefed on the matter." The Washington Post also subsequently reported the news, citing "three people familiar with the decision."
Dowd and Ty Cobb, Trump's lead lawyer in the White House dealing with the Russia investigation, did not immediately respond to requests for comment from BuzzFeed News.
Jay Sekulow, another outside attorney representing Trump, told BuzzFeed News, "John Dowd is a friend and has been a valuable member of our legal team. We will continue our ongoing representation of the President and our cooperation with the Office of Special Counsel."
It wasn't immediately clear who would take over for Dowd as the president's lead outside attorney.
Dowd's resignation comes five days after he had to walk back comments he made to the press saying he and the president wanted Deputy Attorney General Rod Rosenstein to shut down special counsel Robert Mueller's inquiry in light of Attorney General Jeff Sessions firing former FBI deputy director Andrew McCabe. Although he initially told the Daily Beast he was "speaking on behalf of the president, in his capacity as the president's attorney," Dowd later said he was not speaking for Trump.
By the end of the weekend, Cobb issued a statement starkly contrasting with Dowd's comments, saying that "the President is not considering or discussing the firing of the Special Counsel, Robert Mueller."
In response to shouted questions after an unrelated event Thursday about whether he would still want to testify before Mueller, Trump said, "I would like to."

Dowd's resignation is one of several changes in Trump's legal team since he denied reports that he was displeased with his legal team — tweeting that he was "VERY happy" with Dowd, Cobb, and Sekulow.

This week, Trump added Joseph diGenova to his outside legal team — a former prosecutor who has accused the FBI and Justice Department of attempting to frame Trump. DiGenova had no comment on Thursday's developments. DiGenova's law partner and wife Victoria Toensing has represented the former spokesman for Trump's legal team, Mark Corallo, and former Trump campaign official Sam Clovis in connection with Mueller's investigation. Corallo told BuzzFeed News he signed a waiver permitting the firm to also represent Trump. The waiver would give Toensing the ability to do work for Trump as well, Corallo said, but he did not know if she will join the president's legal team. Toensing did not immediately return a request for comment.
Corallo said Toensing contacted him about the possibility of Trump hiring diGenova and the waiver on March 19, the same day diGenova's hiring was first reported.
That New York Times report stated that Trump met with Emmet Flood, a partner at Williams and Connolly who represented former president Bill Clinton during his impeachment proceedings but also represented former president George W. Bush and former vice president Dick Cheney. He has not since joined Trump's legal team.
Another senior litigator, Ted Olson — who represented Bush in Bush v. Gore — also was approached to represent Trump, but he and his firm, Gibson Dunn, declined to do so, BuzzFeed News reported. That approach did not even get to the point of any in-person meeting with Trump, a source familiar with the situation told BuzzFeed News.
This isn't the first shakeup to Trump's legal team. Trump's first lawyer in the Russia probe, Marc Kasowitz, had represented Trump for years in a variety of cases before Trump became president. Roughly three weeks after Kasowitz's hiring was first reported in late May, Trump hired Dowd to join the team, along with Sekulow.

A month after Dowd was hired, Trump hired Cobb to work in the White House counsel's office and handle matters related to the Russia probe on that end.

The first major shift came shortly after Cobb's hiring was announced, when Kasowitz stepped back as Trump's lead outside lawyer and Dowd took the reins. At the time, Dowd told BuzzFeed News that they would continue to consult with Kasowitz, but "wanted to go in a different direction." Kasowitz is still representing Trump in the defamation lawsuit filed by a former contestant on "The Apprentice," Summer Zervos.
This is a developing story. Check back for updates or follow BuzzFeed News on Twitter.