John Boehner To Sue Obama Over The Obamacare Employer Mandate Delay
"No president should have the power to make laws on his or her own," Boehner says.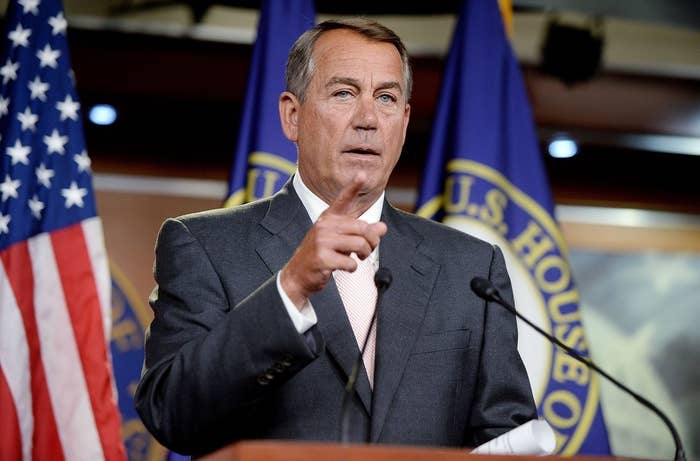 WASHINGTON — House Speaker John Boehner announced Thursday that President Obama's decision to delay the implementation of the Affordable Care Act's employer mandate will be the basis for his planned lawsuit against the president.
"There are many examples of executive overreach by the president, but his actions on the health care law are the ones that give the House the best chance of success in the courts," an aide said.
In a blog post, Boehner said of the decision, "In 2013, the president changed the health care law without a vote of Congress, effectively creating his own law by literally waiving the employer mandate and the penalties for failing to comply with it. That's not the way our system of government was designed to work. No president should have the power to make laws on his or her own."
The House resolution Boehner plans to introduce allows him to "initiate or intervene" in lawsuits in federal court regarding the failure of the president or other officials to implement the Affordable Care Act. The resolution states that the House general counsel, "at the direction of the Speaker," will handle any litigation and "may employ the services of outside counsel and other experts for this purpose."
The House Rules Committee announced Thursday evening that it will hold a hearing on the resolution at 10 a.m. July 16.
The National Review reported this past week that lawyers Alice Foley, a law professor at Florida International University, and David Rivkin, a partner at Baker Hostetler, are "the architects of the House of Representatives' likely lawsuit against President Obama."
In a statement, White House Press Secretary Josh Earnest said, "It is disappointing that Speaker Boehner and Congressional Republicans have decided to waste time and taxpayer dollars on a political stunt. At a time when Washington should be working to expand economic opportunities for the middle class, Republican leaders in Congress are playing Washington politics rather than working with the President on behalf of hardworking Americans. As the President said today, he is doing his job – lawsuit or not – and it's time Republicans in Congress did theirs."
The draft resolution: