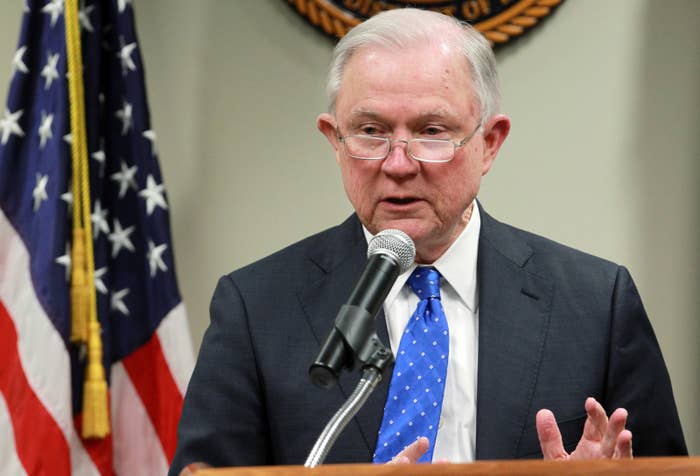 Attorney General Jeff Sessions is not appointing a second special counsel at this time to look into allegations that the FBI has abused a special court's warrant process, as some Republicans have sought.
Sessions announced his position, and other related moves, in a letter to congressional Republican leaders Thursday afternoon. The letter came more than four months after the Justice Department first said it was looking into accusations the FBI improperly secured a warrant against Carter Page from the Foreign Intelligence Surveillance Court in 2016.
Republican Sen. Chuck Grassley and Reps. Robert Goodlatte and Trey Gowdy, to whom the letter was addressed, had asked that Sessions look into the FISA abuse allegations — which have prompted outrage from President Trump as well.
In response, Sessions and the Justice Department have taken a series of steps — short of appointing a second special counsel — to review the process.
Back on Nov. 13, 2017, Assistant Attorney General Stephen Boyd sent a letter to Congress stating that Sessions had "directed senior federal prosecutors" to look into whether there should be another special counsel.

Sessions said in February that he was referring the matter to the inspector general's office — a step that led Inspector General Michael Horowitz on Wednesday to announce he was initiating a review of the matters.
In the Thursday letter, Sessions detailed that review and told congressional leaders that US Attorney John Huber, in charge of the District of Utah, has been tasked with overseeing the effort referenced in Boyd's letter to determine what additional steps — including the possibility of the appointment of a second special counsel — are necessary.
Justice Department spokesperson Sarah Isgur Flores said in an email that Sessions asked Huber to do the review shortly before Nov. 13 and that his review officially began before Nov. 13 — the date when Boyd sent his letter to Congress.
Sessions' and Boyd's letters refer to multiple "senior federal prosecutors," but Flores declined to comment on who else Huber was working with on the review.
For his part, Huber has served as Utah's top federal prosecutor since June 2015. During the Trump administration's removal of Obama holdover US attorneys in March 2017, Huber submitted his resignation, but he was reinstated to his job via a temporary appointment by Sessions. Trump nominated him to permanently return as US attorney in June 2017 — two years after his confirmation under Obama — and he was confirmed in August by a unanimous voice vote in the US Senate.
Huber spoke at a White House press briefing in June to support two pieces of legislation, Kate's Law and the No Sanctuary for Criminals Act — aimed at upping penalties for undocumented immigrants who try to come back to the United States and restricting federal funds to jurisdictions with so-called sanctuary laws. It was an unusual appearance for a US attorney, and a former DOJ official told NPR at the time that it undermined the notion of the Justice Department's independence from the White House.
On Nov. 13 — the same day that Boyd's letter went to the House Judiciary Committee — the Justice Department announced that Sessions had tapped Huber to serve as vice chair of the attorney general's Advisory Committee of US Attorneys.
This is a developing story. Check back for updates and follow BuzzFeed News on Twitter.‏