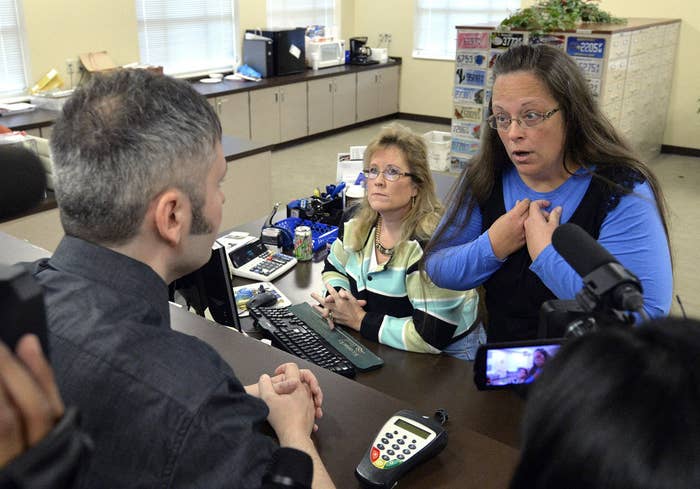 WASHINGTON — On Thursday morning, Kentucky's Rowan County clerk Kim Davis could be held in contempt of court for continuing to refuse to issue marriage licenses.
Many supporters of marriage equality have called for Davis's firing, but, as an elected official herself, she cannot be fired. Without her backing down or resigning or people waiting for the next election, other options for getting Davis, or Rowan County, on board with marriage equality are very limited, a review of state law and state history shows.
Davis's policy, which she says is based on her religious opposition to her name appearing on the marriage licenses of same-sex couples, has captivated the country. In the wake of the Supreme Court's June ruling in favor of nationwide marriage equality, most places — immediately or eventually — implemented the ruling and have moved on. As BuzzFeed News noted, however, there were a few small pockets resisting.
Now, one of those pockets — Rowan County — is the central story of the marriage equality "backlash" that never coalesced.
On Thursday, U.S. District Court David Bunning — who issued an order on Aug. 12 that Davis, a Democrat, end her "no marriage licenses" policy should the couples who sued seek a marriage license from her — could hold Davis in contempt. That could mean fines, as requested by the plaintiffs, or even the jailing of Davis.
"Plaintiffs do not seek to compel Davis' compliance through incarceration," lawyers for the plaintiffs wrote in a court filing on Tuesday. "Since Defendant Davis continues to collect compensation from the Commonwealth for duties she fails to perform, Plaintiffs urge the the Court to impose financial penalties sufficiently serious and increasingly onerous to compel Davis' immediate compliance without further delay."
Even if Bunning does hold her in contempt, however, Davis has signaled that won't change her position. In a statement released through her Liberty Counsel lawyers on Tuesday, she said, "It is not a light issue for me. It is a Heaven or Hell decision. … I intend to continue to serve the people of Rowan County, but I cannot violate my conscience."
Kentucky law requires the county clerk to issue the marriage licenses — and with a truly interesting caveat: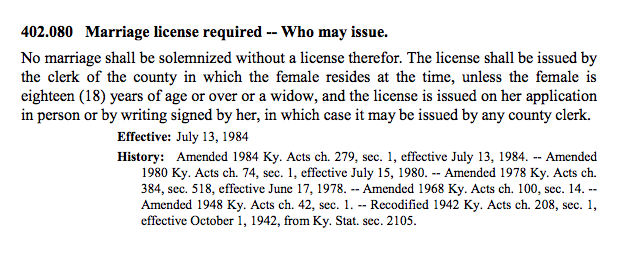 As Gov. Steve Beshear said in a statement on Tuesday, "The legislature has placed the authority to issue marriage licenses squarely on county clerks by statute, and I have no legal authority to relieve her of her statutory duty by executive order or to remove her from office."
Under state law, the only times when someone other than a county clerk can issue a marriage license in Kentucky is when there is a vacancy in the clerk's office or if the clerk is absent:

And — while there have been calls to amend the law to allow for clerks to exempt themselves from issuing licenses, including by Davis — the legislature isn't in session and the governor doesn't want to call a special session.
"The General Assembly will convene in four months and can make any statutory changes it deems necessary at that time," Beshear said in the Tuesday statement. "I see no need to spend hundreds of thousands of dollars of taxpayers' money calling a special session of the General Assembly when 117 of 120 county clerks are doing their jobs."
Additionally, it's not clear the split legislature would want to pass such a change.
What about the possibility of "official misconduct" charges?
The other options available for getting Davis to comply are limited.
Although there was a report that the county attorney had referred charges of official misconduct to the Kentucky Attorney General's Office, a spokesperson for Attorney General Jack Conway said that is not the case.
"It is not a referral," Conway spokesperson Allison Martin told BuzzFeed News. "It is a request for a special prosecutor to be appointed because the local county attorney says he has a conflict of interest. The request for a special prosecutor is under review."
What's more, the charges of official misconduct — even if brought and prosecuted and if Davis is convicted — do not include removal from office as a possible sentence.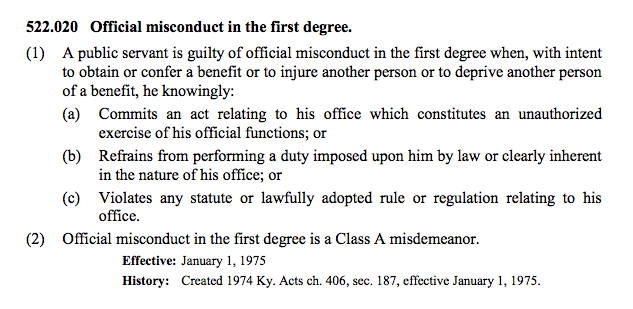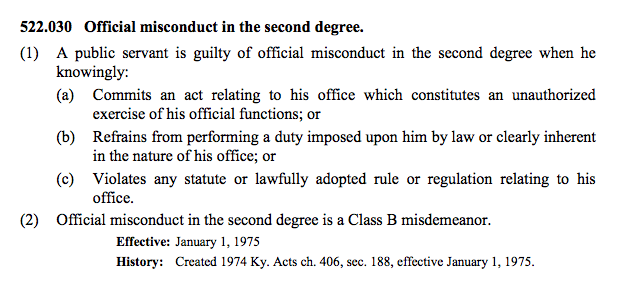 Can't Davis be recalled? Or removed by the governor?
Other options available in some states do not exist in Kentucky. There is no recall mechanism in the state, and, as Martin told BuzzFeed News, neither Gov. Steve Beshear nor Conway have the authority to remove a clerk from office.
That leaves only one option: impeachment.
Impeachment in Kentucky, however, is a rare occurrence — although any person can bring a petition to the state House seeking the impeachment of any official.

The history of impeachment throughout Kentucky's history, though, is short:
Despite that easy way to bring impeachment cases to the legislature, only four impeachment proceedings have ever progressed in the state, according to state officials.
As the state's Legislative Research Commission put it in a report following a 1991 impeachment effort: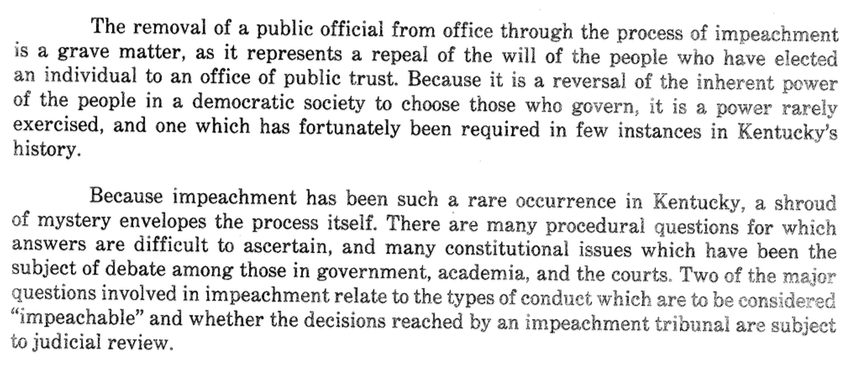 What's more, only two of the four actually were convicted by the state Senate following a House vote of impeachment.
The 1991 case, which prompted the report, involved Agriculture Commissioner Ward "Butch" Burnette. After the House voted on one article of impeachment relating to claims of falsified time sheets, Bunette resigned before the Senate could try him and terminated the impeachment proceedings.
Another case, from 1916, was brought against McCreary County Judge J.E. Williams. Although impeached by the House, the Senate did not convict him on the charges of "misfeasance and malfeasance" that had started with a petition from several county residents.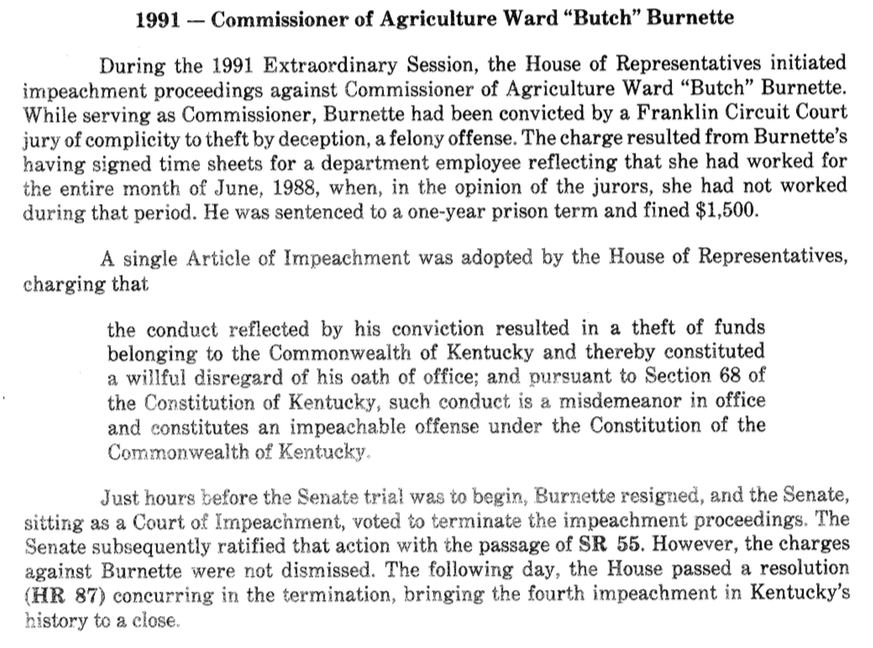 Neither of the two Kentucky officials to have been impeached and convicted were serving in their office by time the conviction happened.
In the first known impeachment in Kentucky, the surveyor of Bourbon County, Thomas Jones, was impeached for overcharging the county and failing do to his job correctly. Even though he resigned during his Senate trial that followed his House impeachment, the Senate kept the proceedings going forward — convicting Jones and ordering him "perpetually excluded" from holding public office.
The other impeachment conviction — in 1888 — was a bit more high profile. In that case, the state's treasurer, a man named James "Honest Dick" Tate, had served in office for 20 years when he disappeared with nearly $200,000 — most of the state's treasury. He and the money were never found, but he was impeached and convicted in absentia.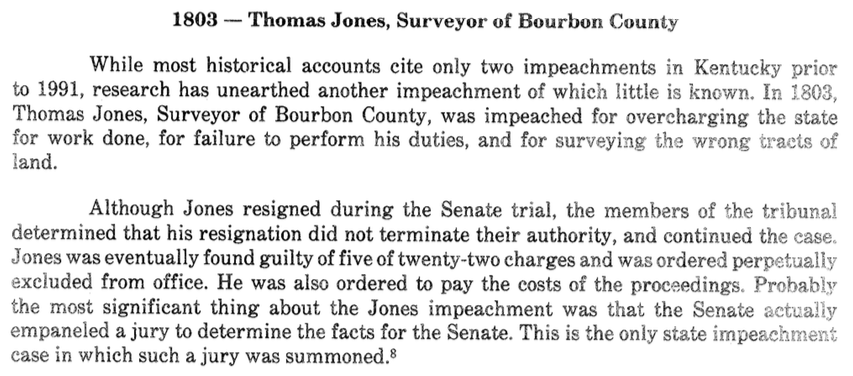 James "Honest Dick" Tate