Indiana Women Fight For Right To Marry In Case At Appeals Court
"She is the love of my life, and I will die with her." Judges at the 7th Circuit Court of Appeals will hear their case, and others from Indiana and Wisconsin, on Tuesday morning.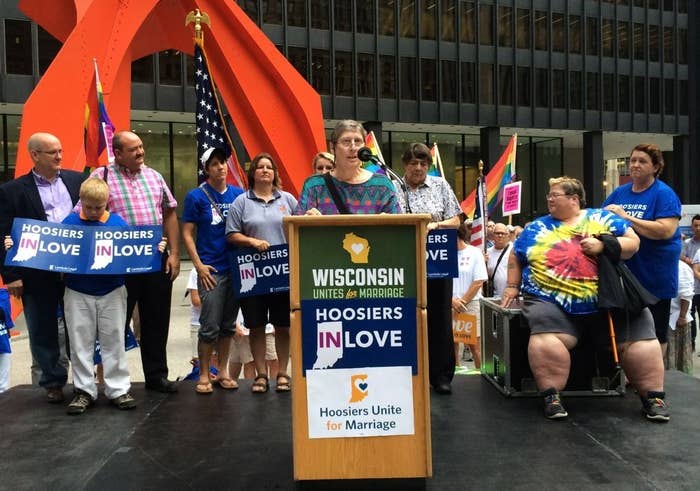 CHICAGO — Marilyn Rae Baskin and Esther Fuller were in Chicago's Federal Plaza on Monday evening for a rally, taking to the stage to tell the assembled why marriage was so important to them.
But Baskin and Fuller don't want to get married in Illinois, where same-sex couples now have that right. They want to marry in Fuller's home state, the state they have made their home: Indiana.
"Why should we have to travel — when every other couple not of the same gender doesn't have to travel?" Baskin asked on Monday evening, talking to BuzzFeed about the case before her time on stage.
Earlier this year, the couple sued the state of Indiana, arguing that the state's law banning them from marrying is unconstitutional. After a trial court judge agreed, their case, along with several other cases from Indiana and Wisconsin, are due to be heard by a three-judge panel of the 7th Circuit Court of Appeals at 10:30 a.m. ET Tuesday.
The case has moved very quickly, only having been filed in March.
"It's so exciting," she said. "The train left the station, and it's just picking up steam, and I love it. I'm just absolutely thrilled to be able to watch it happening instead of just reading about it later, because I think this is history — I'm hoping this is history in the making."
This modern history, though, comes after a long time. Fuller and Baskin met, they said, 25 years ago, when Baskin's former business partner introduced them in Indianapolis.
There was a potential stumbling block: Baskin lived in Manhattan, and Fuller lived in a very small town in Indiana.
"I had to drag her to Indiana," Fuller said.
"That's where Esther lived, and she wouldn't leave," Baskin echoed. "She's relentless when she needs to be."
So, to Whitestown, Indiana — population 476, in the 1990 Census — Baskin went.
"That was a huge move for her," Fuller said. "She was really very brave to come to Whitestown, Indiana. In fact, there were more people in her apartment building than there were in the town of Whitestown, Indiana, when she came there. No kidding. So, that's real bravery."
Why did she do it?
"She is the love of my life, and I will die with her," Baskin said. "Indiana is her home, and as much as I thought I was attached to Manhattan, I was not nearly as attached to Manhattan as I am to Esther."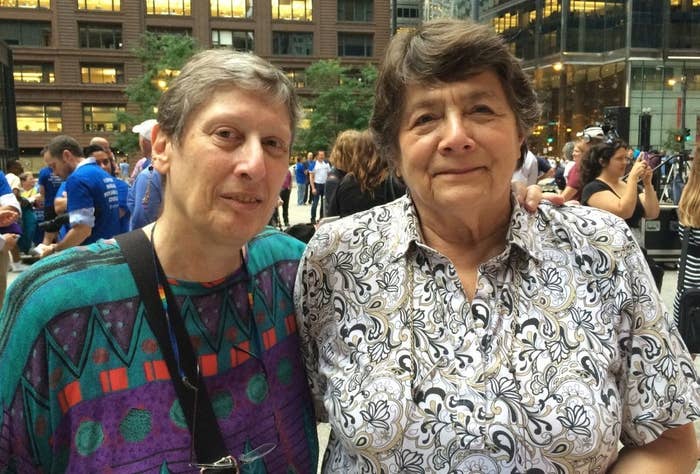 Then, there was another stumbling block: Baskin — in Manhattan or small-town Indiana — was unapologetically out.
"I've always been very lucky. I worked for myself, so nobody could fire me. And pulling my pronouns was not something I was not something that I was remotely willing to do," Baskin said. "I am who I am —"
"Used to scare the crap out of me," Fuller piped in. "Used to scare me to death. She would meet somebody brand new and start talking about her wife and what have you, and it was like, 'Ohhh, my goodness.'"
Again, they moved forward. On Monday, with the lawsuit on appeal before the 7th Circuit, Fuller sounded more like Baskin than she did like her own description of herself early on in their relationship.
"This happened at a very fortuitous time for me," Fuller said. "I have a responsibility to go ahead and go with this thing because there's so many people that cannot do what I am doing because of personal discrimination at work —"
"Workplace discrimination or rental discrimination," Baskin interjected, "or families that would take their kids away —"
"There's still kids who know that they're gay when they're 13 years old," Fuller said, "and if they tell their parents, they get booted out of their house. That's horrible. We're making strides, but that's almost criminal as far as I'm concerned."
On Tuesday morning, Baskin and Fuller will wait to see what three judges of the 7th Circuit think about their case — and, from their perspective, their past 24 years together.
"It's a civil rights issue to me," Fuller said. "When I see prejudice and bigotry of any kind, it bothers me. I want it to end."
Baskin is ready, as well. "The thing that matters is the civil rights … being able to get married and be recognized, have all the protections of marriage and the dignity of marriage — for us, for other people, for the citizens of Indiana — which our case will do. Hopefully, the Wisconsin case as well," she said. "And then, hopefully it will just roll across the country, for crying out loud. Let's stop this piecemeal thing and get it done."