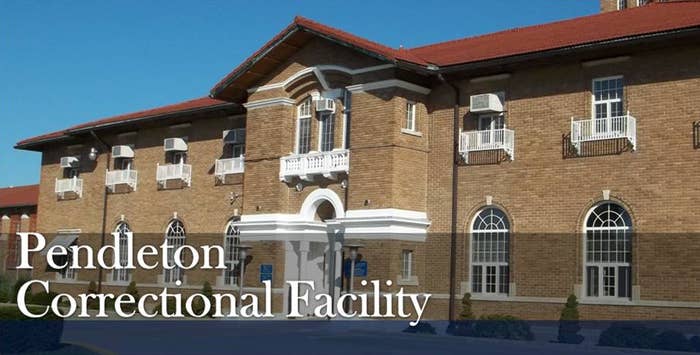 WASHINGTON, D.C. — The Indiana Department of Correction on Wednesday agreed to a proposed settlement that would, with a few exceptions, end the practice of solitary confinement for those prisoners with serious mental illnesses.
The news comes two days after President Obama announced significant limits on the use of solitary confinement in federal prisons, including banning solitary confinement for juvenile offenders.
In the proposed settlement in Indiana, "segregation," or "restrictive housing" — commonly known as solitary confinement — would generally be ended for seriously mentally ill prisoners or for those who become seriously mentally ill while in solitary confinement.
The settlement comes out of a lawsuit brought in October 2008 by the ACLU of Indiana and the Indiana Protection and Advocacy Services Commission. In the suit, the groups alleged the state was violating the Eighth Amendment rights of seriously mentally ill prisoners by housing them "in segregated or excessively isolated and harsh conditions where they failed to receive adequate mental health care."
After a trial, the federal judge overseeing the case concluded in late 2012 that the groups suing the state "prevailed as to their Eighth Amendment claim." Since then, however, the groups have been trying to resolve the case with a settlement, and Wednesday's agreement includes no admissions by Indiana officials that inmate rights were violated.
Ken Falk, the legal director at the ACLU of Indiana, told BuzzFeed News that the settlement agreement represented a significant step for the state — providing for more interaction and contact for those seriously mentally ill prisoners who previously would have been subject to solitary confinement, in addition to increasing mental health services to those prisoners most in need of them.
"Previously, we had a system that did not address their mental health needs and put them at a severe disadvantage when they got out — and put society at a severe disadvantage — in additional to treating them very cruelly while they were in prison," he said. "This is not making the prison into a country club, it's still a prison."
Among the exceptions to the ban in the agreement is a provision allowing for segregation for up to 30 days "if, and only if" mental health professionals agree that it is safe to do so and preferable to a temporary transfer to a mental health unit.
"I think everyone has concerns about how this is going to work," Falk said of the exception.
He added, however, that the state Department of Correction has been "extremely diligent" in making sure it does work.
"We will continue to monitor it," Falk said.
The other two exceptions are for when a person waives transfer to the mental health facilities or when "exceptional circumstances" — specifically, "real and substantial security or safety concerns" — prevent a transfer out of solitary confinement.
Falk estimated that roughly 600 people in Indiana prisons were seriously mentally ill and in solitary confinement at the time of the 2011 trial in the case They were part of a total prison population of just shy of 30,000 people.

"If you look at the people who were spending inordinately long periods of time in segregation, you would have a disproportionate number of people who are mentally ill," he said.
Because the case was certified by the court overseeing it as a class action, the proposed settlement requires court approval before it becomes final.

Here is the key provision in the proposed settlement: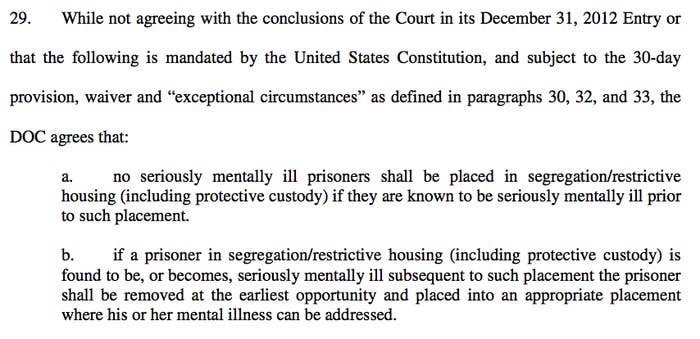 CORRECTION
The headline was corrected to reflect that the proposed settlement agreement ends most, but not all, solitary confinement for seriously mentally ill inmates.