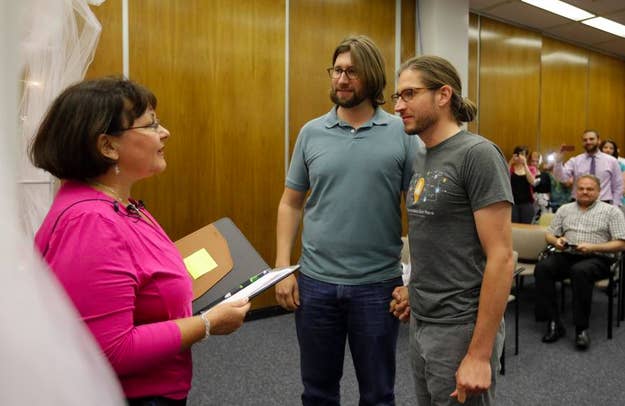 WASHINGTON — Indiana Attorney General Gregory Zoeller has asked a federal appeals court to immediately stop same-sex couples from marrying there, pending the outcome of the state's appeal of a ruling that the ban on such marriages is unconstitutional.
The request to the 7th Circuit Court of Appeals follows a Wednesday request to the trial court to issue a stay of the court's decision from earlier in the day striking down the ban. The trial court judge hearing the case, U.S. District Court Judge Richard L. Young, has not yet responded to the request.
Because Young issued no stay with his order striking down the ban and issued a final judgement in the case that day as well, same-sex couples in some Indiana counties began marrying shortly thereafter — weddings that continued into Thursday and Friday.
"[W]ith no ruling issued yet by the district court either granting or denying the stay motion, confusion has ensued, with marriage licenses being granted at some county courthouses but not others," Zoeller's spokesman, Bryan Corbin, said in a statement. "To get a decision rapidly on whether or not clerks must continue to issue same-sex marriage licenses pending appeal of the underlying lawsuit, the Attorney General's Office has asked for a stay from the 7th Circuit."
When a stay pending appeal has been sought by a state defendant in the marriage lawsuits brought over the past year, a court eventually has granted it, starting with the Supreme Court's stay granted in January in Utah's marriage case. Following that, most trial court judges have granted the stay requests, with appeals courts granting stays where trial court judges have not done so.
From the Indiana Attorney General's filing:

In a two-sentence order, the 7th Circuit — in a three-judge panel of Judges Richard Posner, Ann Claire Williams, and David F. Hamilton — granted the stay.
The 7th Circuit's order: