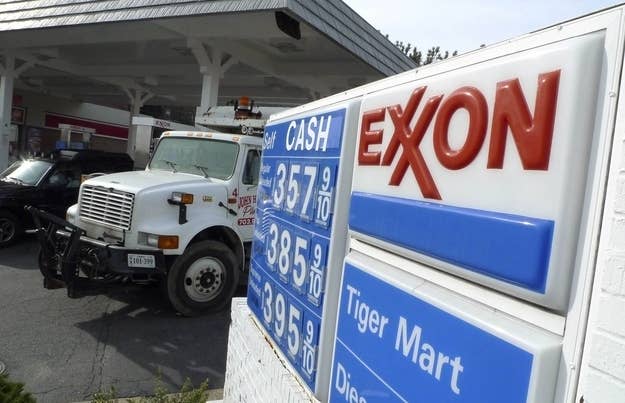 WASHINGTON — Illinois officials will begin investigating ExxonMobil to determine if the company discriminates against gay job applicants, putting a spotlight on the company's employment practices as the Senate considers a bill that would make such discrimination illegal across the country.
The Illinois Department of Human Rights has accepted Freedom to Work's complaint of employment discrimination against ExxonMobil, the first known time an LGBT group has used a "tester" case — in which a group submits similar applications from fictitious applicants who only differ in the relevant characteristic being tested — in an organizational lawsuit.
"Freedom to Work decided to take a successful strategy from the playbook of African-American civil rights leaders by employing matched-pair employment testing at Exxon and other federal contractors that lack LGBT workplace protections," Freedom to Work president Tico Almeida told BuzzFeed. "We very quickly found evidence that Exxon has given unfair hiring preference to some lower qualified straight applicants over more qualified LGBT applicants."
Using organizational standing — suing as the organization itself, as opposed to backing individual people who are the plaintiffs — Freedom to Work brought the complaint against ExxonMobil in May. The company, which is ranked No. 2 on the 2013 Fortune 500 list, does not have a nondiscrimination policy that includes either sexual orientation or gender identity. Discrimination on either count, however, is illegal in Illinois.
Freedom to Work's testing, the group alleges, showed that the company does treat LGBT applicants differently. ExxonMobil never contacted "a well-qualified LGBT applicant" for an opening, Freedom to Work claims, but attempted to contact a "less qualified non-LGBT applicant" three times for an interview.
According to the employment discrimination charge finalized on Friday and provided to BuzzFeed, four issues will be considered by the Illinois Department of Human Rights in its investigation. It will look at whether ExxonMobil exercises unequal terms and conditions of employment due to sexual orientation and whether it does so due to perceived sexual orientation, as well as investigating whether ExxonMobil failed to hire due to sexual orientation and whether it did so due to perceived sexual orientation. It will be looking to find if there is "substantial evidence" for any of the charges, at which point it would seek conciliation with ExxonMobil or the case could proceed to court.
Explaining what happens now, Peter Romer-Friedman of Cohen, Milstein, Sellers & Toll PLLC — Freedom to Work's lawyer in the case — told BuzzFeed, "As the Illinois Department of Human Rights begins its investigation, we expect that it will ask Exxon to provide documents and information related to the discriminatory hiring incident at issue in the case, and about how Exxon's corporate policies inform and impact the company's hiring."
Almeida said there is one simple way to end the case: "Exxon could agree to cut and paste Chevron's LGBT workplace policies, and then we would agree to settle this lawsuit." As that is something the company has been unwilling to do for more than a decade, one of Almeida's other options for where things go from here appear more likely.
Referencing a proposed executive order banning federal contractors from anti-LGBT discrimination against employees and job applicants, Almeida said, "[O]nce President Obama signs the executive order he has promised us, that will require Exxon to adopt LGBT protections like the vast majority of the Fortune 500, and in turn, that would moot our case."
Almeida also pointed to the possibility of legislative action to end the case. The Employment Non-Discrimination Act, which would ban most private employers from sexual orientation or gender identity discrimination, is due to be voted on in a Senate committee on Wednesday.
"We think ENDA will pass out of a Senate committee this week, and pass the full Senate with more than 60 votes in September or October. We even think we can get this hugely popular LGBT proposal through a Republican-controlled House of Representatives by using a 'discharge petition' just like good-government advocates used when they passed the McCain-Feingold campaign finance reform some years back," Almeida said.
If none of those things happen, though, he made clear the Illinois action would proceed. "We're prepared to take this case all the way to trial in Illinois state court to hold Exxon accountable for breaking the law," he said.