Illinois House Will Not Vote On Marriage Equality Bill, Couples Will Wait
Update: There will not be a vote on the marriage equality bill Friday, the final day of the session, the lead sponsor confirmed. Rep. Greg Harris says that he will be back looking for a vote in November's "veto session."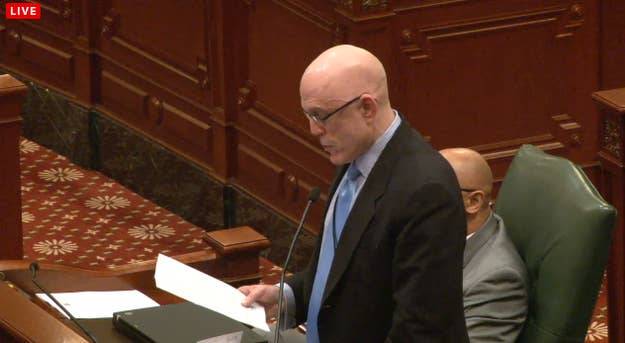 Marriage equality will not be coming to Illinois this week, as a bill to do so failed to be brought to a vote Friday evening, the last day of the House session.
Illinois State Rep. Greg Harris, the lead sponsor of the marriage equality bill, announced on the floor at a little past 7 p.m. Central Time that he would not be bringing the bill to the floor for a vote at the request of colleagues who "have asked for time to go back to their districts" and discuss the issue with their constituents.
Harris, who is gay, said he "will be back" for a vote in the "veto session" of the Democratic-led legislature this fall. "Until that day, I apologize to the families who were hoping to wake up tomorrow as full and equal citizens of this state."
After Harris concluded, out lesbian Rep. Deb Mell spoke, saying of her and her wife, "At the end of the day, Christin and I want what you want."
Earlier:
After a tense final day of the Illinois legislature, the state House is not expected to consider the marriage equality bill, advocates expect.
Friday is the last day of this session of the state legislature, but the measure could be considered in the "veto session" this fall.
The Illinois Senate passed the bill on Feb. 14. Gov. Pat Quinn has been a supporter of the measure and had said he would sign the bill into law if passed.
Rep. Greg Harris, the measure's sponsor in the House, is expected to address the chamber about the decision in the coming hour, BuzzFeed has learned.
Update @ 7:43 p.m.: Chicago Sun-Times Carol Marin tweeted, "Wow. Looks like same sex won't be called. ... We could adjourn soon. Wow."
Illinois Public Radio's Amanda Vinicky echoes, tweeting, "SO many rumors on same sex marriage all day (& week). Things change quick. But sources say SB10 won't get called. Lacks votes."
Update @ 7:53 p.m.: Asked about the reports there would be no vote, sponsor tells Chicago Phoenix: "Wait."
Update @ 8:05 p.m.: Chicago Sun-Times reports a source says the bill will not be called and that "[g]ay and lesbians want to legally marry in Illinois willl apparently have to wait."
Gov. Pat Quinn Weighed In On The Decision: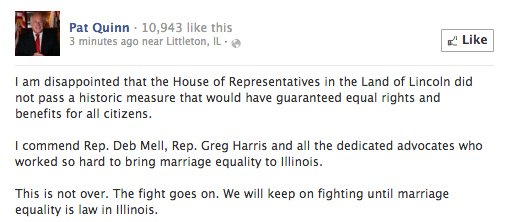 A Little Before The Decision Was Made, House Speaker Mike Madigan Came Out Onto The Floor:
One Chicago Sun-Times Reporter Put The Impact Of The Delay In Direct Terms:
Throughout Friday, Supporters Of The Bill Were Present Throughout The Statehouse: