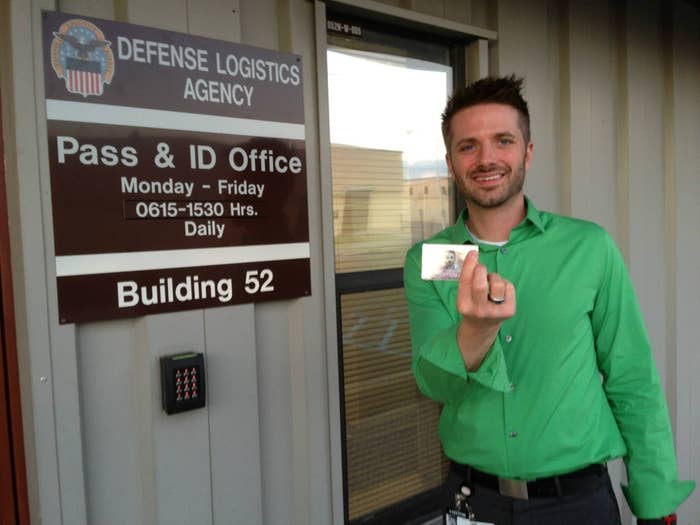 WASHINGTON — Major Stephen Snyder-Hill found himself at the center of the national debate over the end of "don't ask, don't tell" when he was booed by audience members at a a September 2011 Republican presidential debate when he asked about the change that allows him now to serve his country and talk openly about his husband, Joshua.
Two years later, in a sign of the changed landscape for same-sex couples, Stephen and Joshua Snyder-Hill went to the Defense Supply Center, Columbus, or DSCC, in Ohio on Tuesday — where Joshua became "official," as Stephen put it, and received his spousal military ID card on the first day the cards were available to same-sex spouses.
"I've been in the military for 24 years. I was pre-'don't ask, don't tell,' during and after. It's just been a really long fight, I think, for [same-sex couples'] military families to be able to get the same protection that other soldiers' families get," Stephen Snyder-Hill told BuzzFeed Tuesday afternoon. "I mean, we've had times when we've had family days, things that just beat down your morale because you just feel like you're not the same or you're not equal or you're not protected as well. And I think that now, we're pretty much equal."
The U.S. military began recognizing married same-sex couples Tuesday, and one of the key changes allows service members' same-sex spouses to obtain a spousal military ID card. The card provides access to bases and services provided by the military to military families, and, before Tuesday, it was available only to opposite-sex spouses.
Before June, when the Supreme Court struck down the ban on the federal government recognizing same-sex couples' marriages, the military had at first refused equal recognition and then announced it would prepare "domestic partner" ID cards. With the ruling, however, the Pentagon changed course, announcing that full marital recognition would be forthcoming.
Tuesday it arrived, and Stephen and Joshua Snyder-Hill were among the first to take advantage of the change — although both pointed to the fact that, off base, their home state of Ohio does not recognize their marriage.
"It's weird, because today was when the reality is finally hitting. We've been watching it gradually change ... It's one of those instances where, I didn't even get excited for the moment because you don't know what it's going to be like. You kind of have reservations about whether it's actually going to happen. You saw some of the posts about different places in Texas saying they wouldn't be able to recognize it," Joshua said of the Texas National Guard's notice, reported by The Washington Blade, that relying on Texas law it would not be recognizing same-sex spouses despite the Pentagon's change in policy.
"You don't know how the people are going to react to you. There's this weird kind of suspicion as to whether it's actually going to happen, even though it's all over and you see it and it's moving in the right direction. It just didn't feel real until the guy handed me the card."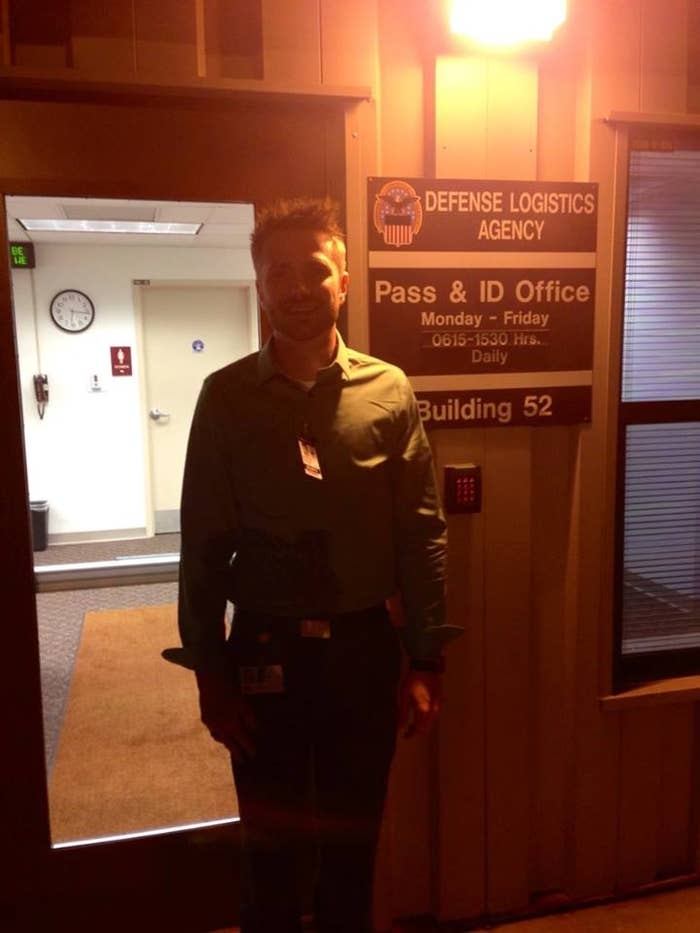 The couple's day began early on Tuesday, as Joshua told BuzzFeed on Tuesday.
"We found out, actually, that they had just changed the hours this week to 6:15 in the morning, so we literally pulled up to the office at 6:15 this morning. So, that very, very dark picture is because, yes, it was pretty early," he said.
"I even got to work on time. I was able to go home, have a cup of coffee and still come to work and be there on time."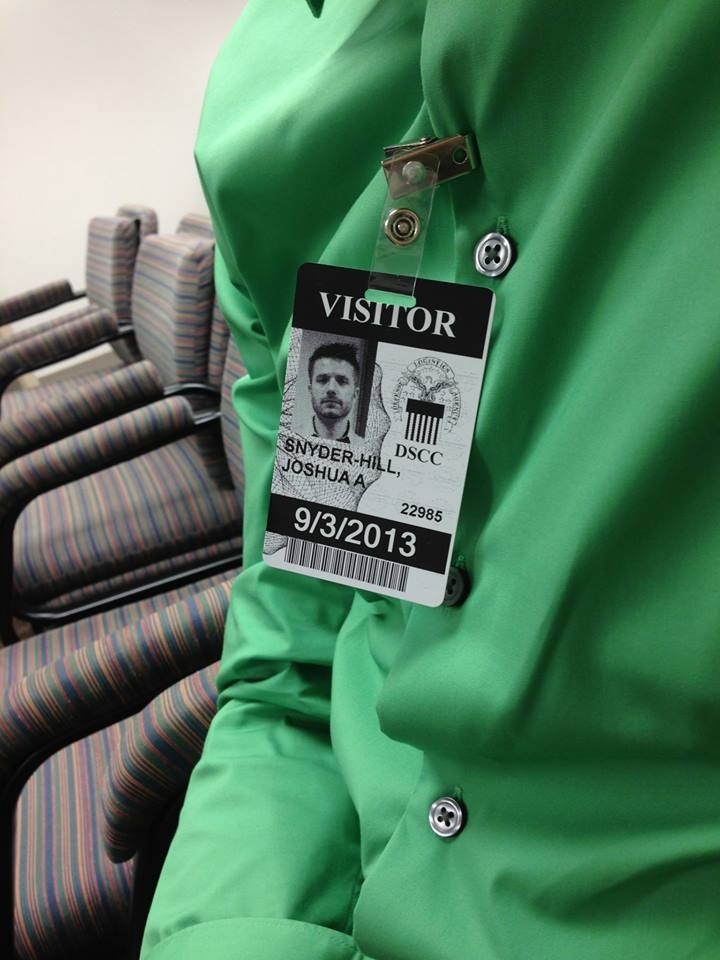 "The guy was really nice. He was just chatting with us, kinda made fun of us for our hyphenated name — talked about how long it was. He was really nice, couldn't have been sweeter," Joshua said.
"I think it finally hit me when I got to work, because I sat down and I realized, 'Holy cow,' I was reading some of the posts people were putting, and I was reading the post that Stephen put, which was basically, 'How interesting is it to think that, technically, we have more rights and more protection and more respect on a military base than we do the minute we kinda step into our own home.'"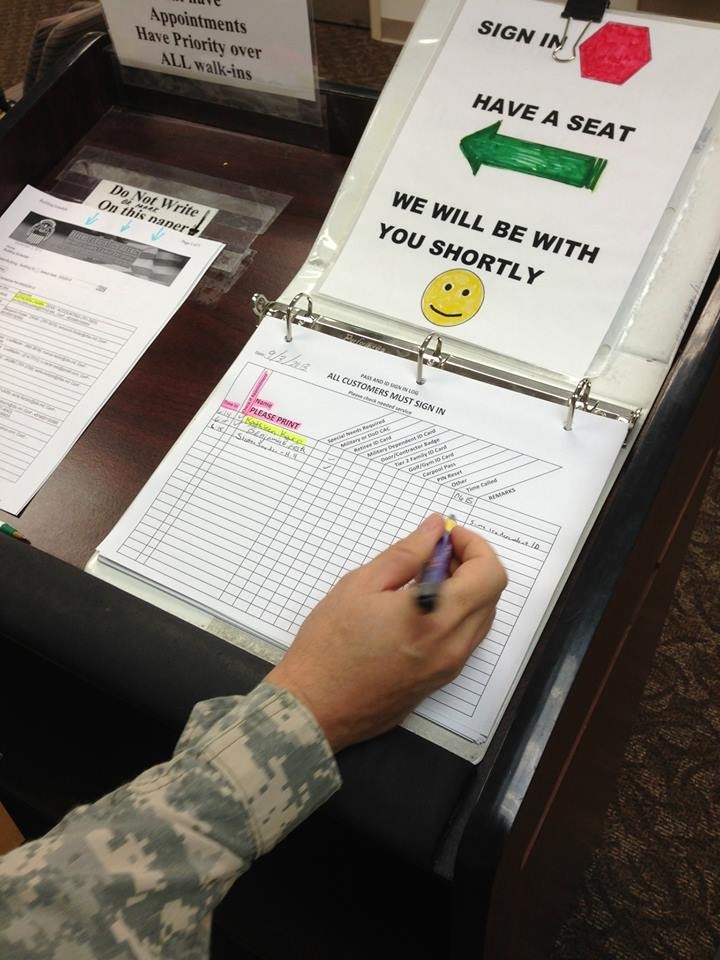 "I think for a lot of people that have such respect for the Army and the military and our service members, it kind of opens the door immediately to a pretty obvious lack of respect that we still have," Joshua said.
"People may have this kind of arbitrary view when it comes to how they feel about somebody who's LGBT being in the Army, but the minute they actually put a person to that situation, the whole story changes. The whole reason why I think we continue to progress forward is because more people tell their story."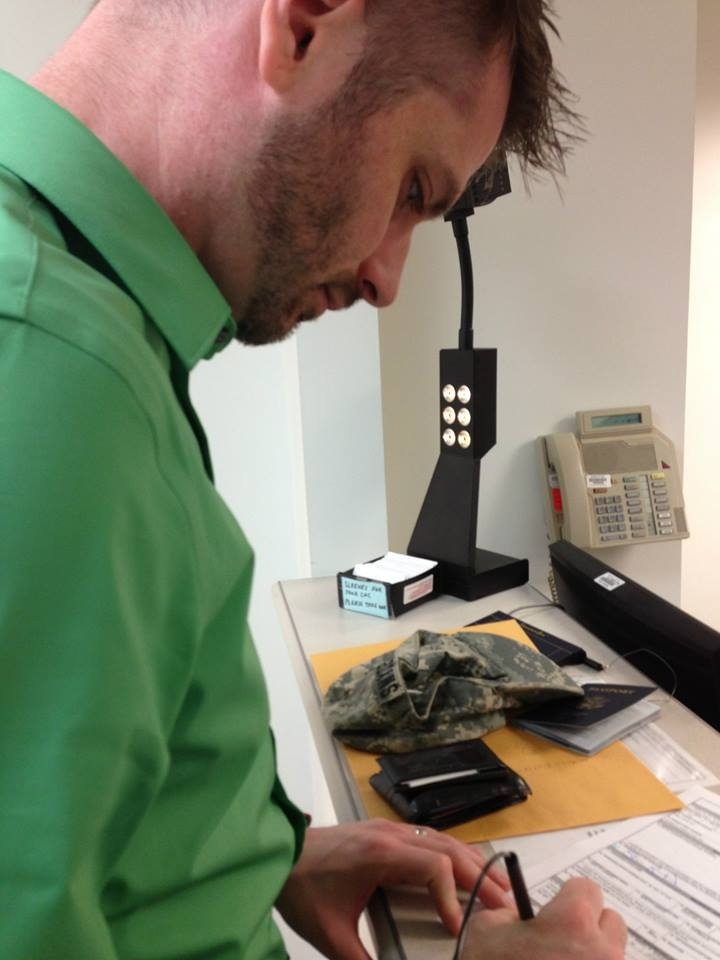 Stephen, from his perspective, said, "It feels so good to fight for rights that you actually are taking now. As soldiers, gay people have been fighting for rights that we haven't been able to have for years," noting the "bittersweet" fact that, despite the military recognition, Ohio does not recognize his marriage.
To that, Joshua said, "This is a pretty big story now. We have soldiers that could be deployed to states that don't observe their marriage. So, somebody is from New York and gets forced to come to Ohio for whatever different service they may need to do. Suddenly, they go from having all of the protections that they normally would have as a married couple to suddenly being stripped down to nothing the minute they leave their base.
"How right does that sound to anybody? It starts to open the door to a real conversation as to why this needs to be fixed."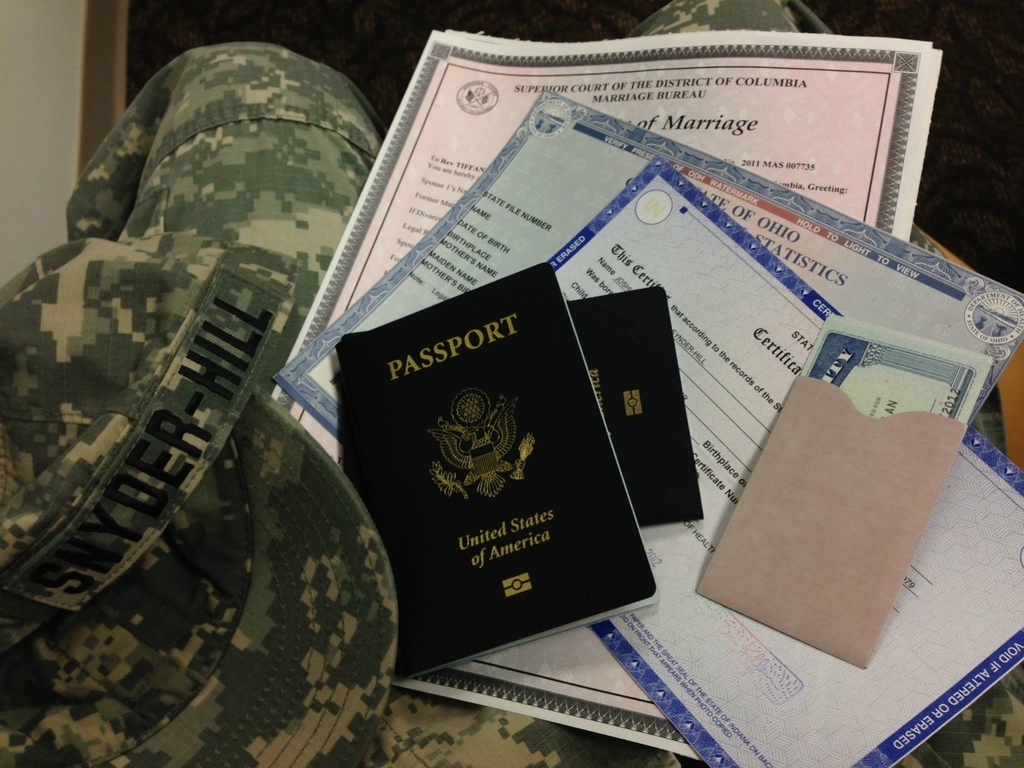 What was the first thing they said to each other after getting Joshua's ID card?
"Stephen says, 'Finally, I can just send you there alone.' We go to the little mart there, that has groceries and different things and now, it was kind of a joke, 'Now I can just send you all alone; I don't need to be your escort when you go to the base,' which was kind of cool," Joshua said.
"It's just the little things that you think about, but they're kind of significant, kind of a neat victory. It's the weirdest thing to see that kind of stuff come to fruition and then suddenly realize you still don't have a lot at home."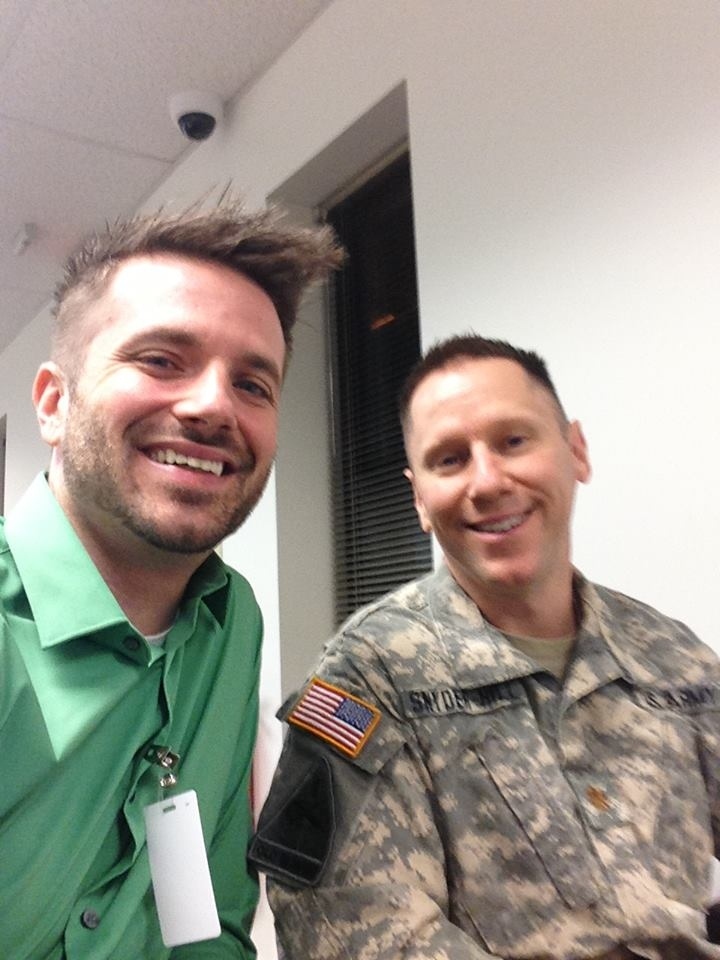 "Deployment was a big thing," Joshua said. "When Stephen was over in Iraq, I remember two or three times when a mortar would go off when we would be on Skype, and it's the scariest thing. It's one of the reasons I became such an activist is because I thought, 'What happens if he does get hurt or he does get killed? I have no idea where I sit.'"
Of emergency leave that other service members were granted for spousal emergencies at home, Stephen said of the time during his last deployment, "We weren't guaranteed any of that stuff. If I go to be deployed [now], I can't tell you how much of a relief that causes me not to have to worry about that kind of stuff so I can focus on my mission — which is what it should be the whole time."
Joshua agreed, saying, "Today it's going to be a huge, huge difference. The insecurities that we had. With 'don't ask, don't tell' gone, now we can say goodbye to each other. And now, we know that if something goes wrong, we're going to get the respect that we deserve."
Celebrating the news on Facebook, Joshua wrote Tuesday morning, "Today was my last day of being recognized as a visitor by the military, now I am a spouse."
But, noting the incomplete nature of the protections granted to him and Stephen as Ohioans, he added, "Maybe someday the State of Ohio will pay me that same respect."